Good afternoon from the skies above the Western United States. The Kings took off from Phoenix at 1:45 p.m. this afternoon and are en route to Vancouver, where they'll face the Canucks tomorrow night at Rogers Arena. Before we fill out our customs forms, there are a few notes to share from today's practice at Gila River Arena: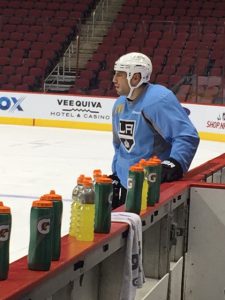 Lines, via color coding:
Blue: Lucic-Kopitar-Toffoli
White: Pearson-Shore-Gaborik
Yellow: Lewis-Andreoff-Brown
Purple: Mersch-Weal-Nolan
-I was finishing up Waking up with the Kings when defensemen rotated through the rushes, but from a quick glance, it appeared as though Derek Forbort remained alongside Jamie McBain. That's not a firm indication, though, and we'll learn more about defensive pairings at tomorrow's pre-game skate. Jeff Carter is not currently with the team, though the hope was raised on Sunday that he could potentially re-join the road trip. Dwight King did not skate as a part of any lines and isn't expected to make his return on the trip.
-I try to avoid the glorification of fighting, which is more or less being phased out of the modern NHL game, but Derek Forbort appeared to earn some stripes with his teammates after scrapping with Kyle Chipchura, a tough player who hasn't been afraid to drop the gloves in his career. Forbort immediately engaged Chipchura after the Arizona forward extended his leg to make contact with Marian Gaborik's knee, and while the fight ended fairly quickly, Forbort stepped up and "got in there to defend my teammate."
"I just think that's the way it is here. Guys stick up for each other," said Forbort, who estimated that he fought two or three times in Manchester last season. "I don't know, I guess my instincts just kind of took over."
Gaborik noted that he "definitely appreciate[d]" the rookie's decision.
"It was a great step by him. I think I got a knee there, and … it was questionable and he did a great job jumping in there."
"The ref was right there," Gaborik continued. "I think it should've been a penalty. But, anyways, great stuff by Forbs, for sure."
That reception was a bit warmer than some of the jabs he received (or, perhaps, didn't necessarily dish) from a needling teammate.
"I think Dewey was kind of chirping me for not landing any punches," Forbort said. "But yeah, it was a good response from the guys."
The 23-year-old rookie defenseman accounted for one shot on goal, one blocked shot and one hit in 11:14 of work in his 10th career NHL game.
"Nothing to do with fighting, but we'd certainly like him to show some emotion on a more consistent basis," Darryl Sutter said.
-Darryl Sutter quotes will be posted shortly before we land.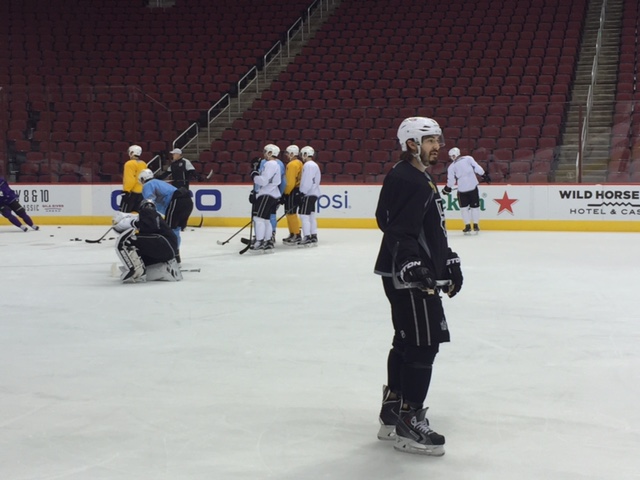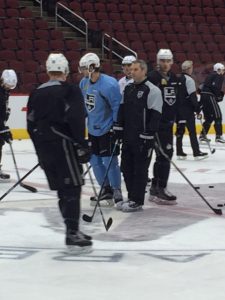 Marian Gaborik, on Saturday's overtime win:
Well I mean, obviously, the first 40 minutes we didn't get a whole lot going on. But we talked about needing to win the third period. We did, even though they got the power play at the end for five minutes, plus five-on-three. Even though the scored a couple fortunate goals though, we came out on top and it was a huge win for us.
Forbort, on the team's resilience in the win:
Yeah, I think things weren't really going our way the first and second period. The boys battled back in the third and got a lead. And then it kind of got away from us there, but it was great leadership by the older guys to get us the win in overtime there.
Forbort, on his first NHL fight:
It feels good to get the first one out of the way. It's definitely something that's going to happen in games and it's nice to get the first one out of the way. I think you start getting a little more comfortable with stuff like that as you go.