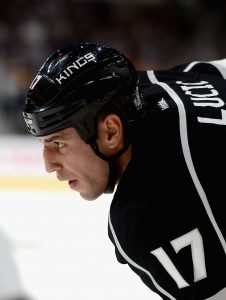 The Kings played the San Jose Sharks twice in the season's first three weeks, and each game provided a completely different read of this L.A. team.
The October 7 game, a 5-1 loss at Staples Center, was the first of three straight defeats to open the season as Los Angeles was still in the hard hat process of constructing their game following a season of arrivals, departures, and an infusion of youth in center depth roles and on the blue line. The game ended with five unanswered San Jose goals, followed by a skirmish in which Milan Lucic, playing in his first regular season game with his new club, was assessed a match penalty for engaging and striking Logan Couture at the Sharks bench, away from the play. Nothing else became of that moment, and both clubs moved on.
With five games under his belt, though, he and the Kings took an important step forward at the SAP Center with a resounding performance two months ago today that served as a bridge between the earlier and later stages of what developed into a seven-game winning streak. One team executive shared with LAKI that the game was an important win that added fuel to the trajectory of the season in which the Kings, at 2-3-0, avoided falling to 2-4-0 with a pair of losses to a chief divisional rival but instead generated its own lift during this current 20-7-2 stretch.
The importance of that game was felt by Milan Lucic, who had posted one assist in his first five games before his first period power play goal doubled Los Angeles' lead and opened up what would become a five-game point streak. Lucic now ranks third on the team in both goals (10) and points (21).
"My kind of turning point was the first road game in San Jose," Lucic said. "Got my first goal as a King, and we played really well as a line with me, Carter and Toffoli, and I guess [we got] a bit of a spark and a jumpstart off of that game, and that win. It wasn't just because of how I felt individually, it was more how we felt as a team. Then things kind of started to roll in the right direction after that, it kind of feels like, and now I feel like things have started to be second nature where I'm not thinking about what I need to do, I can just go out there and do what I have to do, and that's obviously a challenge that comes with coming to a team, with a new system. Just want to keep getting better and keep adjusting and keep improving and keep moving in the right direction to where I can get my game to where I ultimately want it to be and help this team finish where we want to finish at the end of the season, and move on from there."
The "move on from there" part will require some careful negotiating, as the Kings are among the teams at or near the salary cap, and he's due to become an unrestricted free agent following the season. Discussions with the club aren't expected to pick up steam until Los Angeles signs Anze Kopitar. With Kopitar, the two sides are close, but no deal is imminent.