Good afternoon from El Segundo, where for the first time in over two weeks the Kings held an actual Toyota Sports Center practice. During rushes, they aligned as such:
White: Lucic-Kopitar-Gaborik
Blue: Pearson-Carter-Toffoli
Red: Lewis-Shore-Brown
Green: Mersch-Andreoff-Nolan
Yellow: King-Weal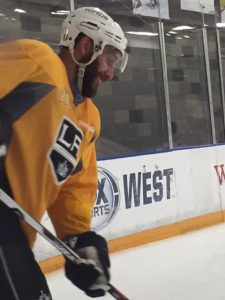 -Seen in person and on the ice: Dwight King! The hulking Kings winger skated with his teammates for the first time since the morning of October 3, the day that he blocked a shot in a preseason game against Colorado, broke his foot and subsequently underwent surgery. King had skated with Trevor Lewis and Nelson Emerson while the Kings were on the road trip, and upon Lewis' departure for Montreal, skated on his own. King hasn't been cleared to participate in games yet, though, and Darryl Sutter said that he doesn't expect King back in the lineup in the 2015 portion of the 2015-16 season. More to come later today.
-There was a good tempo at practice after a day off on Sunday with lots of skating and shooting as part of rush and flow-type drills. Before the team broke up for more individualized instruction, the team also took part in in-zone, below-the-dots attacking/defending work.
-Jonathan Quick, who appeared in four of the six games on the road trip but didn't play in Saturday's 5-0 loss to Toronto, said, as would any player, that "you want to play all the time," and spoke about making the most of his own personal break in the schedule.
"Obviously whenever you get the opportunity to not necessarily rest, but get a few days to recover from some tough outings or whatever, you just try to take advantage of it," he said. "Everybody's schedule is different, day-to-day is different, month-to-month is different. You can't really control that, so all you try to control is you're trying to win your next game."
Sutter explained that the decision to start Jhonas Enroth on Saturday was based on viewing the trip "as a six-game season" and that they'd want a balance that kept Enroth on top of his game.
"It was debatable whether it was going to be five-and-one or four-and-two," Darryl Sutter said about the Quick/Enroth balance of starts on the road trip. "It really had nothing to do with Jonathan. We need the other guy to be sharp, win games."
-More to come today, including Darryl Sutter quotes and stories on King and Milan Lucic.