Los Angeles Kings (20-9-2) at Toronto Maple Leafs (10-13-7)
Saturday, December 19, 2015, 4:00 p.m. PT
Air Canada Centre, Toronto, ON
Referees: #25 Marc Joannette, #47 Trevor Hanson
Linesmen: #70 Derek Nansen, #58 Ryan Gibbons
Fox Sports West, KABC 790 AM, I Heart Radio
Los Angeles Projected Starting Goaltender – Jonathan Quick
2015-16: 26 GP (26 GS) / 17-8-1 record / 2.19 GAA / .920 Sv% / 2 SHO
Career vs Toronto: 5 (5) / 2-2-1 / 2.74 / .906 / 0
Last Game vs Toronto: 12/14/14 / 65 MP / 28-31 shots / 3-4 SOL
2015-16, Away: 11 (11) / 7-3-1- / 2.19 / .928 / 1
Toronto Projected Starting Goaltender – Jonathan Bernier
2015-16: 11 GP (10 GS) / 0-8-3 record / 3.46 GAA / .883 Sv% / 0 SHO
Career vs Los Angeles: 3 (3) / 0-2-0 / 2.62 / .885 / 0
Last Game vs Los Angeles: 3/13/14 / 20 MP / 8-10 shots / 3-2 W
2015-16, Home: 5 (4) / 0-5-1 / 3.21 / .893 / 0
2015-16 Los Angeles Leaders
Total Points: Jeff Carter (11-16=27)
Goals: Tyler Toffoli (12-10=22)
Assists: Jeff Carter (11-16=27)
Plus/Minus: Tyler Toffoli (+16; 12-10=22), Anze Kopitar (+16; 9-11=20)
Penalty Minutes: Andy Andreoff (41; 2-0=2)
Time On Ice: Drew Doughty (27:45; 5-14=19)
Corsi-For Percentage: Nick Shore (61.5%; 2-3=5)
2015-16 Toronto Leaders
Total Points: James van Riemsdyk (10-10=20)
Goals: Leo Komarov (11-7=18)
Assists: Tyler Bozak (5-14=19)
Plus/Minus: Roman Polak (+8; 0-7=7)
Penalty Minutes: Dion Phaneuf (34; 2-14=16)
Time On Ice: Matt Hunwick (22:21; 0-1=1)
Corsi-For Percentage: James van Riemsdyk (65.5%; 10-10=20)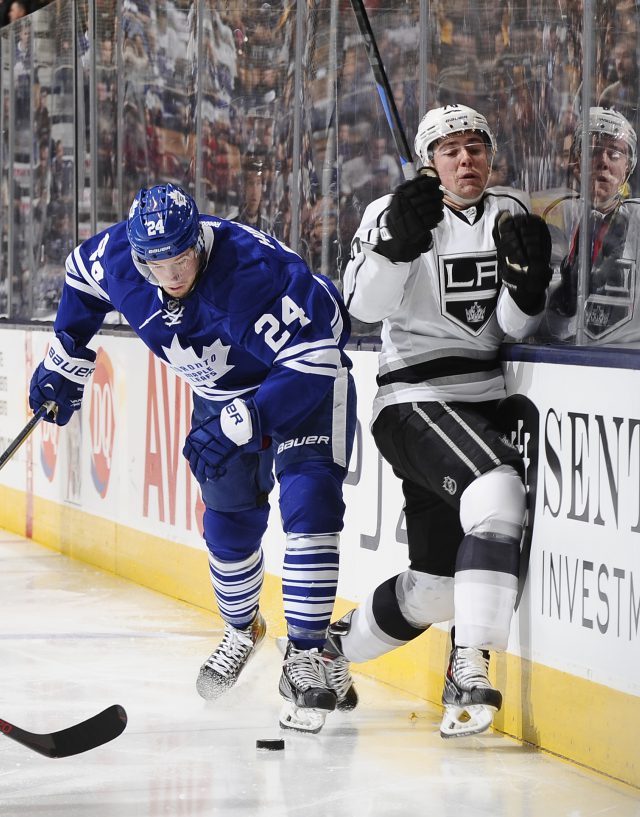 Rankings and Statistics
Goals/Game: LAK – 17 / 2.55; TOR – t-26 / 2.30
Goals Against/Game: LAK – 1 / 2.10; TOR – 22 / 2.73
Power Play: LAK – 19 / 17.8%; TOR – 18 / 18.1%
Penalty Kill: LAK – 5 / 85.0%; TOR – 22 / 78.6%
Shots/Game: LAK – t-1 / 32.3; TOR – t-9 / 30.2
Shots Against/Game: LAK – 6 / 28.3; TOR – 24 / 30.9
Faceoffs: LAK – 23 / 48.9%; TOR – 3 / 51.9%
Save Percentage: LAK – 1 / .926; TOR – t-16 / .912
Corsi-For Percentage: LAK – 1 / 56.5%; TOR – 12 / 50.0%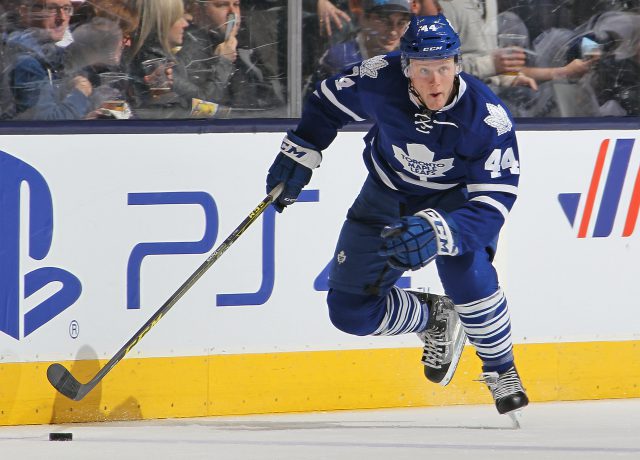 Los Angeles Projected Lines
Milan Lucic – Anze Kopitar – Marian Gaborik
Tanner Pearson – Jeff Carter – Tyler Toffoli
Michael Mersch – Trevor Lewis – Dustin Brown
Andy Andreoff – Nick Shore – Jordan Nolan
Brayden McNabb – Drew Doughty
Jake Muzzin – Alec Martinez
Christian Ehrhoff – Jamie McBain
Jonathan Quick
Jhonas Enroth
Notes and milestones: Los Angeles is 62-58-23 all-time against Toronto, a record that includes a road mark of 26-34-13. The Kings are 6-2-2 in their last 10 trips to the Air Canada Centre. These teams will conclude their season series on January 7 at Staples Center. … Los Angeles is 10-4-2 against the Eastern Conference and 4-2-2 against the Atlantic Division. Tonight's game marks the final game of eight consecutive games against the Eastern Conference. Thus far they are 5-1-1 (W vs PIT, W vs TBL, W @CBJ, W @ PIT, OTL @ BUF, L @ OTT, W @ MTL, 12/19 @ TOR). … The Kings have eight wins (tied for second in the NHL) when allowing the first goal (8-6-1) and are tied for first with four wins when entering the third period (4-7-0). … With 215 career assists, Drew Doughty is one assist behind Steve Duchesne (216 assists) for third place on the all-time list of assists by a Kings defenseman. He ranks second in the league with an ice time average of 27:45. … Jonathan Quick ranks third all-time among American goalies in shutouts with 39, trailing John Vanbiesbrouck and Frank Brimsek (both with 40). He leads all active American goalies with 39 shutouts. … Anze Kopitar has 13 points (4-9=13) in the last 13 games and has logged at least 20 minutes in 13 straight games. … Tyler Toffoli is tied with Kopitar for second in the league with a plus-16 rating. Jeff Carter is tied for fourth at plus-14. With 98 regular season goals as a King, Carter is two goals from 100. … Jake Muzzin has six points (3-3=6) in the last seven games and with 98 career points (26-72=98), is two points shy of 100. … Marian Gaborik has 25 points (15-10=25) in 21 career games against Toronto.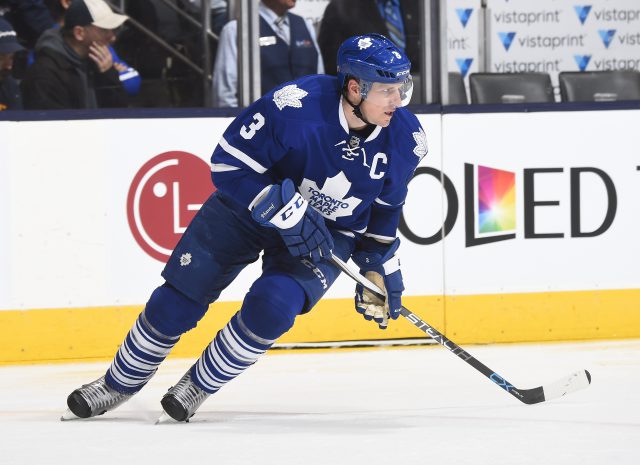 Toronto Projected Lines
James van Riemsdyk – Tyler Bozak – Leo Komarov
Michael Grabner – Nazem Kadri – PA Parenteau
Daniel Winnik – Peter Holland – Joffrey Lupul
Shawn Matthias – Byron Froese – Brad Boyes
Jake Gardiner – Dion Phaneuf
Matt Hunwick – Morgan Rielly
Martin Marincin – Roman Polak
Jonathan Bernier
Antoine Bibeau
Notes and milestones: Lines via NHL.com correspondent Mike Brophy … The Maple Leafs have points in four straight games (2-0-2). … Toronto is expected to be without Stephane Robidas (lower body / injured reserve), Nick Spaling (upper-body), James Reimer (lower-body) and Garret Sparks (lower-body). … Goaltender Jonathan Bernier appeared in 62 regular season games with Los Angeles between 2007-13, posting a record of 29-20-6 with a 2.36 goals-against average and a .912 save percentage. … James van Riemsdyk has goals in three straight games and nine points (3-6=9) in his last nine games. … Only four Maple Leafs expected to dress tonight were drafted by the club (Antoine Bibeau, Nasem Kadri, Leo Komarov and Morgan Rielly). … Toronto is 7-4-1 against the Western Conference and 2-1-1 record against the Pacific Division.