Though the Kings took four of the first five shots of the game and were on the receiving end for 44 of the next 60, the shot counter had a bit of an itchy trigger finger, and unlike the Senators game, the Kings didn't give up very much to the Canadiens down the center of the ice. Instead, Montreal's chances were coming on second opportunities off point and perimeter shots, and while Jonathan Quick was sensational in denying high, high-grade chances from Lars Eller (who was also hooked on a shorthanded break), Torrey Mitchell (who tried to shoot against the grain and caught the kneecap of Quick's far pad from the left circle) and Alex Galchenyuk (who was denied on a partial, contested third period break), he also, as he does so well, made important covers and disrupted the flow of the Canadiens' attack. The game was different from the game we saw between San Jose and Montreal two nights ago. In that game, the Sharks withstood an early onslaught before capitalizing on an opportunistic two-on-one and gaining comfort as they played with the lead; on Thursday, some of the Kings' best chances were snuffed out by Mike Condon in the first five minutes before the Canadiens gained their footing and carried the play of the game, even if their chances, other than those mentioned above, were more of B-plus-type opportunities. It wasn't a typical grinding/cycle/possession-type Los Angeles win, but as noted previously in the two years weeks we've been away, the Kings are finding different ways to win hockey games.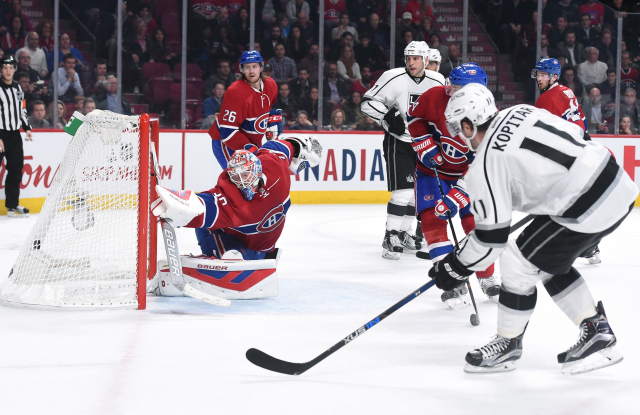 The game-winning goal reads Drew Doughty (5) (Tyler Toffoli), 14:47, but there was a team-wide effort that allowed Los Angeles to take the lead. Jordan Weal gained the offensive zone on a rush that resulted in Jordan Nolan drawing an interference penalty on P.K. Subban, and on the ensuing man advantage, Weal, who was seeing power play time up front alongside Toffoli and Michael Mersch, tied up Tom Gilbert's stick to the right of Mike Condon, preventing a clear and extending zone time. When the penalty expired and Doughty had fired the puck towards the net, Mersch was providing an effective screen that took away Condon's eyes. For both Weal and Mersch, it was the first NHL goal they had been on the ice for.
Other than the first half of the Carolina game, the Kings played well on their previous road trip, even if their 2-2-1 record wasn't particularly reflective of an elevated level of play. On this current swing, they're 3-1-1 and have the opportunity to turn the trip into something that could go a ways towards reinforcing their standings cushion in advance of January and early February, a stretch in which they'll play nine of 14 at home and travel only as far as Colorado. During a mid-November-to-December in which they play only five home games over a 20-game stretch, they're now 9-3-2 with five big divisional games looming against San Jose (at home), followed by a trip through Arizona, Vancouver, Edmonton and Calgary (prior to Saturday's Toronto game, of course). Even if Thursday's game wasn't their finest from a territorial standpoint, they still collected two points and maintained a nine-point lead on the lukewarm Pacific.