Los Angeles Kings (18-8-1) at Pittsburgh Penguins (15-10-2)
Friday, December 11, 2015, 4:00 p.m. PT
Consol Energy Center, Pittsburgh, PA
Referees: #33 Kevin Pollock, #25 Marc Joannette
Linesmen: #52 Shandor Alphonso, #84 Tony Sericolo
Fox Sports West, KABC 790 AM, I Heart Radio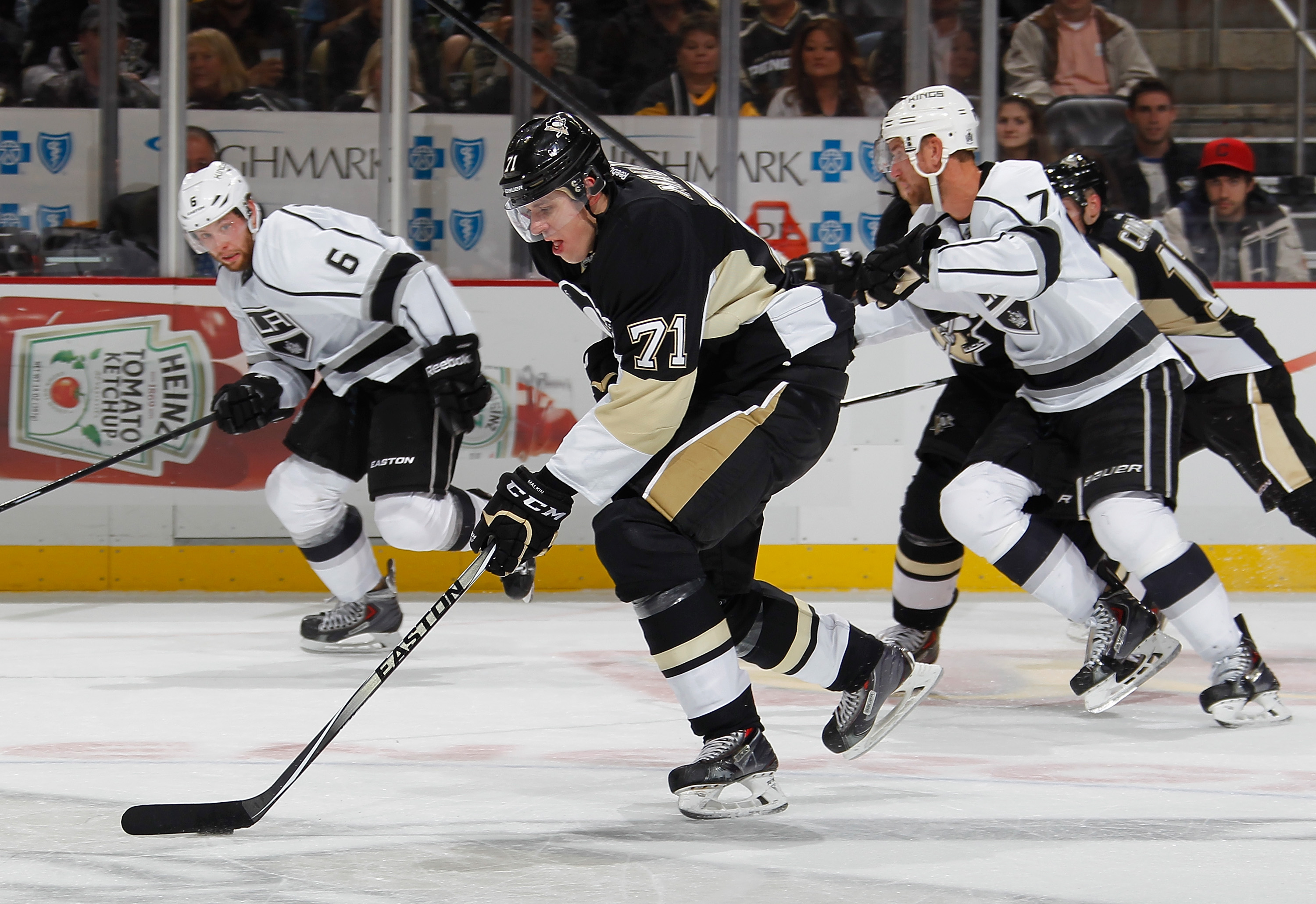 Los Angeles Projected Starting Goaltender – Jonathan Quick
2015-16: 23 GP (23 GS) / 15-7-1 record / 2.18 GAA / .917 Sv% / 1 SHO
Career vs Pittsburgh: 7 (7) / 2-2-3 / 2.61 / .889 / 0
Last Game vs Pittsburgh: 12/5/15 / 60 MP / 17-20 shots / 5-3 W
2015-16, Away: 8 (8) 5-2-1 / 2.16 / .924 / 0
Pittsburgh Projected Starting Goaltender – Marc-Andre Fleury
2015-16: 23 GP (23 GS) / 13-9-1 record / 2.23 GAA / .926 Sv% / 2 SHO
Career vs Los Angeles: 9 (9) / 6-3-0 / 1.96 / .939 / 2
Last Game vs Los Angeles: 12/5/15 / 59 MP / 32-36 shots / 3-5 L
2015-16, Home: 11 (11) / 7-4-0 / 2.47 / .915 / 1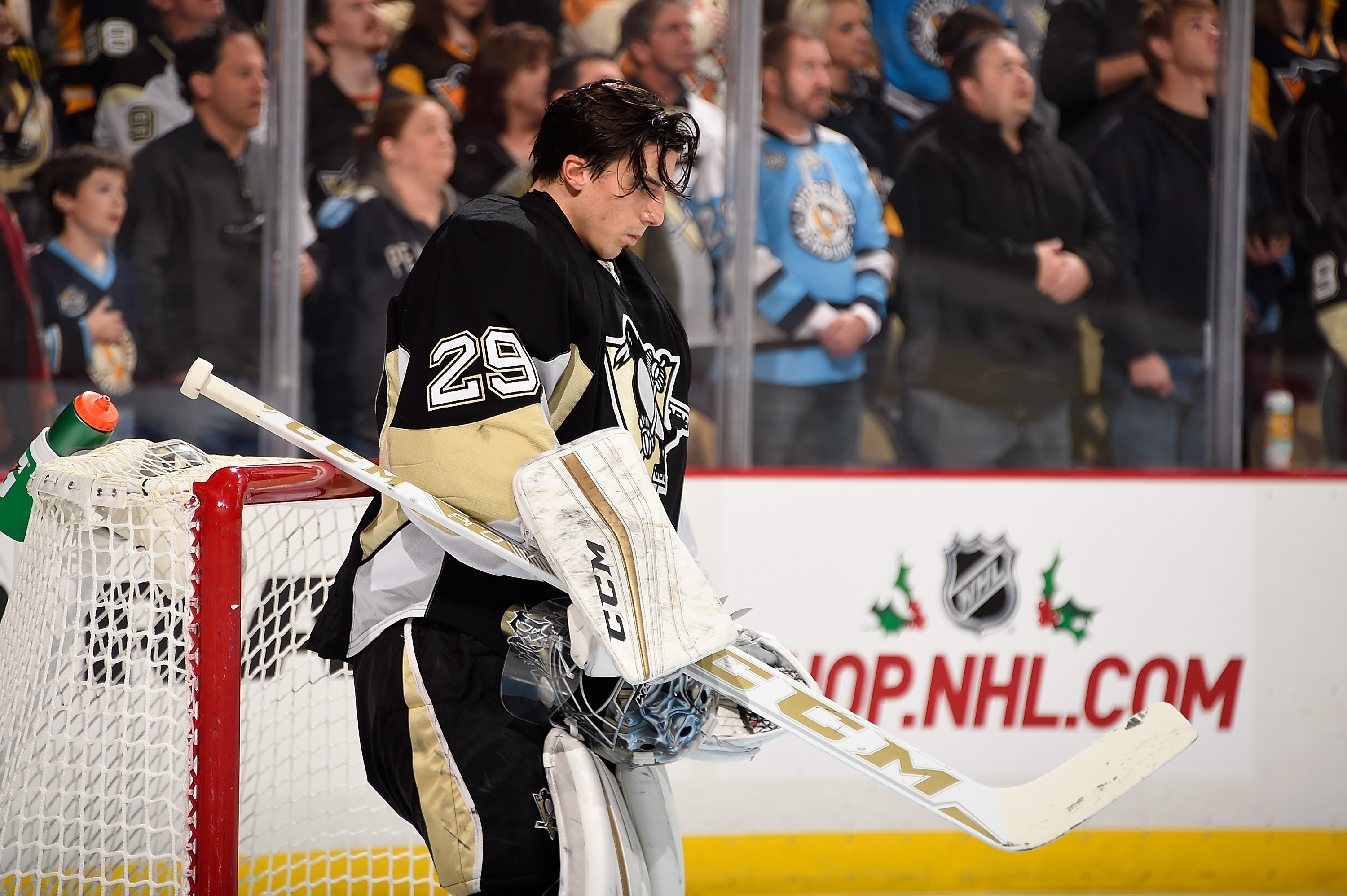 2015-16 Los Angeles Leaders
Total Points: Jeff Carter (11-15=26)
Goals: Jeff Carter (11-15=26), Tyler Toffoli (11-9=20)
Assists: Jeff Carter (11-15=26)
Plus/Minus: Jeff Carter (+16; 11-15=26)
Penalty Minutes: Andy Andreoff (39; 2-0=2)
Time On Ice: Drew Doughty (27:42; 4-12=16)
Corsi-For Percentage: Nick Shore (63.5%; 2-3=5)
2015-16 Pittsburgh Leaders
Total Points: Evgeni Malkin (12-13=25)
Goals: Evgeni Malkin (12-13=25)
Assists: Evgeni Malkin (12-13=25), Sidney Crosby (6-13=19), Kris Letang (1-13=14)
Plus/Minus: Olli Maatta (+9; 4-4=8)
Penalty Minutes: Evgeni Malkin (33; 12-13=25)
Time On Ice: Kris Letang (26:15; 1-13=14)
Corsi-For Percentage: Sergei Plotkinov (56.1%; 0-2=2)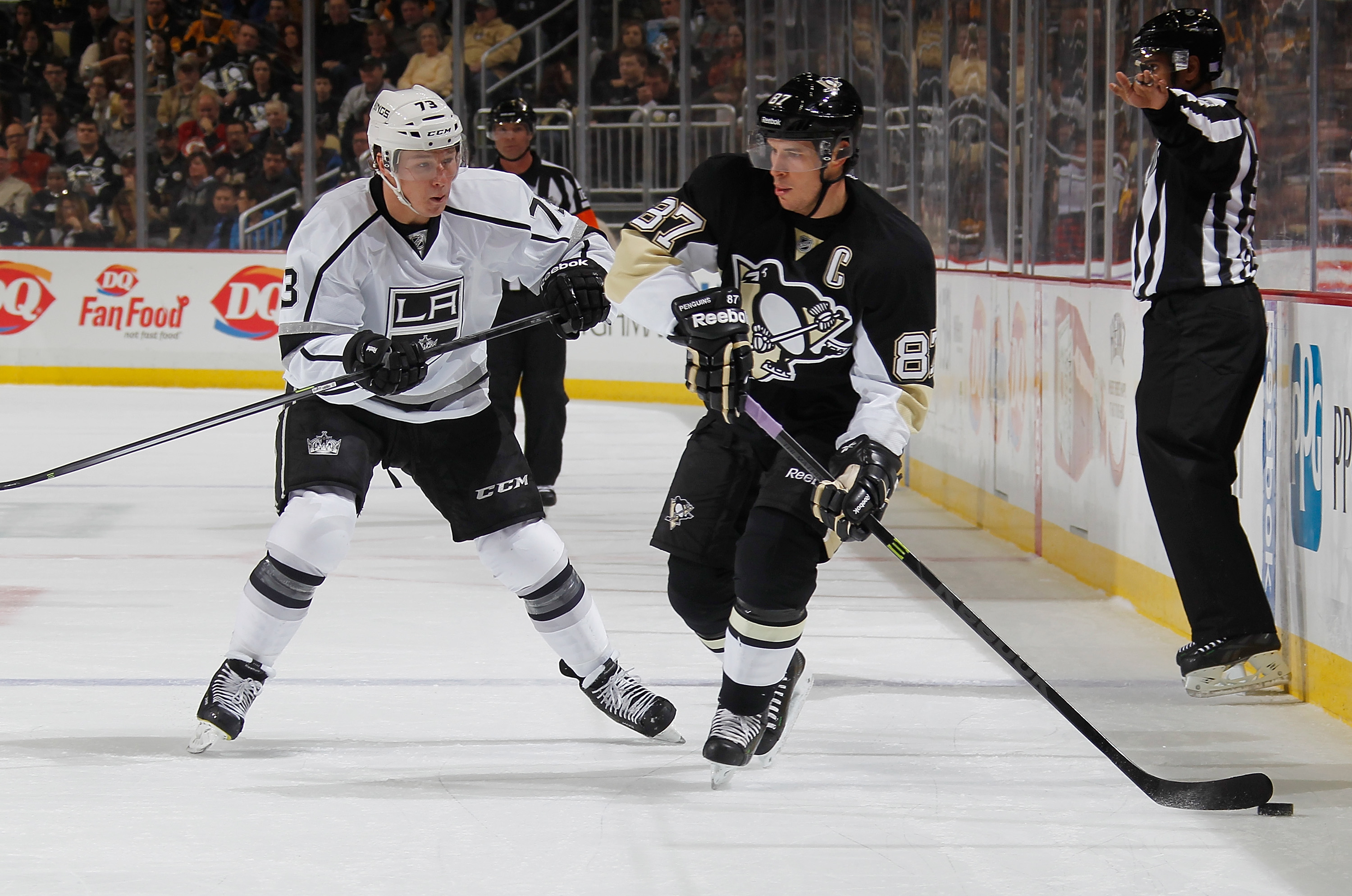 Rankings and Statistics
Goals/Game: LAK – t-16 / 2.59; PIT – 26 / 2.37
Goals Against/Game: LAK – 2 / 2.07; PIT – 6 / 2.33
Power Play: LAK – t-18 / 18.1%; PIT – 27 / 16.1%
Penalty Kill: LAK – 5 / 84.2%; PIT – 8 / 83.9%
Shots/Game: LAK – 1 / 32.8; PIT – t-9 / 30.2
Shots Against/Game: LAK – 4 / 27.3; PIT – 28 / 31.4
Faceoffs: LAK – 22 / 49.2%; PIT – t-10 / 50.5%
Save Percentage: LAK – 3 / .924; PIT – 2 / .926
Corsi-For Percentage: LAK – 1 / 57.5%; PIT – 20 / 48.5%
Los Angeles Projected Lines
Tanner Pearson – Anze Kopitar – Marian Gaborik
Milan Lucic – Jeff Carter – Tyler Toffoli
Michael Mersch – Nick Shore – Dustin Brown
Andy Andreoff – Jordan Weal – Jordan Nolan
Brayden McNabb – Drew Doughty
Jake Muzzin – Alec Martinez
Christian Ehrhoff – Jamie McBain
Jonathan Quick
Jhonas Enroth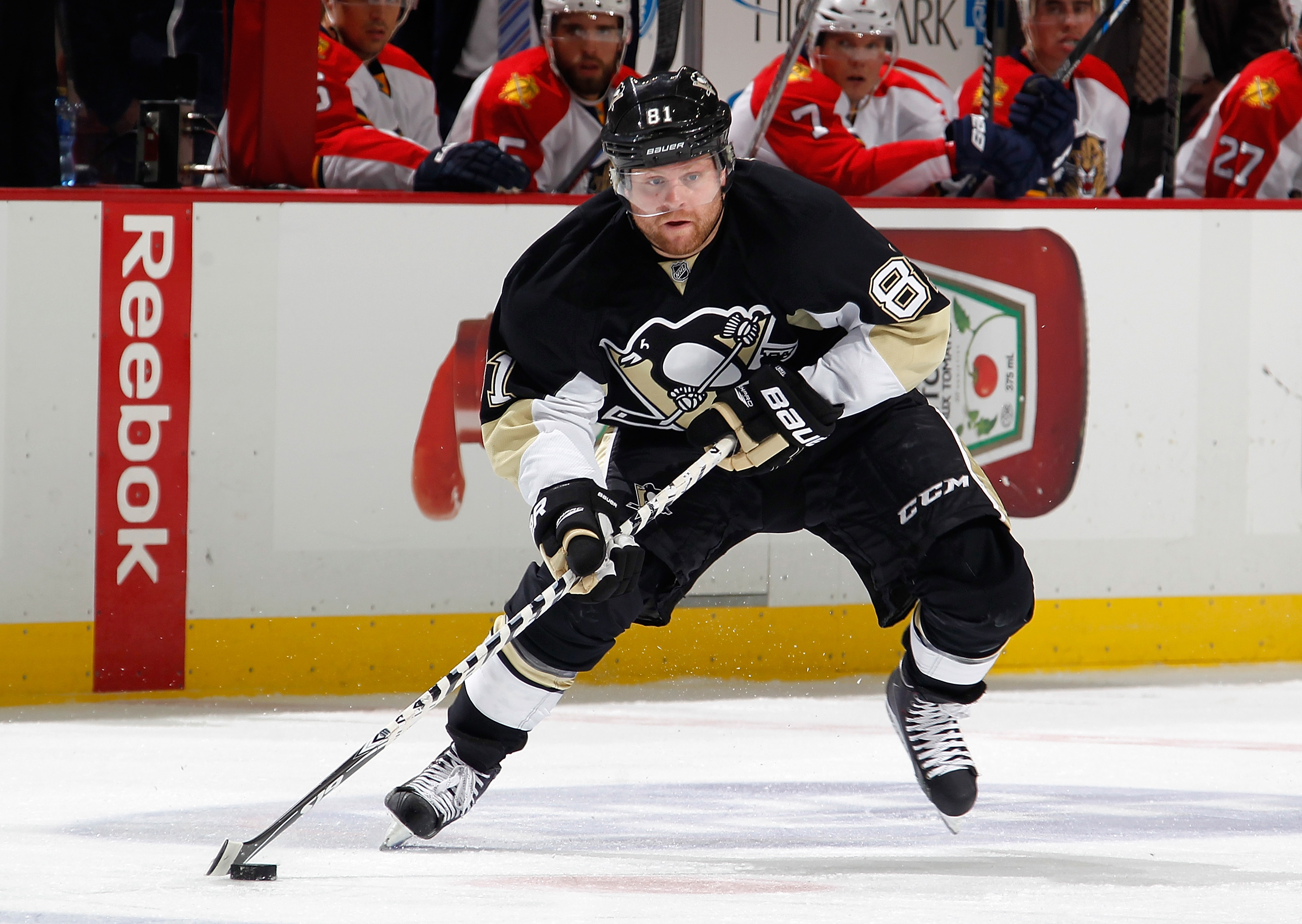 Notes and milestones: Los Angeles is 72-59-22 all-time against Pittsburgh, a record that includes a road mark of 26-41-11. The Kings are 5-3-2 in their last 10 visits to Consol Energy Center and Mellon Arena, with a tie serving as one of the two overtime decisions. … Los Angeles is 8-3-1 against the Eastern Conference and 5-2-0 against the Metropolitan Division. Tonight's game marks the fourth of eight consecutive games against the Eastern Conference. Thus far, the Kings are 3-0-0 (W vs PIT, W vs TBL, W @CBJ, 12/11 @ PIT, 12/12 @ BUF, 12/14 @ OTT, 12/17 @ MTL, 12/19 @ TOR). … Los Angeles has won five straight games and has points in seven straight. The longest winning streak and point streak thus far this season is seven games, set between October 16 and 31. … The Kings are tied for the league lead with eight wins when allowing the first goal (8-6-1) and a league-leading four wins when trailing entering the third period (4-6-0). … Jeff Carter has points in seven straight games (2-5=7), the longest point streak by a King since Justin Williams had points in seven straight games between March 28 and April 7, 2013. With 98 regular season goals as a King, Carter is two goals shy of 100. … Milan Lucic has points in three straight games (3-1=4) and seven points (4-3=7) in the last seven games. … Anze Kopitar has nine points (3-6=9) in the last nine games. He has logged at least 23 minutes in four straight games. … Drew Doughty hasn't logged fewer than 29 minutes since November 23 and has logged at least 30 minutes in four straight games. With 70 career goals, he is tied with Lubomir Visnovsky for fourth place on the club's all-time list of goals by a defenseman. … Jake Muzzin was a fifth round draft pick by Pittsburgh in 2007. … 23-year-old Michael Mersch is expected to make his NHL debut. He has potted 12 goals, 15 points and 93 shots on goal in 19 games with AHL-Ontario this season.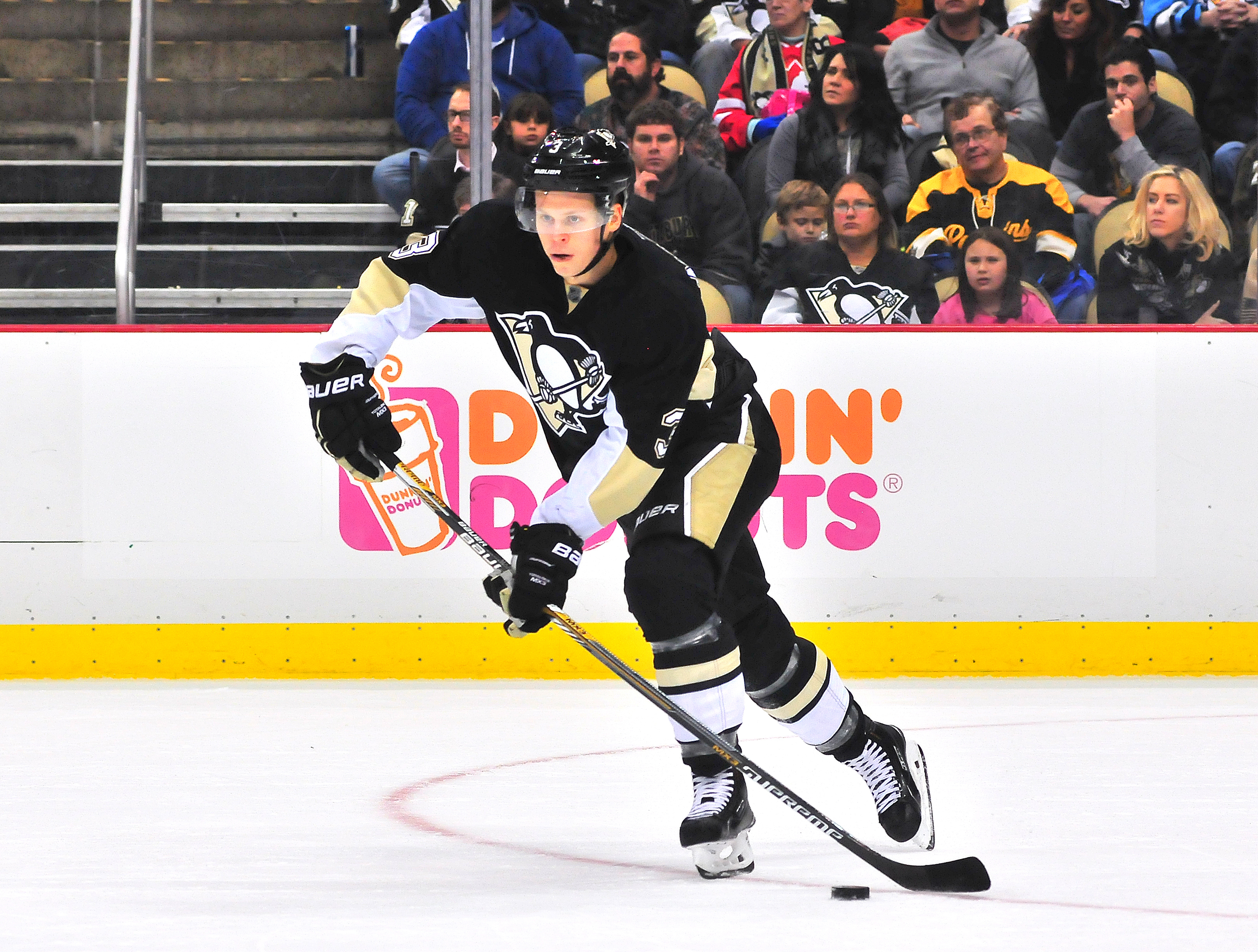 Pittsburgh Projected Lines
Chris Kunitz – Sidney Crosby – Beau Bennett
David Perron – Evgeni Malkin – Phil Kessel
Eric Fehr – Nick Bonino – Patric Hornqvist
Sergei Plotnikov – Matt Cullen – Daniel Sprong
David Warsofsky – Olli Maatta
Brian Dumoulin – Ben Lovejoy
Rob Scuderi – Ian Cole
Marc-Andre Fleury
Jeff Zatkoff
Notes and milestones: Lines via Seth Rohrabaugh of the Pittsburgh Post-Gazette … The Penguins finished off a 2-2-0 road trip through San Jose, Los Angeles, Anaheim and Colorado and return home to Consol Energy Center, where they are 5-2-1 in their last eight home games. … Pittsburgh is 10-1-1 when scoring first. … Chris Kunitz has points in four straight games (1-6=7). … Olli Maatta has points in three straight games (2-2=4), tying a career-high. Maatta is the fourth Penguins defenseman since 1987 with three or more two-assist games at age 21 or younger. … Brian Dumoulin has been plus or even in 22 games. … Evgeni Malkin leads the NHL with five game-winning goals and ranks second in the NHL with 10 home goals. … Beau Bennett is a former LA Junior King who was freshman year roomates with Nick Shore at the University of Denver. The two were linemates with the Pioneers from 2010-12. … Rob Scuderi totaled 47 points (4-43=47) in 285 regular season games with Los Angeles between 2009-13 and won the 2012 Stanley Cup.