2014 Los Angeles Kings first round draft pick Adrian Kempe was named to Sweden's preliminary roster for the World Junior Championships, which will take place in Helsinki, Finland between December 26 and January 5.
#Juniorkronornas förbundskapten Rikard Grönborg har tagit ut denna preliminära trupp till JVM 26/12-5/1! #twittpuck pic.twitter.com/P4rlTjJ7Qm

— Tre Kronor (@Trekronorse) December 7, 2015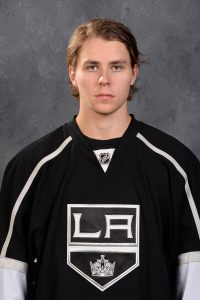 Kempe, who has 15 goals in 39 regular season and playoff AHL games dating back to last season, was a prominent figure on Sweden's fourth place World Junior team last year and totaled four goals (all of which were scored on the power play), eight points and 13 shots on goal in seven tournament games.
Though it would have been easy to assume Kempe would get the nod once again, AHL players require team permission to participate in World Juniors. That permission was granted, according to this report by Gunnar Nordstrom, a Southern California-based reporter for Expressen, a Swedish newspaper.
Via Nordstrom (and translated via Google Translate):
As Sportexpressen could reveal on Friday the Swedish nba after several days of negotiations in New York with the NHL lead this week received approval to use Nylander and Adrian Kempe in the JVM team.

Toronto Maple Leafs and the LA Kings have given the green light after pressure from NHL management since nba by deputy chairman Peter Forsberg filed a "Request of Release".
It sounded somewhat tricky to get the permission for William Nylander of the Toronto Marlies, who was selected eighth overall in 2014, to play in the tournament. According to TSN's Bob McKenzie, Toronto wasn't particularly keen on Nylander joining the Swedish team; Pension Plan Puppets has a bit more on the situation here. Interestingly, Oliver Kylington, a highly regarded 18-year-old defenseman playing for the AHL's Stockton Heat, was not named to Sweden's preliminary roster.
While Kempe saw some time alongside Nylander at last year's tournament, during Sweden's summer camp and evaluation tournament in Lake Placid over the summer, he skated on a line with Oskar Lindblom (PHI) and Axel Holmstrom (DET). Sweden is in Group A with Canada, Denmark, Switzerland and the United States and will open the tournament against the Swiss on December 26, the same day that the Americans and Canadians square off.
Elsewhere: Finland also released its preliminary roster today, though no Kings prospects were eligible to play with 20-year-old Alex Lintuniemi having depleted his eligibility. Canada released its selection camp roster last week, and Spencer Watson, who was selected with the second-to-last pick in the 2014 NHL Draft, was one of only two players named to the preliminary roster who was selected in the fourth round or later. Slovakia hasn't yet released its roster, though it would be safe to assume that Erik Cernak, who appeared in the two previous World Junior Championships, will join the club from OHL-Erie. No Kings prospects were on the United States' preliminary roster released today, though it would not be a surprise to see both Alexander Dergachyov and Damir Sharipzyanov named to Russia's preliminary roster when it is announced. Dergachyov totaled one goal and four points in seven games as an 18-year-old at last year's tournament and currently has two goals in 21 games for KHL-SKA St. Petersburg, where he had been doing a good job hitting the net.