Los Angeles Kings (16-8-1) vs Tampa Bay Lightning (13-11-3)
Sunday, December 6, 2015, 7:00 p.m. PT
Staples Center, Los Angeles, CA
Referees: #40 Brian Kozari, #24 Graham Skilliter
Linesmen: #88 Mike Cvik, #84 Tony Sericolo
Fox Sports West, KABC 790 AM, I Heart Radio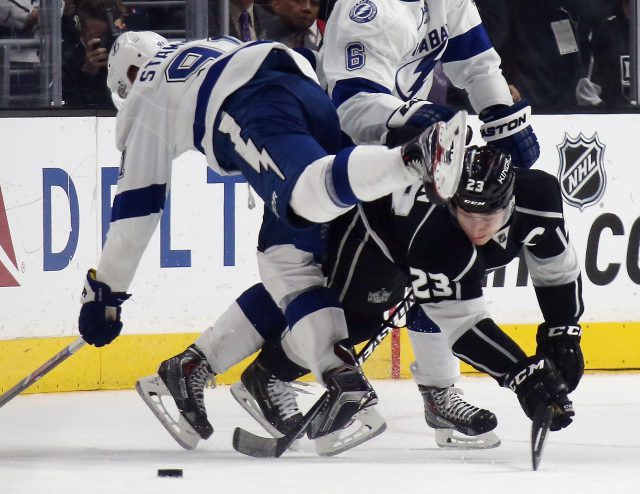 Los Angeles Projected Starting Goaltender – Jonathan Quick
2015-16: 21 GP (21 GS) / 13-7-1 record / 2.25 GAA / .916 Sv% / 1 SHO
Career vs Tampa Bay: 8 (7) / 5-1-1 / 1.37 / .948 / 1
Last Game vs Tampa Bay: 11/25/15 / 65 MP / 29-30 + 1/3 shots / 1-2 SOL
2015-16, Home: 14 (14) / 9-5-0 / 2.27 / .910 / 1
Tampa Bay Projected Starting Goaltender – Andrei Vasilevskiy
2015-16: 6 GP (5 GS) / 2-3-0 record / 2.55 GAA / .917 Sv% / 0 SHO
Career vs Los Angeles: 2 (1) /0-1-0 / 2.49 / .917 / 0
Last Game vs Los Angeles: 2/16/15 / 58 MP / 25-28 / 2-3 L
2015-16, Away: 5 (4) / 2-2-0 / 2.41 / .924 / 0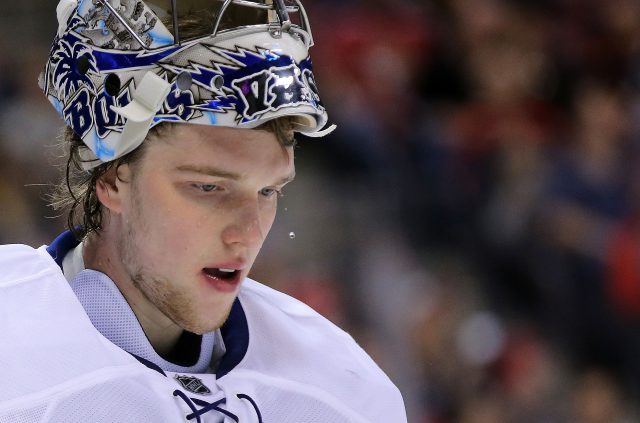 2015-16 Los Angeles Leaders
Total Points: Jeff Carter (10-14=24)
Goals: Tyler Toffoli (11-9=20)
Assists: Jeff Carter (10-14=24)
Plus/Minus: Jeff Carter (+15; 10-14=24)
Penalty Minutes: Andy Andreoff (39; 1-0=1)
Time On Ice: Drew Doughty (27:27; 4-11=15)
Corsi-For Percentage: Nick Shore (64.7%; 2-1=3)
2015-16 Tampa Bay Leaders
Total Points: Steven Stamkos (11-9=20)
Goals: Steven Stamkos (11-9=20)
Assists: Victor Hedman (2-12=14)
Plus/Minus: J.T. Brown (+8; 2-8=10)
Penalty Minutes: Nikita Nesterov (19: 0-0=0)
Time On Ice: Victor Hedman (22:07; 2-12=14)
Corsi-For Percentage: Victor Hedman (56.4%; 2-12=14)
Rankings and Statistics
Goals/Game: LAK – t-16 / 2.56; TBL – 24 / 2.37
Goals Against/Game: LAK – 2 / 2.12; TBL – 5 / 2.22
Power Play: LAK – 13 / 19.5%; TBL – 21 / 17.6%
Penalty Kill: LAK – 5 / 83.9%; TBL – 26 / 75.9%
Shots/Game: LAK – 1 / 32.6; TBL – 26 / 28.0
Shots Against/Game: LAK – 4 / 27.6; TBL – t-12 / 28.9
Faceoffs: LAK – t-19 / 49.2%; TBL – 12/ 50.2%
Save Percentage: LAK – t-4 / .923; TBL – t-4 / .923
Corsi-For Percentage: LAK – 1 / 57.4%; TBL – 10 / 51.6%
Los Angeles Projected Lines
Tanner Pearson – Anze Kopitar – Marian Gaborik
Milan Lucic – Jeff Carter – Tyler Toffoli
Andy Andreoff – Nick Shore – Dustin Brown
Kyle Clifford – Jordan Weal – Jordan Nolan
Brayden McNabb – Drew Doughty
Jake Muzzin – Alec Martinez
Christian Ehrhoff – Jamie McBain
Jonathan Quick
Jhonas Enroth
Notes and milestones: Los Angeles is 12-16-4 all-time against Tampa Bay, a record that includes a home mark of 4-10-2. The Kings have won three straight home games in the series and are 6-1-1 overall against the Lightning since a 3-1 setback on January 12, 2009. Today's game completes the season series. … Los Angeles is 6-3-1 against the Eastern Conference and 2-1-1 against the Atlantic Division. Sunday's game marks the second of eight consecutive games against the Eastern Conference. Thus far, the Kings are 1-0-0 (W vs PIT, 12/6 vs TBL, 12/8 @CBJ, 12/11 @ PIT, 12/12 @ BUF, 12/14 @ OTT, 12/17 @ MTL, 12/19 @ TOR). … Los Angeles is 9-4-1 in one-goal games, 7-6-1 when their opponent scores first, 8-3-1 when tied after one period and 2-1-1 when tied after two periods. … The last time the Kings played home games on back-to-back days came on March 18 and 19, 2013. They defeated the Coyotes 4-0 and 3-2 on consecutive nights, with Jake Muzzin and Jarret Stoll scoring game-winning goals and Tyler Toffoli scoring his first NHL goal in the first game of the two-game set. … Los Angeles has been outscored 39-38 in first and second periods this season but have outscored their opponents 26-14 in third periods and overtimes. … Drew Doughty (70 career goals) is tied with Lubomir Visnovsky for fourth place on the club's all-time list of goals by a defenseman. He has goals in two straight games; all four of his goals this season have come on the power play. … Jeff Carter has points in five straight games (1-4=5). … Marian Gaborik has points in three straight games (2-2=4). … Anze Kopitar has points in three straight games (1-3=4), eight points (3-5=8) in the last seven games and 399 career assists. … Milan Lucic has five points (3-2=5) in the last five games. … The Kings have registered 799 points in Dean Lombardi's tenure as President / General Manager.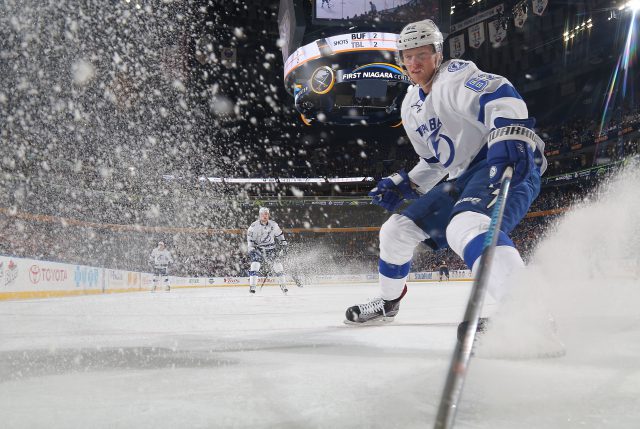 Tampa Bay Projected Lines
Alex Killorn – Valtteri Filppula – Steven Stamkos
Jonathan Drouin – Vladislav Namestnikov – Nikita Kucherov
J.T. Brown – Brian Boyle – Ryan Callahan
Joel Vermin – Jonathan Marchessault – Erik Condra
Victor Hedman – Anton Stralman
Matthew Carle – Jason Garrison
Braydon Coburn – Andrej Sustr
Andrei Vasilevskiy
Ben Bishop
Notes and milestones: Lines via NHL.com … Tampa Bay is expected to be without Ondrej Palat (ankle), Cedric Paquette (upper-body) and Tyler Johnson (undisclosed). … Today marks the 25th anniversary of the announcement by the NHL's Board of Governors that Tampa Bay and Ottawa would be awarded a conditional expansion franchise. … The Lightning are 6-4-2 against the Western Conference and 5-0-0 against the Pacific Division this season. … Six of Nikita Kucherov's eight goals this season have come on the road. He leads Tampa Bay with an average of 3:07 of power play time per game and has played in 135 straight games, including playoffs. Kucherov is two points shy of 100 for his career. … The Lightning have given up 32 goals in five-on-five situations, tied with the New York Rangers for the fewest in the league. … Brian Boyle recorded 10 points (8-2=10) in 36 games with Los Angeles in the 2007-08 and 2008-09 seasons.