The Kings finished their road trip with a quality performance in a 2-1 shootout defeat to the Tampa Bay Lightning that took on intensified urgency for the early season and featured high-level play between two teams that have been successful defensively over the first two months. The Lightning got sticks and bodies in front of Kings chances, preventing a surplus of clean looks at Ben Bishop, who was excellent in denying high-grade looks from Nick Shore, Tyler Toffoli and Anze Kopitar before Milan Lucic scored a big goal that earned the Kings a point on a night they very nearly earned none despite an impressive outing. Interestingly, two of Los Angeles' best efforts on the trip were in Detroit and Tampa – a regulation loss and a shootout loss – and all five of the games, maybe except for the Florida game, could have gone either way with a few different bounces. After mistakes were made against the Hurricanes, the Kings played winning hockey over the final two games of the trip.
Drew Doughty and Anze Kopitar played some of their best hockey of the season Tuesday night. Kopitar was on the shooting end of about three Grade-A chances: one sailed high from the slot, one was rebuffed by Bishop on a three-on-two rush, and on one Bishop used the patented Kopitar stick check to deny a one-on-one attempt in overtime. He was among the best players on the ice in his nearly 25 minutes of work. Enjoy the rest today, Anze. Doughty was also at the level we've seen pretty frequently from him through the first 20 games of the season. He made Ryan Callahan look like one of the bad guys in a kung-fu movie, causing Callahan to run into the glass as he spun around his forecheck in the first period before leading a well-read breakout by making all sorts of little plays to advance the puck up-ice. The entire defense played a confident game.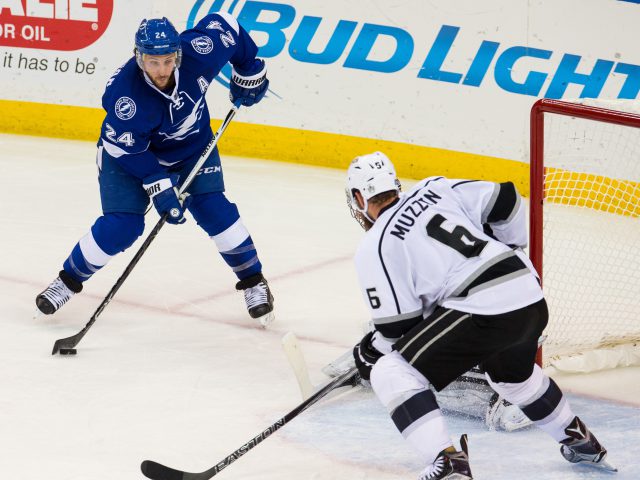 Happy Thanksgiving, Insiders! I'm always thankful that we can continue this year-round conversation through good days and road apples days while sharing a bond and a sense of humor that may, well, seem a little peculiar to some. Thank you as always for reading, and have a wonderful day with your friends and loved ones, and if you're traveling this weekend, share any and all Munters pics. Let's talk Friday, Insiders.