Los Angeles Kings (13-8-0) at Tampa Bay Lightning (10-9-3)
Wednesday, November 25, 2015, 4:30 p.m. PT
Amalie Arena, Tampa, FL
Referees: #26 Rob Martell, #3 Mike Leggo
Linesmen: #70 Derek Nansen, #66 Darren Gibbs
Fox Sports West, KABC 790 AM, I Heart Radio
Los Angeles Projected Starting Goaltender – Jonathan Quick
2015-16: 17 GP (17 GS) / 10-7-0 record / 2.39 GAA / .915 Sv% / 1 SHO
Career vs Tampa Bay: 7 (6) / 5-1-0 / 1.45 / .944 / 1
Last Game vs Tampa Bay: 2/16/15 / 60 MP / 21-23 shots / 3-2 W
2015-16, Away: 6 (6) /4-2-0 / 2.45 / .919 / 0
Tampa Bay Projected Starting Goaltender – Ben Bishop
2015-16: 17 GP (17 GS) / 8-7-2 record / 2.06 GAA / .925 Sv% / 1 SHO
Career vs Los Angeles: 5 (3) / 1-2-0 / 3.91 / .865 / 0
Last Game vs Los Angeles: 2/7/15 / 20 MP / 6-9 / 2-4 L
2015-16, Home: 9 (9) / 5-3-1 / 2.00 / .926 / 1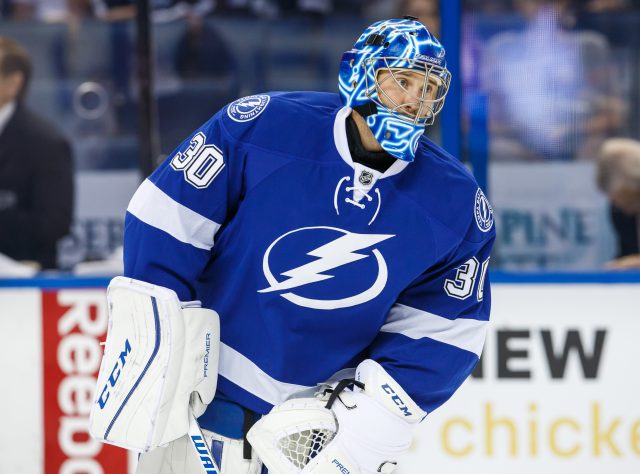 2015-16 Los Angeles Leaders
Total Points: Jeff Carter (9-11=20)
Goals: Tyler Toffoli (11-8=19)
Assists: Jeff Carter (9-11=20)
Plus/Minus: Jeff Carter (+13; 9-11=20)
Penalty Minutes: Andy Andreoff (39; 1-0=1)
Time On Ice: Drew Doughty (26:55; 2-10=12)
Corsi-For Percentage: Nick Shore (64.3%; 2-0=2)
2015-16 Tampa Bay Leaders
Total Points: Steven Stamkos (11-6=17)
Goals: Steven Stamkos (11-6=17)
Assists: Victor Hedman (1-11=12)
Plus/Minus: Tyler Johnson (+5; 3-7=10), J.T. Brown (+5; 2-5=7)
Penalty Minutes: Nikita Nesterov (19; 0-0=0)
Time On Ice: Victor Hedman (21:40; 1-11=12)
Corsi-For Percentage: Cedric Paquette (58.1%; 2-1=3)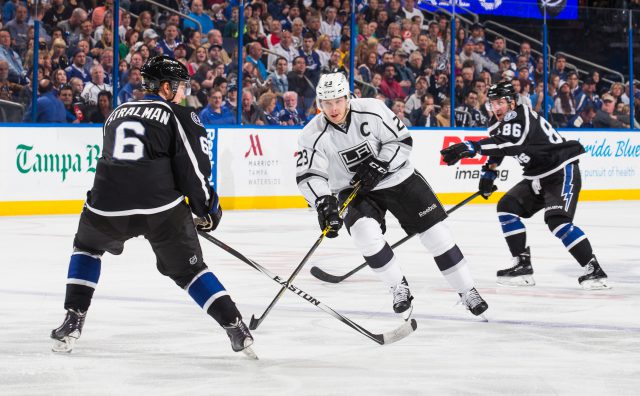 Rankings and Statistics
Goals/Game: LAK – 19 / 2.52; TBL – t-21 / 2.41
Goals Against/Game: LAK – 3 / 2.19; TBL – 2 / 2.18
Power Play: LAK – 15 / 19.4%; TBL – 16 / 19.1%
Penalty Kill: LAK – t-7 / 84.3%; TBL – 13 / 81.3%
Shots/Game: LAK – 2 / 31.7; TBL – 25 / 28.1
Shots Against/Game: LAK – t-10 / 28.7; TBL – 4 / 21.8
Faceoffs: LAK – t-24 / 48.4%; TBL – t-11/ 50.6%
Save Percentage: LAK – 3 / .924; TBL – t-4 / .922
Corsi-For Percentage: LAK – 1 / 56.4%; TBL – 10 / 52.0%
Los Angeles Projected Lines
Tanner Pearson – Anze Kopitar – Marian Gaborik
Milan Lucic – Jeff Carter – Tyler Toffoli
Andy Andreoff – Nick Shore – Dustin Brown
Kyle Clifford – Trevor Lewis – Jordan Nolan
Brayden McNabb – Drew Doughty
Jake Muzzin – Alec Martinez
Christian Ehrhoff – Jamie McBain
Jonathan Quick
Jhonas Enroth
Notes and milestones: Los Angeles is 12-16-3 all-time against Tampa Bay, a record that includes a road mark of 8-6-1 and a mark of 6-3-1 in the last 10 head-to-head meetings. These teams will meet at Staples Center on December 6 during the Kings' upcoming home stand. … Los Angeles is 5-3-0 against the Eastern Conference and 2-1-0 against the Atlantic Division. … The Kings have scored at least two goals in 18 consecutive games. … After a stretch of 15 consecutive successful penalty kills, the Los Angeles is 16-for-21 while shorthanded on the current road trip. The Kings have been shorthanded at least three times in 10 consecutive games. … With 279 career points (68-211=279), Drew Doughty is tied with Lubomir Visnovsky (70-209=279) for fourth place on the club's all-time list of points by a defenseman. He ranks third in the league with an average of 26:55 of ice time per game. … Tanner Pearson has eight points (2-6=8) in the last nine games. … Milan Lucic leads the team with three game-winning goals.
Tampa Bay Projected Lines
Alex Killorn – Steven Stamkos – Ryan Callahan
Vladislav Namestnikov – Tyler Johnson – Nikita Kucherov
J.T. Brown – Valtteri Filppula – Jonathan Marchessault
Brian Boyle – Erik Condra
Anton Stralman – Victor Hedman
Braydon Coburn – Jason Garrison
Matthew Carle – Andrej Sustr
Luke Witkowski
Ben Bishop
Andrei Vasilevskiy
Notes and milestones: Lines via NHL.com correspondent Corey Long … Via Long, Joel Vermin is expected to be scratched, while Ondrej Palat (ankle) is out, and Cedric Paquette (lower-body) and Jonathan Drouin (undisclosed) are doubtful. … The Lightning have improved their goals against from a league-worst 3.39 (2011-12) to 3.06 (2012-13), 2.55 (2013-14), 2.51 (2014-15), and have allowed 2.18 goals against through 22 games in 2015-16, trailing only the New York Rangers. … Since 2009-10, Steven Stamkos (264 goals) trails only Alex Ovechkin (266) for the most goals in the league. … Brian Boyle recorded 10 points (8-2=10) in 36 games with Los Angeles in the 2007-08 and 2008-09 seasons. … Anton Stralman is expected to play in his 499th NHL game. Both Stralman and Boyle were members of the 2013-14 New York Rangers team that fell to Los Angeles in five games in the Stanley Cup Final.