"Anybody that was on our championship team last year is a member of our family forever, so I want them to do well," Darryl Sutter said in April, 2013 about Davis Drewiske, who had been traded to Montreal. As yesterday's post noting Colin Fraser's retirement detailed, there are only 11 players who won a Stanley Cup in 2012 that remain on the Kings. Five players are out of hockey at the moment.
One of those five players is Simon Gagne, who announced his retirement in September after a 14-season NHL career. Prior to Tuesday night's game in Philadelphia Gagne was honored by the Flyers, with whom he played from 1999-2010 and half of 2012-13 after a mid-season trade from the Kings. After having come back from a 3-0 series deficit (and a 3-0 deficit in Game 7), Gagne scored the series-clinching goal to eliminate the Boston Bruins en route to Philadelphia's Eastern Conference Championship in 2010.
Gagne, who did not play between December 26 and June 4 during the Kings' 2011-12 Stanley Cup season because of a concussion, appeared in the final four games of the New Jersey series after replacing Brad Richardson in the lineup and lifted the Cup above his head on June 11, 2012. The approachable Gagne, admired by media and fans alike, held a media scrum during the first intermission of Tuesdays game and in addition to speaking at length about his standout Flyers tenure, was kind enough to answer a question about winning a championship in Los Angeles.
"It's always going to be a special moment with the players I was with for two years, and it's always going to be a special moment. We're together for the rest of our life," he said. "We went through something together, we won a Cup together with our names on it, and even for those two years, now when you ask me about what's my top moment of my career, the Cup's going to be on the top of the list all the time. But now, being with the Flyers for 12 years, I wish it could've happened here, but sometimes you have to go someplace else for those things to happen."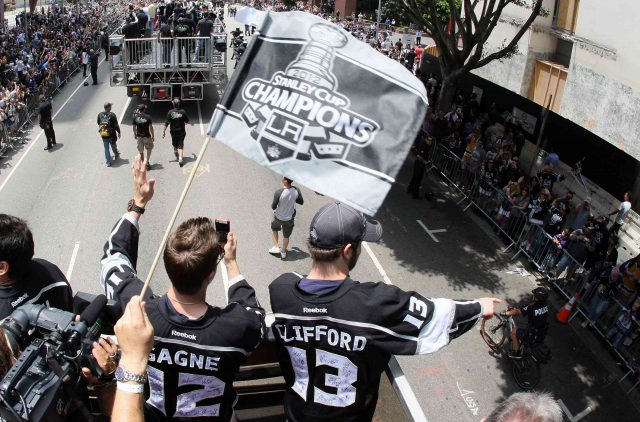 Simon Gagne, on how the Philadelphia fanbase compares to other fanbases:
This is a tough place to be. The fans are so into it and I was here for 12 years, only two years in LA, one in Boston, and one in Tampa, so I have a better taste of what's going on here in Philly, but at the same time every time you jump on the ice, especially in the playoffs, the crowd is so into it and they give you energy even when you have a hard time. They are going to push you and help you and they're very loyal. This is the best place to play hockey. Yeah, I won a cup in LA and it will be something that I remember for the rest of my life, but always going to be a Flyer.
Gagne, on wanting to bring a Stanley Cup to Philadelphia:
Playing here, being drafted here, seeing all the former Flyers that won Cups here, you always believe that you will be the next one and getting shorted in 2010 was one of the worst tastes in my mouth in my whole career, but at the same time I have to go somewhere else after that and to be able to win the Cup with LA, but as a hockey player at the same time that's your ultimate goal and it's not only with the team, it's everything you did in your whole career, not only in the NHL, but since you were a little kid and what your parents did for you and the sacrifices they made for you when you were younger, all the sacrifices you made for yourself and all the little parties that you didn't go to with your friends and you had to go home to get ready for the games. All of the surgeries I had to go through and all of the battles I had to go through, all the up and downs, and when you lift that Cup it doesn't matter what team you're on, it's a feeling to lift the Cup that's everything that comes in your mind first.
-stick tap to Flyers PR in helping with this story