Before any review of last night's game, it's important to credit the Philadelphia Flyers for a very good home performance despite an array of injuries that left the club short on skill and scoring beyond Claude Giroux's line. For two periods the Kings struggled to get their road legs going against a Flyers team that had been able to raise its game against the league's better teams this season, but ultimately, through a standout third period in which they fell behind despite pushing the run of play, Los Angeles relied on a last-minute Milan Lucic net-crashing six-on-five goal, followed by the breathtaking novelty of three-on-three overtime and the first shootout of the season. In those final sequences, Jonathan Quick stopped all eight shots he faced through the extra sessions – eight high, high grade opportunities – and the Kings pushed their road record to 5-1-0 on the season. As Anze Kopitar said in our post-game interview, "it wasn't the prettiest win, but there are no pictures in the standings."
But oh, that overtime. I was going to write a blow-by-blow account of the entire five minutes, but why do that when you can just watch it yourself? The key play, other than Steve Mason's save on Marian Gaborik's forehand-backhand attempt and Jonathan Quick's poke check to deny Claude Giroux on a breakaway, was Alec Martinez sprinting on the backcheck to take away a Michael Del Zotto breakaway despite encountering some Matt Read interference in the neutral zone. To be fair, a penalty would never be called in that situation, and Read's attempt to put a zigzag into Martinez's beeline sprint was a smart play rather than any infraction, and Read probably could've disrupted the trajectory to a greater degree. Martinez, who led the game with three blocked shots, also stepped in front of a high-grade Brayden Schenn third period opportunity from the left circle. But do yourself a favor and re-watch that overtime not only to relive a thrilling five minutes of (novelty) three-on-three, but also to hear Bob Miller and Jim Fox's pristine call of the end-to-end action. Miller was beautifully on top of every play, and despite the constant chances at both ends, Fox picked the perfect spots to step in with concise, illuminating commentary.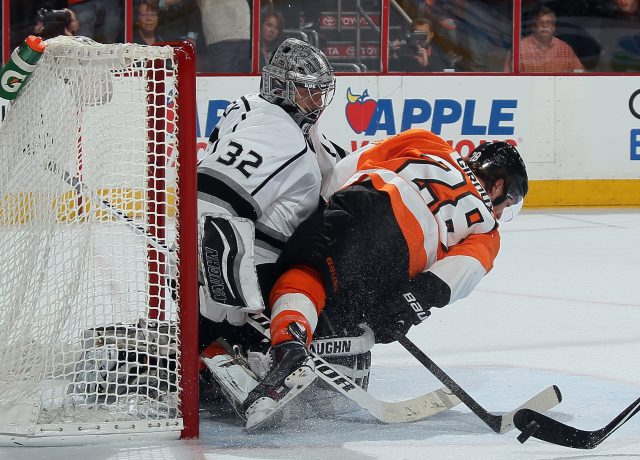 Tanner Pearson is raising his game and after a slow start attributable to the modified summer that followed a season-ending injury, now ranks fifth on the team with 11 points in 18 games. "You know how it is, you train throughout the summer and then you come back, and you're not really in hockey shape, you're haven't been taking hits and that kind of thing," Pearson said to reporters yesterday. "Even in exhibition games, it's not the same pace as regular season, so you get into it, and then you have to up your game even more when the regular season starts." Those sentiments were underscored by the fact that he hadn't played hockey or taken hits since mid-January, and it's understandable that if there were to be players to get off to inconclusive starts over the first 10 games, he'd probably be one of them. He now has eight points in the last seven games, and the partnership with Anze Kopitar on the top line has provided one of the effective "twos" that Darryl Sutter uses to fill out his forward group, and it appears his north-south hustle and forechecking game is well-suited for the Kings' star center. Marian Gaborik's play has also risen since the trio was aligned together, so this could pay dividends for the Kings by taking scoring pressure off the Jeff Carter line if they're able to remain together for any sort of term.