Saturday's win wasn't exactly set up by the most pristine 60 minutes of Kings hockey – and despite the poor result, Todd McLellan's undermanned Oilers team deserves recognition for a gutsy effort – but there were positive developments to reflect on, even if a pair of two-goal leads evolved into a tied game against a team that played without two of its three best forwards and had been thinned by the flu. First, Anze Kopitar's wingers were productive; for Tanner Pearson, it was the continuation of a standout stretch dating back to the St. Louis game, and for Marian Gaborik, it was a much-needed two-point night in which he returned to finishing the types of plays around the net that had become such necessary staples of his play during the 2014 postseason and much of his play last year. For Pearson, his relentless forecheck and assistance on Gaborik's goal allowed the Kings to play with the lead from the 1:17 mark of the first period to the 15:10 mark of the third. It was the type of north-south speed-and-pressure-game that has made Pearson a very useful player so early in his NHL tenure.
All goals on Saturday were scored at even strength, which represented a bit of a departure from a Kings attack that had recently become reliant on power play success (not that that's necessarily a bad thing). Los Angeles entered play averaging 1.6 goals and ceding 1.8 goals per 60 minutes during five-on-five play, and the four goals scored in those situations on Saturday represented a season-high. Nick Shore, whose contributions beyond the scoresheet can't always be discerned during real-time, upstairs observation, doubled his point total and continued to serve as the among the Kings' most effective forwards at denying opportunities. His 19.2 shots against per 60 minutes is the best shot suppression rate amongst all Kings forwards, and it's because of his unsustainable 89.7 PDO that the team has scored only 0.87 G/60 while he's on the ice (and why Shore himself has a minus-seven rating). His work along the boards and in battle-areas has been impressive and has been upheld ever since his standout game in St. Louis, and it's only a matter of time before some of his secondary numbers float back towards the mean, given his covertly raised play.
Teams aren't going to raise banners to commemorate a regulation loss, but the Oilers produced a very solid effort on Saturday, and it's clear that Peter Chiarelli and Todd McLellan will provide a much sturdier base for future Edmonton success than those in influential positions in prior regimes. There was a built-in excuse for the visitors to pack one in given their limited personnel options with injuries and illnesses affecting key players, but it would be silly to expect Los Angeles to win home games in the same vein as the aggregated 14-3 score that they produced at home in the series last season. I watched the Oilers during the Penticton Young Stars Classic, and while the buzz around the tournament was MCDAVID MCDAVID MCDAVID, it wasn't a stretch or unexpected that the budding superstar would project to be so productive in his first season. Instead, it was the play of Leon Draisaitl in the rookie tournament who offered the most illuminating performance. Connor McDavid was the best player, as expected, but Draisaitl showed a major breakthrough from his teenage glimpse at the NHL level one season ago during the tournament's limited sample size. Since his recall from AHL-Bakersfield, he has five goals and 13 points in eight games and will be a powerful fixture on an offensive attack that will, over time, add plenty of wins to its hollow moments of flash, dash and crash that have defined the previous five seasons of Oilers hockey.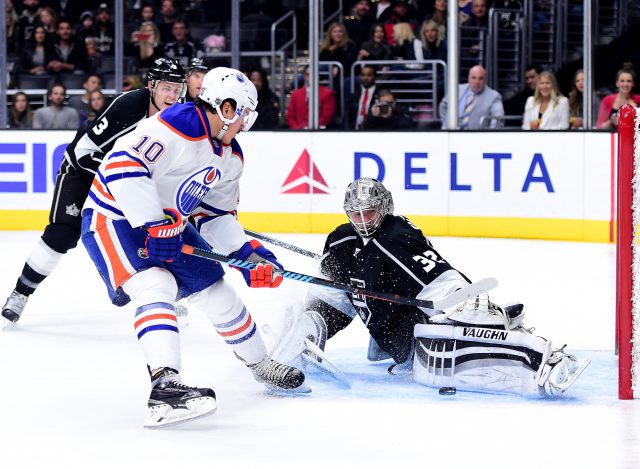 -advanced stats via War-on-Ice, Stats.HockeyAnalysis.com