Though John Tavares would be the foremost figure who springs to mind when thinking about the New York Islanders, Brooklyn's newest professional sports team also benefits from a collection of players who aren't quite as high on the depth chart.
Though so-called fourth lines may occasionally be populated by those prone to cycling in and out of the lineup, the Islanders' group of Matt Martin, Casey Cizikas and Cal Clutterbuck hasn't only remained intact, they've consistently been amongst the most effective energy lines in the entire league.
"We're trying to play the same role as those guys," Jordan Nolan said. "They're a good fourth line, all of those guys were top juniors players – you know Clutterbuck, Cizikas and Martin – so they're playing a good role for the hockey team and it should be tough against them tonight."
From Arthur Staple in Newsday on October 27:
"We know what we're supposed to do and when we do it well, it's a good feeling," said Clutterbuck, who scored the third goal (off good, hard work by Cizikas) in the Isles' 4-0 win over the Flames. "Our jobs don't change much night to night."

Martin is certainly valuable at even strength with his two linemates. But this season, through nine games, Cizikas and Clutterbuck have been the standouts, partly for their speed and directness when the fourth line is together and partly for being two of the forwards who get a great deal of penalty-killing time.
The trio has also combined for six goals, which is five goals more than the combination of Kyle Clifford, Andy Andreoff and Jordan Nolan, the threesome that would be considered Los Angeles' "fourth line" for much of the early part of the 2015-16 season. (Granted, New York, as a team, scores at a slightly higher rate than does Los Angeles).
But there are similarities in the hard play expected out of the Kings' depth forwards.
"I think what we see there are similarities when it comes to capabilities," Assistant Coach Davis Payne said. "Their fourth line, the Cizikas line, has really formed an identity for how they're going to play and are very, very consistent with it and have been doing it not just this year but over the past few years. It's something that they can count on. It's the type of identity we'd like to count on as well."
Both teams are able to play "heavy" games, at least according to the official tabulation on "hits." Hits may vary from building to building, and leading the league in hits may not necessarily be a good thing, because it means that the puck is on the opponent's stick more frequently. (Though, for the Kings, to be a top-flight possession team and rank near the top of the league in hits is a positive representation of their effective style of play.)
Los Angeles ranks sixth in hits this season but has finished either first or second in the league in hits since 2011-12. New York leads the league in that category this season, and Martin has led the league in hits every season since Clutterbuck, his current linemate, led the league in that statistic in 2010-11.
Nolan and Martin are the same age and saw their Ontario Hockey League tenures overlap for three seasons in which they were both in the West Division – Nolan in Windsor and Sault Ste. Marie, and Martin in Sarnia.
"I wouldn't say it's a rivalry – I never talk to the guy too much," Nolan said of their history. "He usually goes about his business and so do I, and he's done a great job for that team and I'm trying to do a good job for mine, so it's always fun when we meet up with them because they're good competition."
"They've got a lot of energy, maybe playing in New York they get a few extra hits from their stat guys, but other than that, they play with a lot of energy, they know their role, and they do it perfectly every night."
The Kings have won playoff series through the contributions of their "heavier" players – think Dwight King against Arizona in 2012, or Clifford against the New York Rangers in 2014 – and will look to build consistency in their hard, straightforward game to continue to solidify their identity in 2015-16.
"That's the only way you get an identity. If you're inconsistent, it's pretty hard to call yourself anything," Payne said. "It's a commitment to preparing to play the right way and to play the way that is most effective for a group like that. You're a group that's hard to play against, you want to be a group that makes plays, gets out of your own zone, spends heavy time in your opponents' zone. That battering ram effect that they keep coming at you shift after shift and you know what you're going to get, that's where we've got to get to."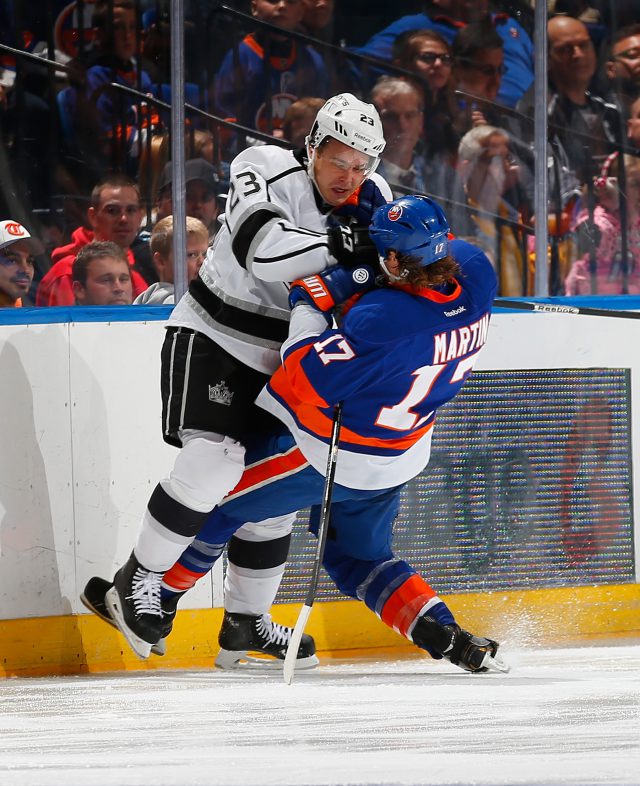 Related: Matt Martin, Dustin Brown and the nuances of "hitting"