Over 82 games you'll have a few bizarre ones such as Thursday night's 3-2 loss to the Columbus Blue Jackets, a game in which the Kings held their opponents without a shot on goal over a full period for only the second time in (regular season) club history, only to have the visitors protect a lead by out-shooting Los Angeles 17-10 in the third (shots were 17-5 at one point) and claim a narrow victory in which they did not own the majority of the scoring chances. The three-games-in-four-nights stretch appeared to catch up with L.A. in this one, and bizarrely, they haven't played consecutive games in one building since hosting Minnesota and Colorado nearly three weeks ago (though that complicates the work of the equipment staff more than anyone else). But as stated on the podcast, in the commenting section of this blog, and in my head, the Blue Jackets are a much, much better team than their rugged start indicates. This was a team that had been projected to contend for the Metropolitan Division, and because they were having problems keeping the puck out of their own net early in the season, will have to fight tooth and nail to claw back into the playoff race. With a little bit better finish, Los Angeles would've emerged with a win despite the unfavorable tired-legged circumstances. Onward and upward.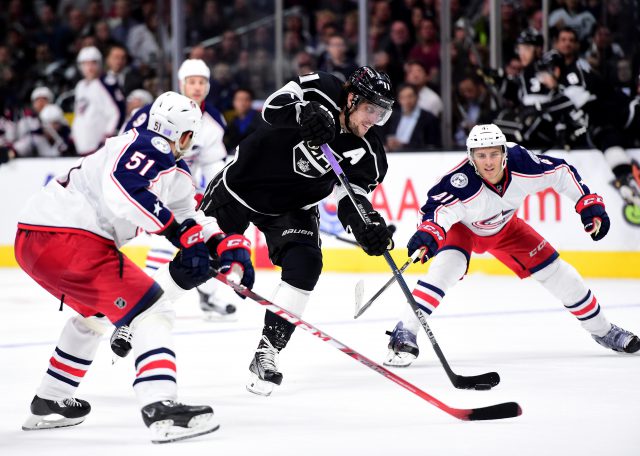 A familiar story this week has been the need to get more production from Anze Kopitar's wingers, and Thursday's game produced middling results. The more positive: Dustin Brown was well engaged and fired nine shot attempts towards Columbus' net; the less positive: Marian Gaborik was a minus-one, recorded one shot attempt (it was blocked), and was credited with two giveaways (for whatever that's worth) in 14:59 of ice time. It's a tough go for Gabby right now. One of the premier shooters and finishers, he's registered more than two even strength shots on goal in only two games this season, and it's hard to start discussing PDO and unfortunate shooting percentages when he's not directing as many shots on net. Still, his 5×5 shots on goal per 60 minutes is only .14 shots lower than last season, and most of his underlying numbers are well within the range of what he has shown in recent seasons, so the argument can still be made that he's simply mired in a slump and a production surge may lie ahead.
There were a disproportionate number of stops and starts in Thursday's game, which was the latest in a string of contests between a pair of teams that have no playoff animosity to build off of, just a collection of testy regular season battles waged between a pair of heavier teams with strong work ethics. The 20 combined penalties tied the Columbus game with the season opener against San Jose for the most in a Kings game this season, while the 68 faceoffs represented the third-highest total. It disrupted the rhythm of a game that gradually improved over the second half of the second period, but by the time the teams had settled into the third, the Blue Jackets established their best zone time advantage of the evening and had built momentum off an early/mid-period power play.