It's funny; if you were to try to predict the outcome of a Kings-Predators game, you'd probably assume some sort of 2-1 game between a pair of teams that have traditionally been stingy defensively, rely on world-class goaltending and aren't known for ceding much space on the ice to their opponents. Instead, if you've bet the over in this rivalry, you've probably made a little bit of money to spend on your next trip to Tootsie's (or, if you're in the know, Legend's Corner). Jonathan Quick, who hasn't experienced a great deal of success against the Predators in his career (remember Jonathan Bernier, Preds Killer?), lifted his career save percentage in the series to .886 while winning his third career game against Nashville, while Pekka Rinne, who hasn't been particularly sharp at Staples Center, saw his save percentage drop to .890 in head-to-head match-ups. And this is all relatable to what Darryl Sutter has liked during this team's winning streak: the Kings have won games in different ways. They've "sawed off" tough head-to-head match-ups on the road, they've relied on standout goaltending and special teams for much of the streak, and on Saturday, Los Angeles showed resilience in battling back from a deficit to start the third period and withstood a third period game-tying Predators goal to win their seventh straight game on a thrilling Drew Doughty-to-Jeff Carter sequence that included a blocked Mike Fisher three-on-one-all-or-nothing pass and a streaking Carter forcing a prone Rinne into making the first move.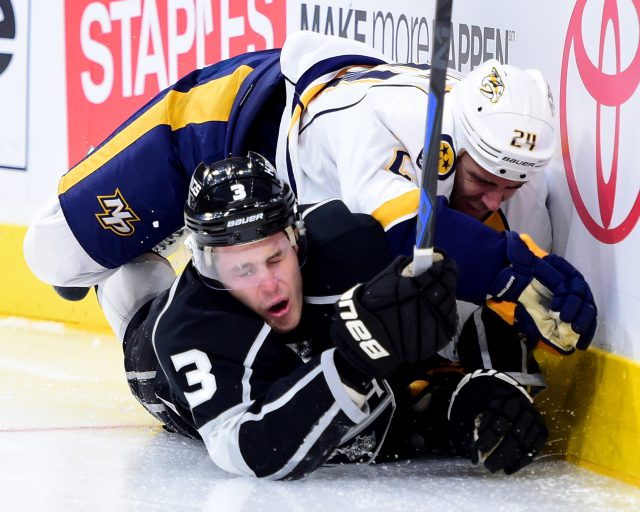 While Nashville scored a pair of power play goals, including one on a Shea Weber laser beam, Los Angeles was able to win this game in part because of a pivotal third period kill that included Trevor Lewis leaving the penalty box and making a power move past Seth Jones to force the puck out of the defensive zone to set up a rush that was finished off by a net-crashing Tyler Toffoli after a patient centering feed from the left wing. As Toffoli potted two goals on Saturday, he has now scored nine times on 26 shots – there's unsustainable, and then there's otherworldly unsustainable – and, like the team's wins, continues to find the back of the net in a multitude of ways. His first goal, in which he slipped behind the defense to backhand a clever centering feed from Christian Ehrhoff while on the power play, was set up because of another impressive Doughty maneuver in which he intercepted a pass and fed Kyle Clifford while entering the offensive zone to draw a Roman Josi hooking call. Doughty, who took six shots on goal and recorded an assist and a plus-two rating in 29:10 of ice time, had his fingerprints all over this win. Jake Muzzin, who had a big hit on Jones at the right wing hash marks in the Kings zone in the third period, also continued his strong all-zones play and logged two assists, a plus-one rating, six shot attempts and three hits in 23:19 of ice time.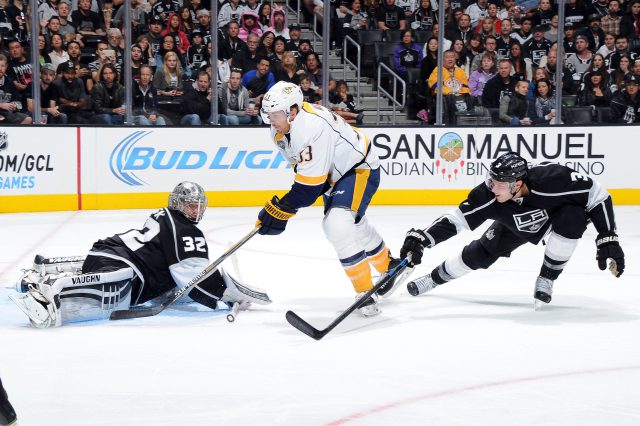 Three-on-three overtime is fascinating – and looks exhausting. I was of the "it's a goofy novelty" mindset before seeing it in practice (and given the preseason 4-on-3 power play time and very quick goals, the exhibition season overtime was an unsatisfying appetizer). After 10 seconds of three-on-three in the Minnesota game, my opinion changed 180 degrees. It's essentially more satisfying than a shootout, and, as it was designed to do, largely prevents the individual skills competition. Winning faceoffs – something the Kings struggled at times with against the league's 30th-ranked faceoff team – is key, as is maintaining possession, even if that means exiting the offensive zone with possession during high tension moments. And the importance of players hitting nets is heightened as hard ricochets off the end boards spring fast odd-man attacks in the opposite direction. Not to get too caught up in it, but it literally brings the fans out of their seats.