In a wonderful exhibition of up-tempo play, finished checks and hard hockey, the Los Angeles Kings skated past the Winnipeg Jets in a five-on-five demonstration in which the referees swallowed their whistles and the visitors raised their game as the 60 minutes elapsed. Rarely are there comments about a "playoff" style on October 27, but those comments were exchanged in the press box and on social media as Los Angeles followed the How to Win a Road Game script by minimizing mistakes, relying on standout goaltending – that Jonathan Quick second period save on Tyler Myers! – and notching a late third period goal that stood up as the game-winner. Again, the Kings were lifted by the Jeff Carter line, which has been scorching hot during the six-game winning streak. Matching up heavily against the Ladd-Little-Wheeler line, the Carter line, like L.A., improved over the duration of the game to the point where they were heavily tilting the ice towards the attacking end in the third period, when they accounted for the game-winning goal. Singling out one trio isn't particularly fair, though, and to win this type of a road game against a heavy and physical Winnipeg team in some of the league's most difficult surroundings requires everyone in the lineup to be pulling their own weight.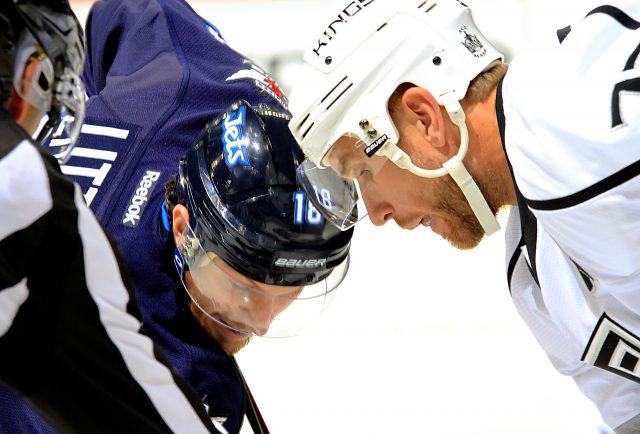 Darryl Sutter tinkered with the lines Tuesday night (this is not news; all coaches make adjustments based on performance and match-ups), and after placing Trevor Lewis between Kyle Clifford and Marian Gaborik and Nick Shore between Andy Andreoff and Jordan Nolan, moved Gaborik back alongside Anze Kopitar and Dustin Brown to begin the third period. This led to event charts such as this one, in which the Kings clearly separated themselves from the Jets in a third period in which they outshot the home team 14-5 (though, according to War-on-Ice, led in a much narrower scoring chance count). Gaborik, who had skated on Nick Shore's line for the Edmonton game and entered the night with just one point on the season, was sharper as his minutes rose to 16:24, a total that was more than three and a half minutes greater than his usage Sunday night. The minutes were again spread evenly around, with Doughty logging a season-low 23:27 in the win and Brayden McNabb (23:15), Alec Martinez (23:01) and Jake Muzzin (21:15) finishing within the same ballpark. Over the last four games, Sutter has managed to keep Doughty's minutes down to the 23.5-25.5-minute range, while no Los Angeles skater on Tuesday logged fewer than Andy Andreoff's 11:08 minutes played. Even strength hockey!
Speaking of the defensive rotation, the Kings have received strong results from a younger unit that is looking to continue to solidify its identity. Brayden McNabb, who was scratched on opening night, appears to have received a clear message. Before the season, the team was looking for more consistency from McNabb, and he has delivered during the most recent three games of this winning streak, capped by a strong performance on Tuesday. Alec Martinez was credited with three blocked shots in the win (might he have registered one or two more?) and now leads the club with 19 blocks on the season. Jake Muzzin was Good Muzzin on Tuesday. In fact, he was Very Good Muzzin – just look at this play in which he glances over his shoulder to get an up-ice read, spins, and delivers a tape-to-tape breakout pass with Blake Wheeler pressuring – and has been a positive example of the defense's evolution during the winning streak. There will be the inevitable hitches, but those have been minimized during the recent streak. Topical: So you're 3-0-0 against the Central Division, Kings? Enter the Predators, Blackhawks and Blues. More challenges await.