We've seen this game before. I'm not only referring to a low-scoring home win over the Avalanche – in the six home games during Los Angeles' nine-game point streak against Colorado, a combined total of 3.7 goals per game have been averaged between the two teams in the run of play – but in that the Kings heavily outplayed their opponent, dominated territorially, played with a strong pace and won a narrow, one-goal game. Sunday's game hardly seemed in doubt, despite late Avalanche opportunities with the man advantage, which included a solid 5-on-3 L.A. kill that included key saves and covers by Jonathan Quick and strong defensive zone positioning. Personnel may change and circumstances evolve, but there was a steely calmness in the Kings' third period play, even as 28-year-old Alec Martinez was the eldest of the four defensemen who logged over 20 minutes in the win. Stick taps go out to Brayden McNabb (24 years old) and Jake Muzzin (26 years old) for their defensive performances; though Carl Soderberg's pass on the Avalanche goal got through McNabb's legs to Matt Duchene, both he and Muzzin played well while the puck was in the Kings' zone. Los Angeles won only 13 of 37 one-goal games last season, but thus far they're 2-0-0 in 2015-16. One has the feeling that there will be many more games like last night's in the upcoming season.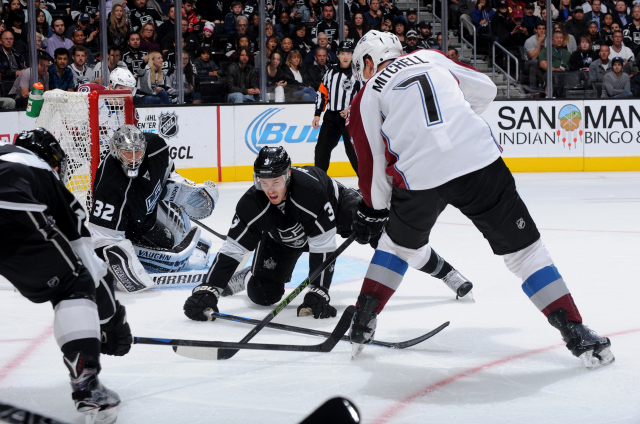 The two fights at the 2:44 mark of the second period had an interesting and significant effect on the game. Between the end of the first period and the beginning of the second, the Kings were really beginning to settle into their game and began to break away from the Avalanche possession-wise, and looking to stem the tide, Cody McLeod and Jack Skille attempted to inject some energy into the visitors' attack as they maintained some zone time against Andy Andreoff's line, which had been very effective to that point. Credit Derek Forbort for issuing an effective hit on Skille during some invigorated jostling behind L.A.'s net as McLeod then took two extra whacks at a puck that Jonathan Quick had covered, drawing the ire of the five Kings on the ice, particularly Christian Ehrhoff and Jordan Nolan. The acrimony between Nolan and Skille reached a boiling point, which wasn't good for Skille, and then Andreoff became squared away with McLeod as both earned fighting majors and game misconducts for forming a second fight during a stoppage. Andreoff fared well against a player who has more penalty minutes and fighting majors than any other player in Avalanche history and removed one of Colorado's alternate captains from the game, but up to that point, his line had been effective in generating energy and playing deep in the attacking zone (Andreoff had been a +7 in shot attempt differential during his 4:14 of action). After that episode, both Nolan and Clifford only saw three additional shifts in the game, according to information available at Nullisecond.us.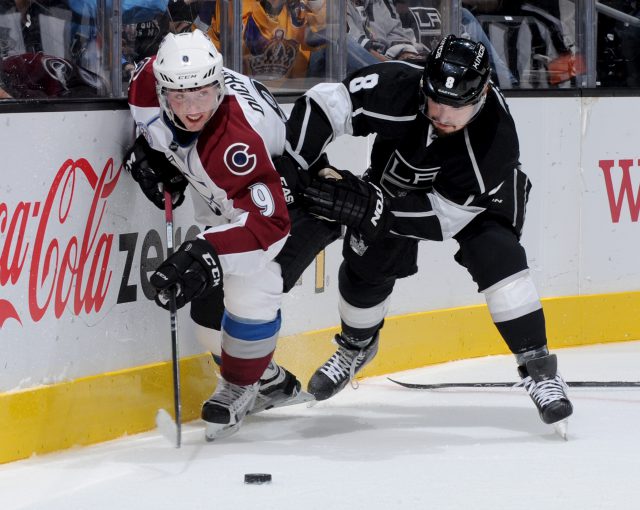 If the biggest knock on Tyler Toffoli is his skating, then the Kings have themselves an awfully good hockey player (not that you didn't already know that). We've seen moves similar to his Sunday breakaway goal before; in a shorthanded break during last year's overtime loss at Philadelphia, he was afforded enough time to calm down a rolling puck before going backhand-forehand and sniping high over Ray Emery's glove. He didn't have nearly as much time against Colorado, and was forced to execute a backhand-forehand-backhand-forehand move at top speed and with Francois Beauchemin careening down on him. He set himself up on the play by using his 200-foot instincts to intercept a telegraphed Erik Johnson giveaway (Beauchemin had been tapping his stick on the ice, calling for a pass), and the rest of the play turned into a boat race. There won't be as many shootouts this season – and goalies are more set during shootouts than they are during in-game breakaways – but it seems safe to assume that Toffoli will get opportunities once 65 minutes of play have elapsed.