Good afternoon from El Segundo, where the Kings took the ice at 11:00 a.m. and skated through a lengthy practice.
-Forward lines didn't change, but there were alterations defensively with Matt Greene not taking part in practice. The pairings were McNabb-Doughty, Muzzin-Martinez and Forbort-Ehrhoff.
Hockey operations said that Greene was "being evaluated now" for an injury at the time of the inquiry. Darryl Sutter confirmed that today's absence was related to his previous ailment, which he suffered in a preseason game at Colorado on September 27, and that it was maintenance-related. "Hopefully he'll practice tomorrow. We'll just see," Sutter said.
-The practice concluded with a horseshoe-shaped scoring drill assembled as such: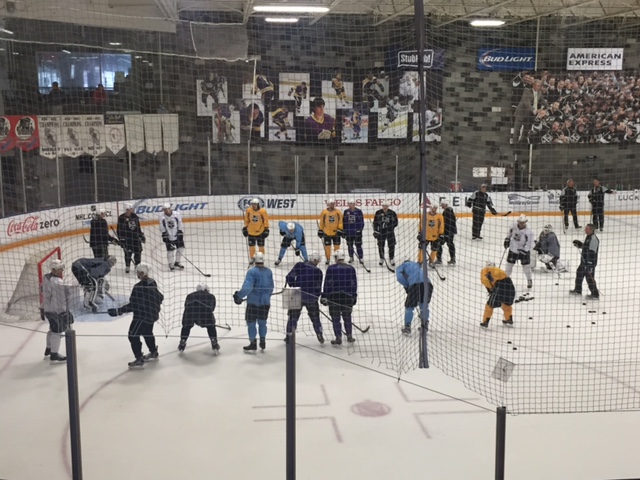 Players one-touched the puck back and forth with each other and tried to beat Jonathan Quick and Jhonas Enroth by shooting off the pass without moving from their position. Players who scored remained in the drill, and players who either missed their shots or had them stopped by the goalie moved to the other side of the rink. Despite the absence of defending players, that proved more difficult than one would imagine; only Dustin Brown, Christian Ehrhoff, Andy Andreoff and Anze Kopitar (in that order) were able to beat Quick and Enroth. Jordan Weal was the last player remaining by virtue of dishing the puck constantly; I'm not sure if he attempted a shot.
-Darryl Sutter quotes will follow, as will stories revolving around conversations with Drew Doughty and Brayden McNabb. There's more to come on a muggy Wednesday, Insiders.