Los Angeles Kings 1, Anaheim Ducks 1
Third Period, 18:49 remaining
I Heart Radio Live Stream
NHL.com Boxscore
SOG: LAK – 16, ANA – 22
PP: LAK – 0/2, ANA – 0/2
LAK starters: G Jhonas Enroth, D Alec Martinez, D Drew Doughty, LW Milan Lucic, C Jeff Carter, RW Trevor Lewis
ANA starters: G Anton Khudobin, D Cam Fowler, D Simon Despres, LW Andrew Cogliano, C Ryan Kesler, RW Jakob
THIRD PERIOD
20:00 – Bloggin'.
19:10 – Broken pane of glass. It's one of the curved panes between the benches, so this might take a while. We usually don't see these re-installed. Players from both teams are moving and stretching their legs on the ice.
18:09 – Martinez glides to the top of the left circle and unleashes a wristshot that Khudobin fights off with his shoulder.
17:04 – FIGHT. Clifford-Bieksa. Bieksa starts strong but Clifford comes back to earn a draw. Perry and Clifford had been on the verge of a fight before Bieksa stepped in. Surprising that no instigator was assessed.
13:50 – Enroth turns aside Sekac's backhand attempt.
13:09 – PENALTY ANA. Rakell for holding.
11:07 – Poor zone entries during the power play.
10:27 – Toffoli odd-man chance leads ends with a Khudobin save.
10:20 – Sekac hits the post.
10:00 – Because of TV duties, I'm heading downstairs. The commentary on the live blog will end, unfortunately.
SECOND PERIOD
20:00 – Let's play hockey.
16:45 – A nice Weal-to-Pearson play that originated byehind Anaheim's net, but the winger's attempt to shoot off the pass deflected wide of the net.
15:27 – Andreoff did a good job fighting off a defender to give himself a chance at a shot attempt, but his backhand trickled wide.
14:34 – Good job by Enroth to fight off Fowler's snapper from the right circle.
14:04 – FIGHT. Lucic hits Ritchie hard and a bit awkwardly into the boards. Manson comes to Ritchie's defense, engages Lucic. Good long tilt.
12:13 – GOAL ANA. 0-1. Perry (Rakell, Vatanen). Enroth makes a terrific original save on Perry, who snapped Rakell's behind-the-net feed on goal. But Perry crashes the net to put back the rebound, which sends the Ducks fan in front of me into absolute delirium. I've seen people celebrate overtime series-clinching playoff goals with less vigor.
11:17 – PENALTY ANA. Cross-checking on Vatanen.
10:35 – Good saves by Khudobin, including one on Pearson. Pearson may have also clipped a post.
10:31 – PENALTY LAK. Slashing on Toffoli. Two shots on goal on the 45-second Kings power play.
10:15 – Good Enroth save on Perry (?) – both goalies have been strong thus far.
9:35 – Good Enroth save on Santorelli.
6:24 – Toffoli fires a hard shot from the right circle. Khudobin appeared to get a piece of it and deflect it out of play.
3:20 – PENALTY LAK. Interference on Nolan. Kesler the victim.
2:00 – Bieksa hammered one from the right point that Enroth may have gotten a piece of with his glove before it traveled wide.
1:01 – GOAL LAK. 1-1. Clifford (Andreoff, Nolan). Great play by Andreoff, who's had a strong preseason. He showed patience carrying the puck wide before making a cut to the mid-slot, where he threw the puck to the front of the net and had it redirect off Clifford's skate. One second away from the McFlurry Minute.
0:54 – PENALTIES LAK, ANA. All roughing calls. Double-minor for McNabb, minor for Wagner. Ducks to the power play.
0:00 – Period over.
FIRST PERIOD
20:00 – Let's do this, Staples Center.
19:55 – Red light issues again behind the net where the Kings defend twice.
19:01 – The light is finally extinguished.
18:02 – Good battle by Mersch along the right wing boards. Took a 50/50 puck, sent it deep.
17:45 – More Mersch. Spin-o-rama along the right wing, followed by a backhand that travels wide. That kind of dazzle is good to see, but it's not really a regular part of his game. Power-type game, netfront presence, good intuition is more embedded in Mersch's play.
14:45 – Pearson, Mersch both have good opportunities from close range. Good Khudobin kick save on Mersch, while Pearson's rebound attempt sailed high.
13:19 – PENALTY ANA. Holding on Perry.
11:19 – Some decent zone time, but no real Grade-A chances on the power play.
9:39 – PENALTY LAK. Holding on Schultz.
5:00 – Virtually all 10 skaters and the puck converge outside of the Kings' crease for a good 10 seconds. Jungle hockey. Puck pinballs around but stays out.
4:45 – Grade-A Kings chance, at least according to the gasps from the crowd. Apparently Toffoli rebuffed from point blank range off a King centering feed. Was writing the previous note in the game blog.
1:38 – Manson rings one off the underside of the crossbar for Anaheim.
0:48 – King snaps a puck from the inside of the left circle, but Khudobin gobbles it up. Good Grade-B chance. Other than the Manson crossbar, the better chances have been in the Kings' attacking end.
0:00 – Period over.
WARM-UPS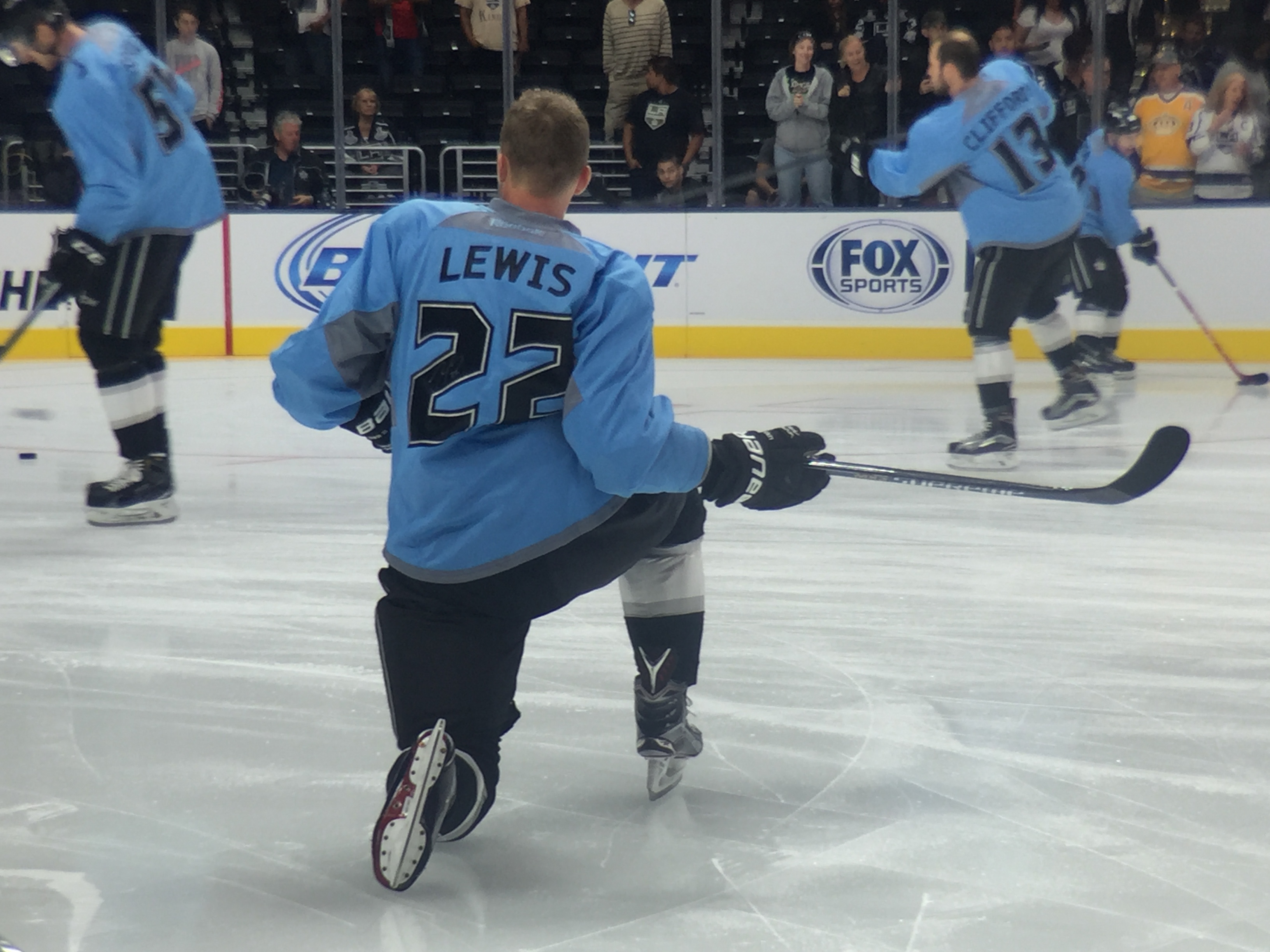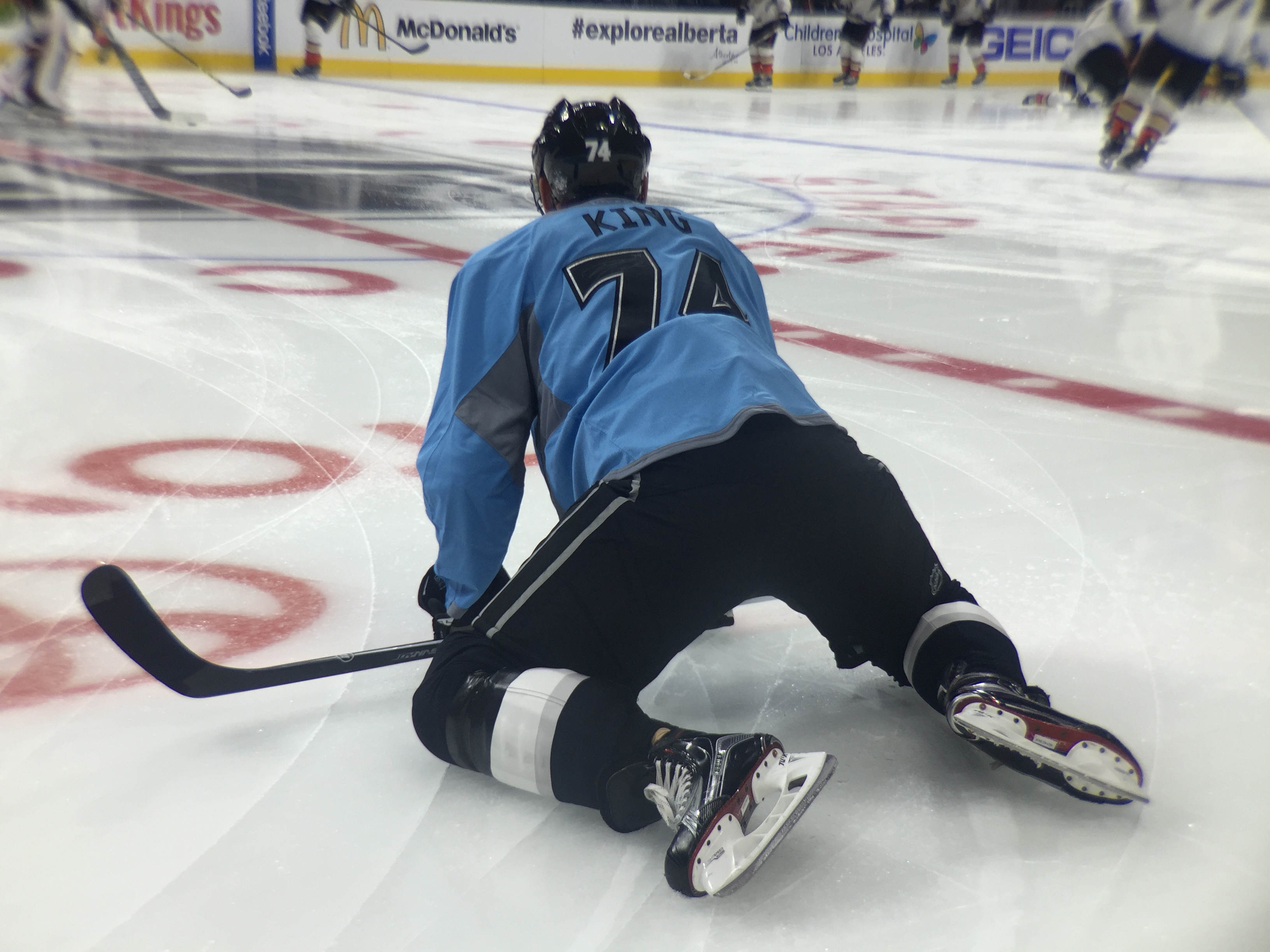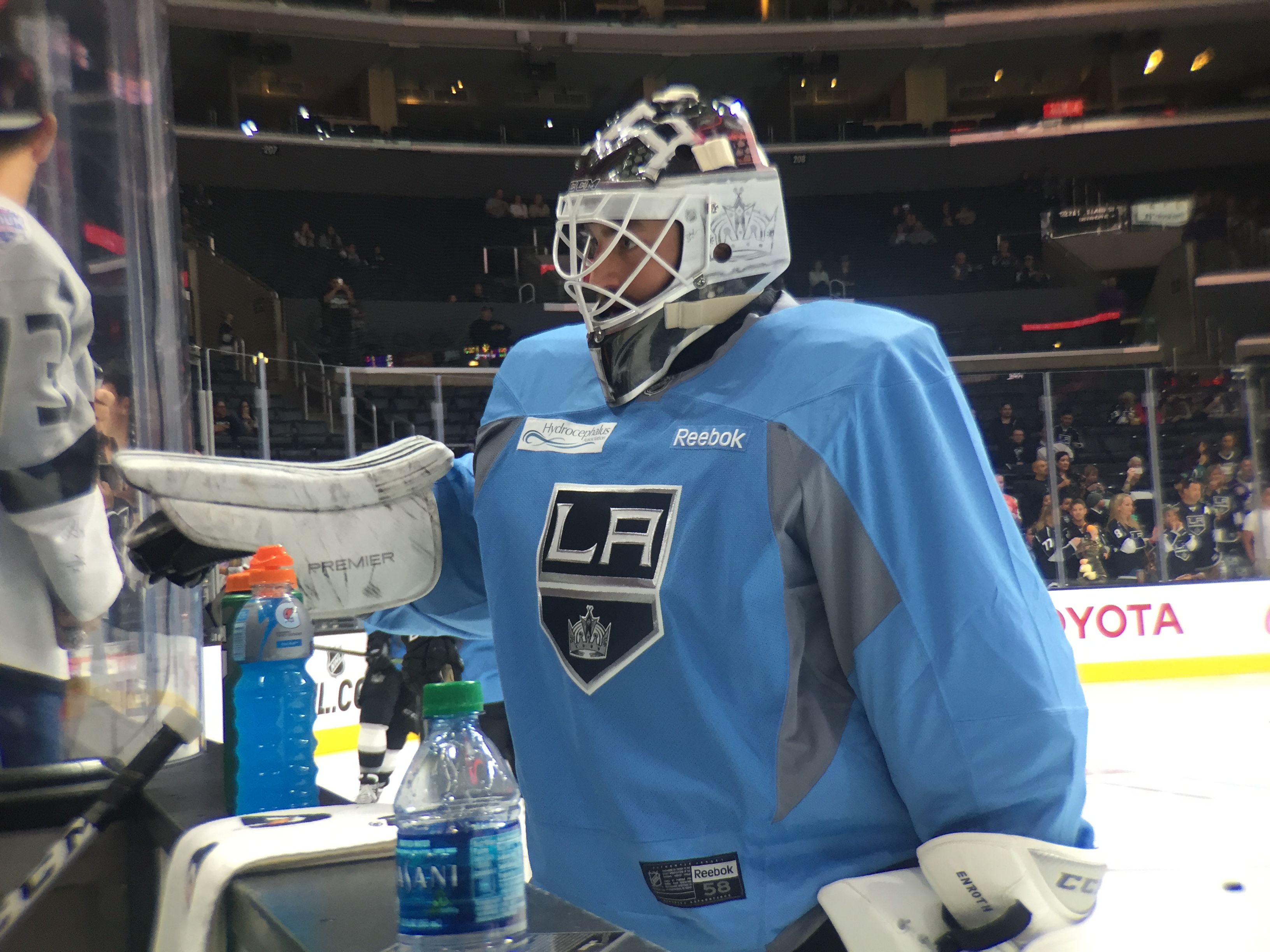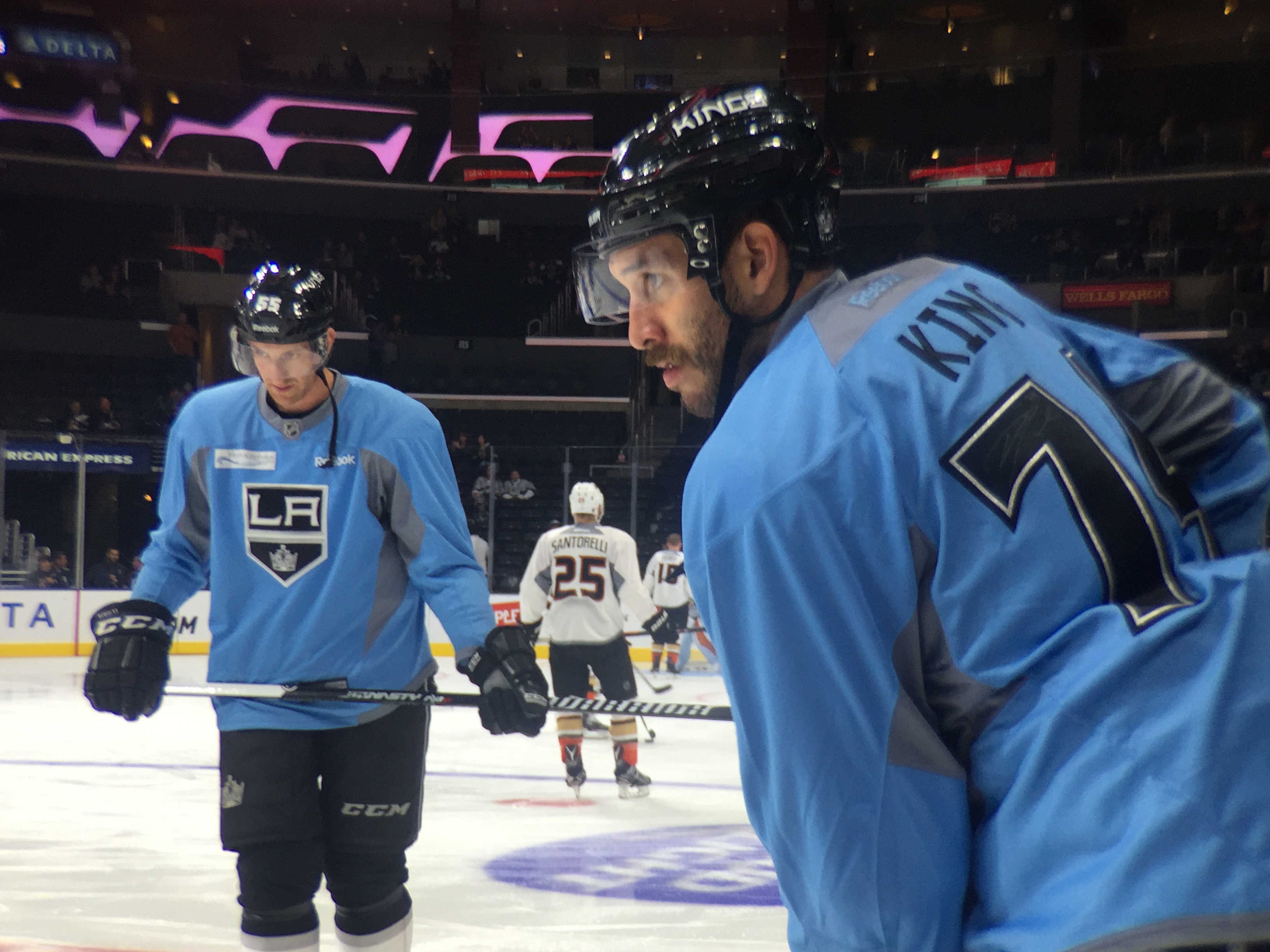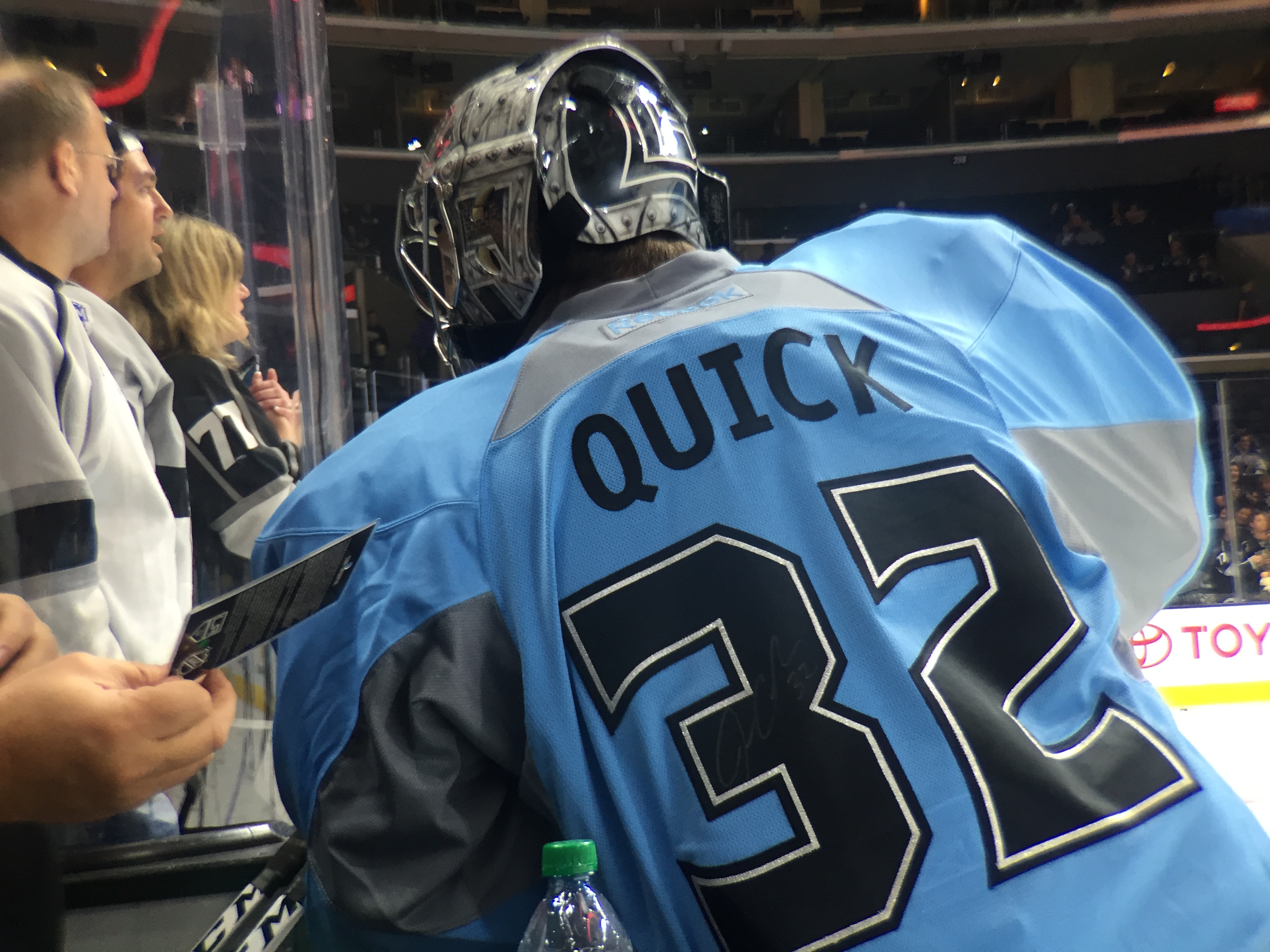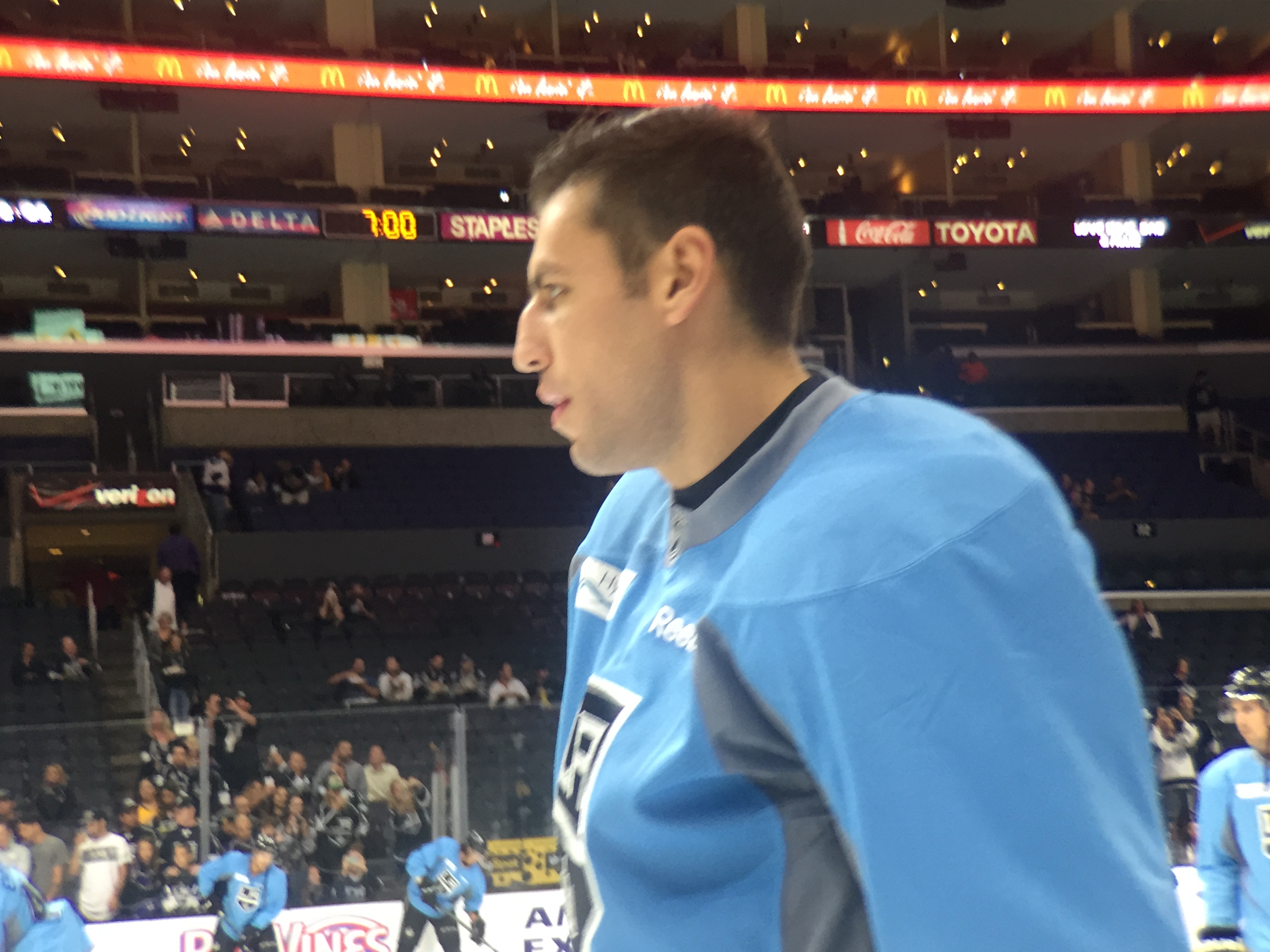 -Photos courtesy of Alex Kinkopf / LA Kings