Los Angeles Kings 2, Colorado Avalanche 1
Final – Shootout
I Heart Radio Live Stream
NHL.com Boxscore
SOG: LAK – 36, COL – 18
PP: LAK – 0/3, COL – 0/1
LAK starters: G Jonathan Quick, D Jake Muzzin, D Drew Doughty, LW Milan Lucic, C Anze Kopitar, RW Marian Gaborik
COL starters: G Semyon Varlamov, D Erik Johnson, D Francois Beauchemin, LW Gabriel Landeskog, C Carl Soderberg, RW Mikko Rantanen
SHOOTOUT
COL: Rantanen – Save
LAK: Pearson – GOAL
COL: Duchene – Save
LAK: Toffoli – Save
COL: Landeskog – GOAL
LAK: Kopitar – Save
COL: Mitchell – Save
LAK: Brown – GOAL
Kings win shootout, 2-1.
OVERTIME
5:00 – Kings start with Kopitar, Gaborik, Doughty.
3:33 – Contested Gaborik break; Varlamov glove save. Varlamov should be the game's first star.
3:07 – Budaj lunges to force Soderberg wide and take away a near-side wraparound attempt after the puck trickled past the net.
2:48 – After Pearson found Carter streaking to the net, Carter's one-time attempt popped high over the net. Moments later, Carter, alone in front, tried to tuck the puck between Varlamov's pads, but was denied.
2:48 – PENALTY COL. Zadorov for high sticking.
2:31 – PENALTY LAK. Gaborik for holding the stick. Back to three-on-three. Shore-Toffoli-Ehrhoff.
1:48 – Ridiculous sequence of saves by Varlamov. Tic-tac-toe Shore-Ehrhoff-Shore-Toffoli. He may have made three saves on Toffoli there (two close range putback attempts). Absolutely outstanding.
0:00 – Shooutout-bound.
THIRD PERIOD
20:00 – Budaj enters for Quick, who stopped 10/11. His name gets a rise out of the Avalanche fans in attendance. Budaj played here from 2005-11.
18:15 – Beautiful toe drag by Toffoli around Guenin, but Varlamov stops his high grade chance. Pearson and Carter took whacks at the rebound, but Varlamov covers. He's been very good so far. The Broncos just scored a late second half TD, which also drew a very noticeable crowd reaction.
16:39 – PENALTY COL. High-sticking on Martinsen. Caught Doughty up high.
15:26 – Good job by Budaj to fight off a two-on-one shorthanded chance. Zadorov with the shot.
10:05 – Johnston attempted to stand up Gaborik at the red line with what could have been a huge hit, but they collide and Gaborik, showing good balance, remains on his feet.
7:40 – After Doughty couldn't corral a loose puck, Grigorenko stepped past him and fired off a hard shot from the inside of the left circle. Good job by Budaj to fight it off with his blocker.
6:15 – Pearson-Kopitar two-on-one. Great dive and stick-swing by Johnson to prevent the pass across the low slot. No shot attempt. Lots of blocks and sticks on Kings chances by the Avs tonight.
4:25 – Nice skill move by Doughty, who plucks the puck out of midair with his glove, avoids an off-sides, and after driving the puck deep centers it to a net-crashing Lucic. Varlamov snuffs out the chance.
4:10 – Nolan, Martinsen exchange words and shoves. The first shove came from Nolan. Actually kind of surprised Nolan wasn't whistled for roughing.
2:55 – Toffoli fires a puck on net that caromed off the end boards to the low right circle. Another good Varlamov save.
2:10 – Budaj makes a good save on a Grigorenko redirection.
0:00 – We were supposed to play 3-on-3 overtime, regardless of the score. This tie after regulation seems appropriate.
SECOND PERIOD
20:00 – Forgot to mention. Heard some Busy Earnin' pre-game. Good song.
18:21 – GOAL COL. 1-1. Barrie (Comeau, Duchene). Comeau was originally credited, but he was 50 feet from the net when the goal was scored. Good job, though, by former Kelowna Rocket Blake Comeau in circling the net and finding former Kelowna Rocket Tyson Barrie pinching. Barrie's wrister beat Quick; it may have been deflected. Do yourself a favor and draft Tyson Barrie to your fantasy team.
17:30 – Skille suffered a leg injury when he went hard into the boards in the first period, per Avalanche PR.
15:10 – Gaborik finds an angled seam down the right wing, but his backhander was wide, stick-side.
12:32 – Good play by Mersch, who creates a turnover in the Kings' end, skates the puck into the offensive zone, and tests Varlamov from above the left circle. Varlamov knocks the puck down.
9:08 – PENALTY COL. High-sticking on Mitchell. We actually went 30 minutes and 52 seconds of preseason hockey without a penalty.
7:50 – Two good blocks by the Avs on LA's power play, not including a really good stick that Cliche got on a Doughty-to-Kopitar centering pass that deflected the puck away from a wide-open Kopitar in the slot. I'm led to believe that would have been a surefire goal had Cliche not deflected the pass.
6:17 – Brown centers the puck to King, who had a step on Barrie deep in Colorado's end. Barrie did a good job with King, who couldn't snap the puck past Varlamov.
4:00 – Bordeleau receives a centering feed and has ample net with which to work, but he shot wide. Quick may gotten a sliver of one of the laces of his glove on the puck.
2:53 – Brown offers a wristshot from the right wing that Varlamov fights off and then sends Gormley hard into the boards deep in the Colorado zone. Brown has been among LA's best skaters.
0:22 – Two shots by Ehrhoff from the right point traveled wide; one, in which Carter provided a screen, may have clipped Varlamov. Good zone time to end the period. Three or four strong shifts in a row.
0:00 – Via Kings PR, Jake Muzzin has an upper-body injury and is doubtful to return. Period over.
FIRST PERIOD
20:00 – No more bigfoot shoulder patch?! I am not easily offended, but this is like getting punched in the face.
18:29 – Zadorov's left point blast is deflected by Martinsen, but Quick adjusts to make a nice glove save.
18:00 – Mitchell gets a piece of Martinsen's centering feed, which trickles towards Quick and is covered up.
15:04 – Lots of Kings zone time. King's shot from the mid-slot was stopped by Varlamov, who looked back, but had swallowed the puck up. Good zone time by That 70's Line one shift prior.
13:25 – More good Kings zone time. The first time in roughly three and a half minutes in which the puck entered Los Angeles' zone came on an icing. Faceoff deep in Colorado territory.
12:20 – Big Doughty hip check on Comeau along the boards just inside the Kings' blue line draws gasps from the crowd.
12:05 – This time, Comeau hits Muzzin hard in the LA zone and gets a rise out of the Pepsi Center.
10:26 – Mersch denied from the low slot. Varlamov has stopped one Grade-A (Mersch) and one Grade-B+ (King).
8:20 – Carter elects to pass on a two-on-one with Pearson, but a diving Avalanche defender deflects the puck into the right corner.
7:30 – Skille snaps off a hard shot from the right wing that Quick gloves and is sent hard into the end boards by Greene. He comes up wincing.
6:41 – GOAL LAK. 1-0. Mersch (Schultz, Nolan). That primary assist is likely going to Andreoff. After Nolan did a good job to maintain the puck deep in the offensive zone, Mersch's original shot from the goal line was stopped by the broad side of Varlamov's stick. The rebound popped right back to Mersch, who backhanded it up high past Varlamov for the early lead.
5:30 – Erik Johnson activated, but his quick snapper from the high slot was stopped by Quick. Colorado's highest grade chance of the period thus far.
1:40 – Slick glove save by Varlamov after Brown created a turnover, quickly gained the offensive zone, and fired off a hard wristshot from the left circle.
0:32 – Good Ehrhoff block, though he was up awfully high in the defensive zone, generally in the space where you'd expect the left wing to be.
0:05 – Barrie backhander denied by a Quick glove save; not sure if Quick saw it.
0:00 – Period over.
PRE-GAME
Alignments in warm-ups, listed in order of their rushes:
Lucic-Kopitar-Gaborik
Pearson-Carter-Toffoli
King-Shore-Brown
Mersch-Andreoff-Nolan
O'Neill
Martinez-Greene
Schultz-Ehrhoff
Muzzin-Doughty
Jonathan Quick led the team onto the ice (UPDATE: He'll start.); Peter Budaj is also in uniform. Brian O'Neill skated as an extra and is expected to have a night off. There will be a three-on-three overtime demonstration following tonight's game.
The Broncos are on, so we're not expecting a huge crowd here tonight. This is Pepsi Center, five minutes before warm-ups: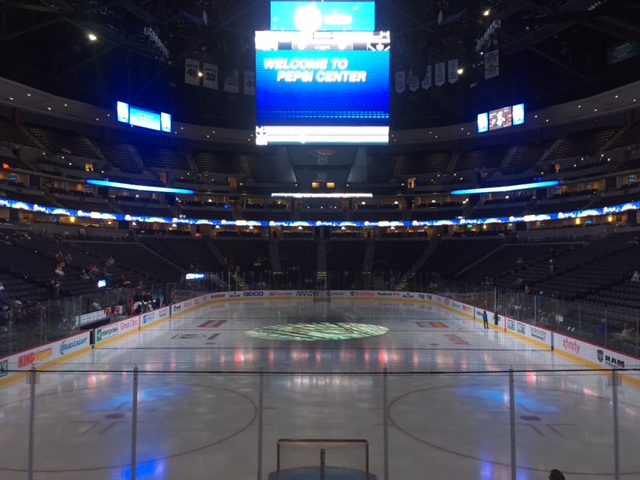 I say this every time we come here, but someone needs to connect Smash Bros. or Mario Kart 64 to this thing: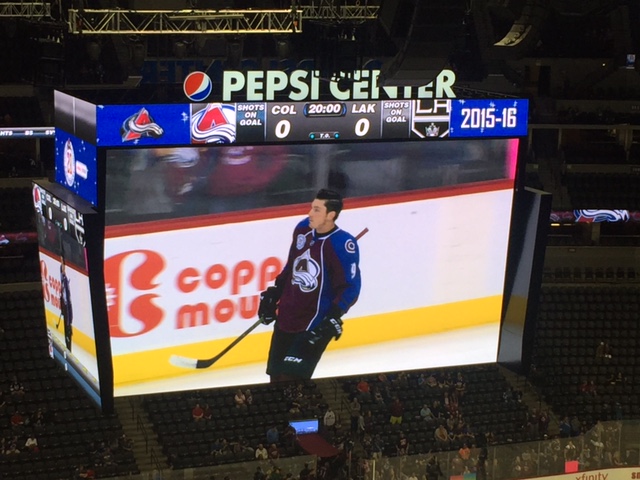 More from warmies: