Anaheim Ducks 2, Los Angeles Kings 1
Final
I Heart Radio Live Stream
NHL.com Boxscore
SOG: LAK – 25, ANA – 30
PP: LAK – 0/2, ANA – 1/6
Attendance: 16,571
LAK starters: G Jonathan Quick, D Jake Muzzin, D Alec Martinez, LW Tanner Pearson, C Jeff Carter, RW Tyler Toffoli
ANA starters: G Frederik Andersen, D Cam Fowler, D Josh Manson, LW Nick Ritchie, C Rickard Rakell, RW Stefan Noesen
THIRD PERIOD
20:00 – Welcome back. The Kings won only 7 of 21 faceoffs in the second period.
20:00 – Enroth in for Quick, who stopped 21/23.
14:33 – Lewis denied twice with an open net and Andersen out of the crease. Good play by Manson to disrupt Lewis' original shot attempt, which Andersen dove back into the crease to block as it fluttered to the goal. A second attempt on the backhand was chipped up into the air and cleared out of danger. Grade-A chances.
14:33 – PENALTIES LAK, ANA. Clifford, Maroon go off for roughing.
12:30 – Anaheim's first shot of the third period comes seven and a half minutes in. Kings had taken the first eight shots.
7:04 – Muzzin turnover at the red line led to a Ducks three-on-two, but the Sekac-led rush was off-sides.
0:56 – Enroth pulled.
0:35 – Good play by McBain to step in front of an Anaheim forward and disrupt an attempt to clear. Kept the puck in the zone.
0:20 – Good Lewis look from the left wing, but he couldn't bury.
0:03 – PENALTY ANA. Delay of game, Jaycob Megna. Ducks fan shown on the scoreboard painted his face for a preseason game.
0:00 – Game.
SECOND PERIOD
20:00 – And we're off. I need new preseason live blog period intros.
19:25 – Good play by Dustin Brown to calmly play a loose puck in the spot, skate it out of trouble, and clear.
18:42 – PENALTY LAK. Lewis for high sticking. Kings have 10 minutes of stick fouls thus far, which doesn't make Darryl happy.
18:18 – 5-ON-3 GOAL ANA. 0-1. Noesen (Ritchie, Vatanen). Noesen creates a screen, backhands a loose puck past Quick on the 5-on-3.
16:35 – Scrum behind Los Angeles' net. Chris Stewart at the center of it for Anaheim.
13:22 – Ritchie blast from the right circle swallowed up by Quick. Another scrum. Gravel, Forbort, Ritchie, Gravel among those involved.
13:22 – Kings have been outshot 10-0 thus far in the second period.
12:45 – Good pass from Andreoff to Lewis, but Lewis' shot was blocked, and play continued in the other direction.
12:26 – PENALTY LAK. Andreoff for slashing. 12 minutes of stick fouls thus far.
10:51 – SHORTHANDED GOAL LAK. 1-1. Lewis (Pearson, Muzzin). After a great Toffoli drive to the net following a slick Carter feed, Pearson and Lewis clicked on a two-on-two, with Pearson sending a deft pass to the bottom of the right circle, where Lewis banked the puck off Andersen and in.
9:20 – Lots of good Kings zone time. Carter, Toffoli, McNabb with quality opportunities.
7:00 – Good Brown-Kopitar-Lucic shift.
6:20 – Grade-A Gravel chance. shot it over a diving Duck; good Andersen save.
5:30 – Mersch, Weal, O'Neill now skating together.
1:45 – Lewis-Lucic two-on-one. Lewis led him a touch too far with a centering pass; Lucic's shot traveled wide, blocker-side.
0:06 – GOAL ANA. 1-2. Maroon (Megna, Bieksa). Maroon, camped in front of the net, deflects Megna's point shot. The Kings thought it might have been deflected with a high stick, but no replay.
0:00 – Period over.
FIRST PERIOD
20:00 – I did not get into any road rage altercations in the two hours it took to get here today, so there will be a game blog. Let's play hockey.
18:35 – After Brayden McNabb turned the puck over in the offensive zone, Getzlaf led a two-on-one, elected to shoot and managed a so-so shot that Quick kicked aside for his first shot faced this preseason.
17:51 – Forgot to mention: This game's televised by the Ducks' crew on Prime Ticket.
15:18 – Kevin Bieksa and Chris Stewart are making their Anaheim debuts. Ducks certainly aren't trying to win over any part of the LA Kings Fans market.
14:30 – Good stick by Andreoff in the neutral zone to get a deflection on the puck and redirect it into the Anaheim zone.
12:54 – The new scoreboard shows a zamboni race around Orange County. There aren't many tall buildings here.
12:10 – Cramarossa makes a hit on McNabb behind LA's net.
11:57 – PENALTY LAK. Brown goes off for tripping.
11:17 – Lewis, Pearson created a turnover high in the LA zone that sets up a two-on-one, but Lewis' saucer pass didn't connect.
10:36 – Manson pinches in from the right point, but his developing high-grade chance deflected up and out of play. Faceoff, Kings zone.
9:54 – PENALTY LAK. Carter trips Rakell deep in LA's zone. Decent penalty; the play was developing into something of quality as Rakell had received the puck in the mid/low slot.
8:20 – Good Quick stom from close range on Maroon.
7:54 – One shot on goal by Anaheim on their most recent power play.
7:40 – Toffoli denied by Andersen from point blank range.
6:55 – Kopitar blocks Megna's outlet pass to set up a quality look in the Anaheim end, but his centering pass is deflected away from the center of the ice.
5:12 – PENALTY ANA. O'Brien for tripping deep in Anaheim's zone.
1:56 – PENALTIES LAK. McBain trips while skating backwards over the blue line and catches Jackman with a high stick that draws blood. Double minor.
0:00 – Period over.
SECOND PERIOD
PREGAME
The new scoreboard: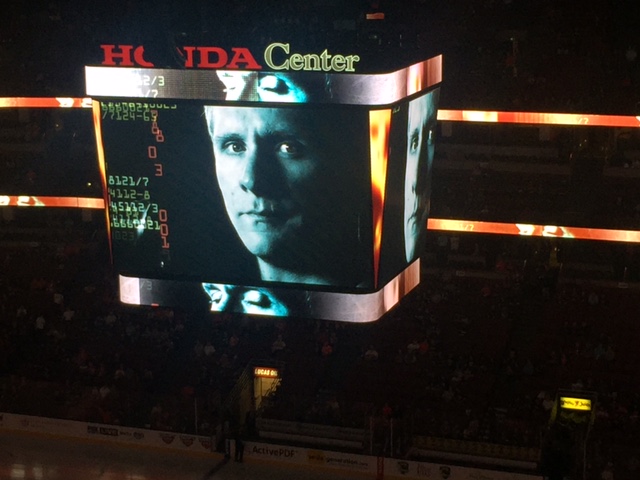 Warm-up pics: