Los Angeles Kings 6, Arizona Coyotes 1
Final – 3-on-3 OT goal scored by L.A.
SOG: LAK – 45, ARI – 25
PP: LAK – 3/7, ARI – 0/4
LAK starters: G J-F Berube, D Derek Forbort, D Jamie McBain, F Tanner Pearson, F Nic Dowd, F Tyler Toffoli
ARI starters: G Anders Lindback, D Connor Murphy, D Nicklas Grossman, F Anthony Duclair, F Brad Richardson, F Tobias Rieder
THREE-ON-THREE OVERTIME
4:46 – PENALTY ARI. Murphy cross-checks Weal. Four-on-three OT now.
4:21 – 4-on-3 GOAL LAK. Weal throws the puck on net, and Toffoli deflects it past Lindback for the kinda-sorta hat trick.
THIRD PERIOD
20:00 – Coyotes on the power play to begin the third. And a quick Clifford chance.
19:21 – SHORTHANDED GOAL LAK. 5-0. Toffoli (Pearson, LoVerde). Toffoli was sprung loose by Pearson for a contested break and goes backhand-forehand past Lindback. Not sure if you remember, but he led the league in shorthanded goals last season.
14:08 – GOAL ARI. 1-5. Duclair (Rieder, Delisle). Duclair attempted a centering feed, which deflected off Andreoff's skate and past Bartosak.
12:04 – PENALTY ARI. Delisle off for hooking.
10:04 – Not a ton of pressure on the LA power play. Penalty over.
3:59 – Shore found an uncontested seam down the middle of the Arizona defense, but his hat trick bid was snuffed out by a Lindback glove save.
0:00 – Dunzo. Three-on-three OT awaits.
SECOND PERIOD
20:00 – Coyotes return to the power play.
19:12 – Power play over.
16:50 – Lindback kicks out Andreoff's close range rebound attempt.
16:25 – PENALTY LAK. Gravel for holding.
14:24 – Good one-on-one defending by Forbort on Perlini at the end of Arizona's power play. Excellent poke check to end a developing opportunity. Penalty over.
10:43 – FIGHT. Auger vs Mermis. Started with an Auger hit on Mermis near Arizona's blue line. The scrap: nothing to write home about.
8:10 – Big hit on Zykov deep in Arizona's end.
8:07 – PENALTY LAK. Pearson for an offensive zone slash while trying to win a boards battle. A little bit of jawing in the corner.Considerably fewer scrums than most Kings-Coyotes games.
8:07 – Patrik Bartosak replaces J-F Berube, who stopped all 12 shots he faced.
6:35 – Andreoff contested, angled PK breakaway. Lindback stops that shot and then makes a fine save on Clifford's rebound attempt. Andreoff has had two quality opportunities on the PK and has been impressive.
3:52 – GOAL LAK. 3-0. Toffoli (Gravel, Pearson). Gravel's blast from the right point is knocked down in the high slot, and Toffoli emphatically buries it past Lindback, who didn't have much of a chance.
0:32 – GOAL LAK. 4-0. Shore (LoVerde, Pearson). LoVerde's shot from the right point was deflected by Shore past Lindback. Shore's second of the game.
0:02 – PENALTY LAK. Bartosak for a slash. There was some jawing in front of the Arizona bench, and Bartosak casually skated over and gave Eric Selleck a little love tap in the shoulder. Kempe is serving the penalty.
FIRST PERIOD
20:00 – Game on. Kyle Clifford wearing the C. No alternate captains, it appears.
17:48 – PENALTY ARI. Shinnimin for delay of game.
17:16 – PENALTY ARI. Murphy for hooking.
16:25 – 5-ON-3 POWER PLAY GOAL LAK. 1-0. Shore (Toffoli, McBain). Toffoli, Shore were both hacking at a loose puck in front of Lindback. Shore's attempt flutters over the 6-foot-6 goalie.
16:04 – POWER PLAY GOAL LAK. 2-0. Weal (O'Neill, McNabb). Heavy pressure finished off by a hard, low shot by Weal from the high slot past Lindback with traffic in front.
12:48 – PENALTY LAK. McNabb for interference.
12:30 – High quality shorthanded attempt by Andreoff, who showed good patience and confidence by bringing the puck from the right wing boards to the center of the ice with a quick step on a two-on-one-and-a-half. Lindback pad save.
10:48 – Arizona power play over. No real Grade-A chances, but Berube made some quality stops on deflected pucks with traffic in front and found the puck quickly.
10:44 – PENALTIES. Andreoff and Samuelsson sent off for roughing. Four-on-four.
9:50 – PENALTY ARI. Murphy for hooking. 4-on-3 power play coming for LAK.
9:36 – PENALTY ARI. 2012 Stanley Cup winner Brad Richardson whistled for cross-checking. His penalty won't start until Samuelsson's end.
8:34 – Kings hit the inside of two posts on the power play. They're looking at video replay, presumably at the first, which I believe was shot by Toffoli. No dice. Play on. 44 more seconds of 5-on-3.
6:44 – Penalties over. Good looks by LA – two posts, a missed net and a key block with Lindback vulnerable.
4:44 – PENALTY ARI. Chipchura for boarding.
2:44 – Penalty over.
1:12 – PENALTY LAK. Kempe goes off for tripping.
0:54 – Good stick by Nick Shore to deflect a pass into the neutral zone and end Arizona's set-up.
0:00 – Period over.
PREGAME
Yutaka Fukufuji would like to welcome you to Bakersfield.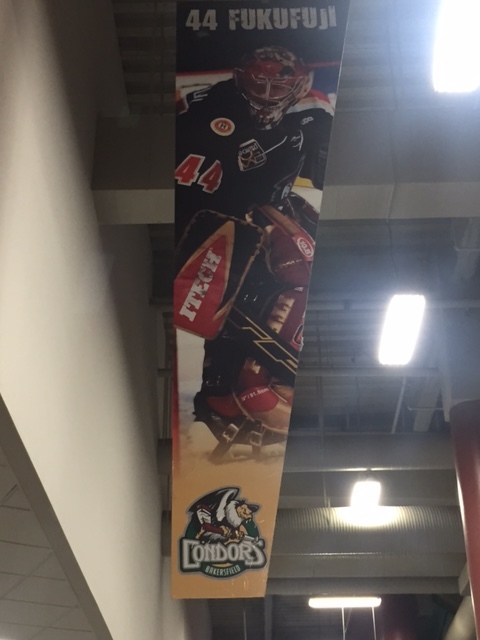 Photos from warm-ups: