Brian O'Neill could envision himself playing hockey in a warm, western climate.
"Obviously L.A. is a pretty special place. I couldn't think of a better spot to play from off the ice to on the ice," he said after his group's on-ice training camp session Sunday morning.
The locale certainly differs from Utica, the mid-sized upstate New York town where the 5-foot-9 O'Neill celebrated a Calder Cup championship this past June with his Manchester Monarchs. The MVP of the AHL's regular season, he followed up a 71-game, 80-point campaign by playing in all 19 of the club's postseason games, amassing 10 goals and 20 points.
The points were impressive, but playing in every possible playoff game was every bit remarkable as it was unexpected and impressive.
On the first shift of Game 3, O'Neill was railroaded from behind by Utica's Brandon DeFazio, a former Vancouver Canucks prospect. The hit, which drew a two-minute cross-checking minor but surprisingly no supplemental discipline from the league, left O'Neill with a separated shoulder that quickly removed him from Game 3 and changed the complexity of the Final, which Manchester had led two games to none at the time.
After a scheduled day off in the series followed Manchester's Game 3 loss, O'Neill returned for Game 4, despite shoulder separations often coming with a recovery time measured in weeks, not mere days.
"You have the off-season to recover, which is always nice," O'Neill said.
He added an assist in a Game 4 Manchester win before the two clubs shook hands after Game 5 the following night. After the handshake, linemate Jordan Weal was recognized as the league's playoff MVP.
The 5-foot-10 Weal, whose 22-point, 19-game postseason run followed a 69-point regular season, is also competing for a spot on the Kings. Both players would have to clear waivers if the club were to attempt to assign them back to the American Hockey League. Unless the Kings are affected by injuries to forwards in the preseason – which is always a possibility – it's difficult to envision a scenario in which both players remain up with the big club.
Other Kings players may be vulnerable to being leapfrogged, but none particularly so. Nick Shore would not have to clear waivers to be assigned to Ontario, but he also was among the club's best faceoff performers in his half-season and would have to post a lukewarm and concerning preseason to not open the year with the club. When speaking with team executives, Andy Andreoff does not have a spot in real jeopardy and has centered the fourth line in practices to date. (Trevor Lewis has been skating thus far with Dwight King and Dustin Brown on what would be considered a "third line.")
Prior to the outset of the exhibition season, it's looking more likely that the Kings would keep 14 forwards rather than eight defensemen, but as is continually reinforced in sports, outlooks change.
Not as prone to change: Players' approaches to training camp.
"Same as the other ones – just trying to make the team, you know?" Weal said. "They've got a great hockey club, and it'd be an honor to be a part of it. It'd be a lot of fun, so I've just got to go out there and have fun, get better every day and play as hard as I can."
Weal, who at 23 is four years younger than O'Neill, has an impressive offensive upside that few players vying for an immediate spot on the roster can match. When the two skated with familiar AHL linemate Michael Mersch during a scrimmage on Saturday, they operated with a significant amount of offensive zone time that culminated in a Mersch deflection of a Vincent LoVerde shot past Jack Flinn for Group C's only regulation goal.
"I think that's one of the staples of the Kings team. They possess the puck," said O'Neill, who has a degree in political science from Yale. "If you look at the best teams in the league over the past couple of years, they're all puck possession teams. So that's one of the qualities you have to have to be an effective member of the Kings roster. So I think that's something we look at – possessing the puck down low and getting to the net. It's one thing just possessing the puck in the perimeter, but getting chances in front of the net is where that pays off, and you've got to make that count, and that does happen. That was one thing we were happy with yesterday."
Those systems had been imparted well unto the detail-oriented Weal, who has demonstrated excellent practice habits in his professional career and is no stranger to the "Kings style of hockey" expected out of the club's pivots.
"Always being low as a centerman and playing well defensively, and then the game leads from there. I feel like I do that," he said of his efforts. "It's defense-first, and offense is created from good defense. If you can steal the pucks and have a quick transition, it definitely helps your offensive game. That's the way these guys play, and it's a lot of fun to play."
"You want to do whatever helps the team. … My game is trying to make the guys I'm playing with better. I can do that, I think, at any position – winger, center, third line, fourth line, whatever. It's just a matter of sticking to what I can do best and playing a hard-nosed game that I know how to play. The rest will take care of itself."
Though there appears to be open competition at center – as noted, Lewis has operated at center for much of camp, and Andreoff has also received a regular look – there is also the possibility that Weal could see some time at wing in the preseason. That hasn't happened yet through the nascent stages of camp.
"They haven't really talked to me much, but throughout my life I've played some [wing], and I'm quite comfortable out there. But whatever happens, happens. I'm just going to go out there and take it day by day and try and find some things I can work on each day, and keep on improving my game."
So even if there's intrigue in this one particular camp battle, it's not going to affect how the two accomplished if undersized forwards relate to each other on and off the ice.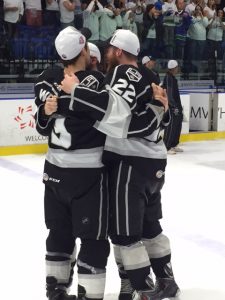 "Jordan and I are really good friends. We've been together for three years," O'Neill said. "We've lived in the same apartment buildings for three years. I mean, when push comes to shove, obviously we're going to try to do our best, but then again, doing your best is being a really good teammate. Jordan and I have done that for each other. We both support each other and whatever happens, happens. Obviously the Kings want the best team they can field, and they're going to do that. There's going to be no hard feeling between Jordan and I when that decision is made, and I really look forward to the competition."
Brian O'Neill, on returning from injury without missing time in the Calder Cup:
I think the fact that it was the Calder Cup Final definitely helped. You have a little bit more adrenalinbe. Our trainers did a great job of getting me ready to play and made sure that I wasn't going to hurt myself any further, and once they said that, I was good to go. Obviously the way the team played definitely helped me. When you're winning, obviously the pain goes away, and that was the case.
O'Neill, on any different outlook with a clearer roster spot up for grabs:
Yeah, you're just excited. Every camp you have you get a little more experience, and I think your opportunity gets a little bit better every year. So this year I have my best opportunity, and I think it'll be a great opportunity to show what I can do, and that makes it a challenge for me, but also it's really exciting. If you do well, you're going to get some results, and if you don't it's on you. But hopefully I'll get a chance, and hopefully I'll do well.
O'Neill, on playing for the Kings organization:
World class – they treat you really well, that's the biggest thing. And obviously the weather is great and the fan base they've built up after their two Cup wins has been pretty special. So obviously playing for an oganiztion like this would be a dream come true.
O'Neill, on those who graduated from the Manchester Monarchs:
We've actually had a special group in Manchester the past three years, starting from our rookie year with Tyler Toffoli, Andreoff, Pearson – guys like that. We've had a really good friendship, a bunch of us, and we've stayed together. I think you've seen a lot of success in Manchester because of that.
Jordan Weal, on conditioning during a truncated off-season:
It was a lot different, but you just shorten a couple things up. You keep your lungs a little bit more – your hockey lungs – because you play so late, and then you kind of jump right back into workouts. Some things were a little tougher to get back, but some things were right there where they should be.