Arizona Coyotes 5, Los Angeles Kings 1
Final (One Goal Scored During Three-on-Three Overtime)
OVERTIME
3:38 – Comrie to MacDermid two-on-one attempt sails high over the net. Good pressure by L.A.
3:19 – Strome close range chance stopped by Flinn. Both Flinn and Dillion were good today.
3:10 – Wagner denied on a breakaway.
2:55 – Dauphin denied by Flinn on a contested breakaway.
0:32 – ARI GOAL. Mermis blast, top of the left circle.
0:00 – Game over.
THIRD PERIOD
20:00 – Adin Hill in net for Arizona. Strong effort by Treutle. Good goaltending battle through 40 minutes.
17:36 – Walsh pinched to try and keep the puck in the offensive zone, was unable to do so, but hustled back to break up what was developing into an odd-man rush.
17:33 – Fight. Schmalz-Spinozzi. OHL Sudbury-Sarnia rivalry there.
16:24 – PENALTY LAK. Ebert goes off for cross-checking.
12:30 – PENALTY LAK. Zykov whistled for an offensive zone trip moments after a King was tripped in the offensive zone without a call. To be clear, though, the call against Zykov was legitimate.
11:10 – PENALTY LAK. Laberge for elbowing. 41 seconds of a Coyotes five-on-three.
10:22 – POWER PLAY GOAL ARI. Strome puts in a rebound after an end boards carom with 1:12 remaining in the five-on-four.
6:28 – Good pressure by the Kings and a sustained urgency, but few high quality chances.
6:00 – Watson out-battled two Coyotes defenders to get a good look at a close range, uncontested shot on Hill, but shot over the net.
5:28 – Laberge blocks a point shot, and then streaks across the ice to try and block a shot at the opposite point. It gets through, but it's gloved by Flinn.
5:28 – PENALTY ARI. Unsportsmanlike conduct on MacInnis.
1:19 – GOAL ARI. Fraser empty-netter.
0:00 – Game. Heading downstairs for chats. Three-on-three novelty overtime.
SECOND PERIOD
20:00 – Period two.
17:15 – Strome slips through the Kings defense, but the 6-foot-5 Dillon doesn't allow a hole and makes a big save on the break.
14:05 – Best Kings pressure of the afternoon. Raine unable to slam a loose puck past Treutle with some net to work with after an extended scrum in front of the net.
10:45 – Good defending by MacDermid, who removed the puck from MacInnis' stick during a contested breakaway.
8:35 – More good defending by MacDermid, who pinned Dauphin against the boards behind the Kings' net and ended Arizona's zone time.
8:24 – Beautiful save by Treutle, who gloved Auger's close range attempt after the winger cut towards the top of the crease from the left wing and tried to lift the puck over his pad.
8:24 – GOALIE CHANGE. Jack Flinn enters for Alec Dillon, who looked good in his 31:36.
8:04 – PENALTY LAK. MacDermid.
7:48 – PENALTY LAK. Horvat. Mermis skated slowly back to the Arizona bench. Five-minute major. It occurred in a blind spot to my left; I didn't see the play.
7:05 – Good 5-on-3 save by Flinn on Mayo after Coyotes puck movement.
6:45 – Great block by Ebert on Dauphin.
6:18 – Outstanding Flinn save on Plachta after a scrum in front. Five-on-three ends…
5:30 – MacDermid, Auger suffer through heavy, heavy blocks while killing the penalty. Both were stung. MacDermid was down for two or three seconds, but finished up his shift. Very good commitment on the PK.
2:48 – PENALTY LAK. With one second remaining in the Horvat major, Zykov is whistled for hooking. The PK continues.
2:01 – Big, big, big hit by Horvat on Perlini in open ice at the Coyotes' attacking blue line.,
1:52 – PENALTY ARI. Mermis off for charging.
0:23 – On the power play, Zykov's centering feed was redirected just wide by Horvat. Decent look.
0:00 – Period over. Matthias Plachta took offense to a Zykov hit on Garland at the buzzer. Plachta restrained before reaching Zykov. Period over.
FIRST PERIOD
20:00 – And here we go.
19:00 – Good one-on-one defending by Kevin Raine on Dylan Strome, taking away a shot attempt from the talented forward following a zone entry.
18:25 – PENALTY ARI. Matthew Mistele draws a trip on Christian Fischer.
16:25 – Penalty over. A few B-type chances, but nothing that developed into a high-quality, A-type chance.
15:14 – GOAL ARI. On a two-on-one, Samuelsson fed Mermis for a redirection/tap-in.
13:00 – Fight. Horvat and Mermis. Mermis now an assist away from a Gordie Howe Hat Trick.
12:00 – Good job by Walsh to step up and deny a zone entry.
11:05 – PENALTY LAK. Slashing on Laberge. One of those "good penalties" that denied a quality look on a two-on-one rush.
10:43 – Good, quick penalty killing shift up front by Marchment and Auger.
9:09 – PENALTY LAK. Auger goes for unsportsmanlike conduct. Nothing happened in the four seconds of five-on-three…
8:15 – Great block by Laberge leads to a clear and a one-on-one shorthanded rush by Zykov, which eats up the clock.
7:05 – After a Dillon PK stop, Fischer narrowly missed wide on a no-look backhand with what appeared to be a lot of net to work with.
6:54 – Auger sprung loose for a contested break; his hard, low glove-side shot was snagged by Treutle.
3:10 – GOAL ARI. Beautiful power move by Perlini, who gained a head of steam and cut to the front of the net with a defender in tow before tucking the puck inside the far post. Best individual move of the series thus far.
2:51 – GOAL LAK. Shot from the right point by Ebert is deflected by Comrie and flickers past Treutle.
1:19 – PENALTY LAK. Zykov for tripping.
0:00 – Period over.
WARM-UPS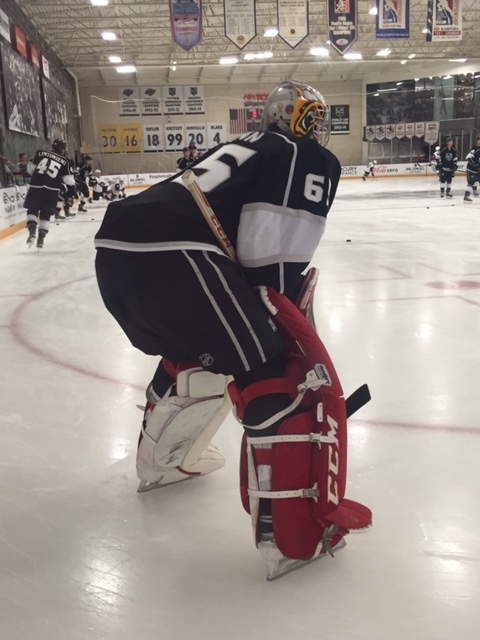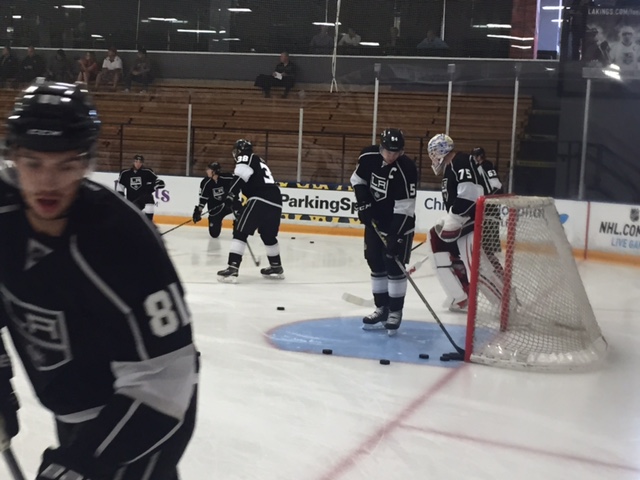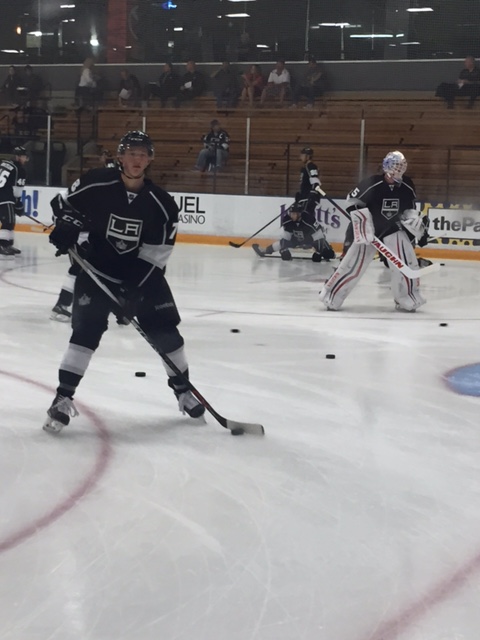 LOS ANGELES LINEUP (starters in bold)
G Alec Dillon
G Jack Flinn
D Jared Walsh
D Alex Lintuniemi
D Nick Ebert
D Kurtis MacDermid
D Erik Cernak
D Kevin Raine
F Austin Wagner
F Jake Marchment
F Valentin Zykov
F Adrian Kempe
F Spencer Watson
F Michael Amadio
F Ryan Horvat
F Ty Comrie
F Justin Auger
F Matthew Mistele
F Samuel Laberge
F Matt Schmalz
ARIZONA LINEUP (starters in bold)
G Niklas Treutle
G Adin Hill
D Dysin Mayo
D Dakota Mermis
D Jeremie Fraser
D Justin Hache
D Chase Stewart
D Kevin Spinozzi
F Matthias Platcha
F Laurent Dauphin
F Conor Garland
F Brendan Perlini
F Dylan Strome
F Ryan MacInnis
F Henrik Samuelsson
F Michael Bunting
F Christian Fischer
F Dan O'Donoghue
F Greg Carey
F Austyn Playfair