Arizona Coyotes 7, Los Angeles Kings 3
Final – Three-on-Three Overtime
THREE-ON-THREE OT
5:00 – As noted earlier, this game will feature a demonstration of three-on-three OT regardless of the score. Zykov, Kempe and Arnold take the ice against Mermis, Domi and Duclair.
2:03 – I don't know how to live blog this. There are Grade-A chances at both ends every 10 seconds.
1:45 – GOAL ARI. Kyle Capobianco.
0:59 – GOAL ARI. Conor Garland.
0:00 – Game.
THIRD PERIOD
20:00 – Nick McBride enters for Bartosak, and Adin Hill enters for Langhamer. Game on.
18:46 – Kings pepper Hill and get a few quality pucks on net but can't beat the former Portland Winterhawks goalie.
#WHL teams represented by tonight's goalies: Red Deer, Medicine Hat, Prince Albert, Portland

— Jon Rosen (@lakingsinsider) September 16, 2015
17:10 – Fight. MacDermid gets some good licks in on Maxwell James.
16:35 – Watson sprung loose by Lintuniemi for a breakaway, but shoots high.
15:59 – GOAL ARI. Dylan Strome off a rush. The goal appeared to be on the first shot faced by McBride after a bevy of action at the other end.
15:09 – GOAL ARI. Max Domi finishes off a one-timer from Anthony Duclair. 4-1 Coyotes.
14:03 – Decent Wagner chance from the left wing is denied by a fine glove save by Hill.
11:56 – GOAL LAK. Austin Wagner takes a feed from the right corner, and snaps a hard shot woith a quick release above Hill's left pad and below his glove. Good shot from the slot.
9:58 – Penalty LAK. Cernak sent off after yet another scrum.
7:53 – GOAL ARI. Ryan MacInnis, Al's son, backhands a loose puck past McBride following a scrum in front of LA's net.
6:24 – Domi wins a battle for a puck with MacDermid and skates in alone on McBride but has his shot stopped.
0:34 – GOAL LAK. Brodzinski roof job from a sharp, sharp angle. McBride heads for the bench…
SECOND PERIOD
20:00 – Let's do this.
17:32 – PENALTY ARI. Goaltender interference on Gaudet. Marchment, Melindy drop the gloves, but they're separated quickly, and the engagement devolves into lots of hugging.
16:10 – Best chance on LA's power play thus far comes at the opposite end, when Duclair gains speed down the right wing and cuts in front of Bartosak, who makes a sprawling right pad save on the shorthanded attempt.
15:59 – PENALTY ARI. Spinozzi lifts the puck over the glass for a delay of game. 5-on-3.
15:03 – PENALTY ARI. Dvorak for elbowing. Another 1:05 of power play time.
14:43 – PENALTY LAK. Auger for cross-checking. 4-on-3 Kings power play for 45 seconds, then 55 seconds of four-on-four time, then a 20-second Arizona power play.
13:55 – Zykov tees up a shot from the high slot on the power play, but it deflected wide.
11:50 – Fine right pad save by Bartosak on a slick Arizona advancement sequence. Good plays at high speed by the Coyotes.
8:21 – Dysin Mayo snaps a shot from the point, which deflects off Bartosak's glove, the crossbar, and over the net.
7:02 – GOAL ARI. Chase Stewart snaps the puck towards the net from above the right circle. It deflects off a Kings player and over Bartosak's glove.
6:14 – PENALTY ARI. Spinozzi whistled for cross-checking.
4:53 – PENALTY ARI. Duclair sent off; I didn't catch the call. Kings receive their third five-on-three.
4:19 – POWER PLAY GOAL LAK. Zykov one-timer from a sharp angle off a Kempe pass. 1:26 of a 5-on-4 remains.
2:22 – Bartosak slides to his left to cut off a Spinozzi one-time attempt on a three-on-two.
FIRST PERIOD
20:00 – And we're off.
19:41 – Christian Dvorak slips down the left wing and snaps off an odd-angle shot that Bartosak saves without allowing a rebound. We have our first of many scrums on the evening.
18:10 – Good successive saves by Bartosak on Fischer, who found space on the left side of the ice and cut to his right to try and put back a rebound.
17:40 – Spencer Watson found a little bit of space in the high slot off a centering feed but couldn't fire off his best shot. Langhamer knocks down the wrister.
16:07 – Really nice defensive stop by Chaz Reddekopp, who stepped in front of a Coyote who attempted to cross the blue line and took away a zone entry. Began a rush in the other direction.
13:14 – Auger attempted to stuff the puck down low past Langhamer's glove side but was denied; he picked up the puck, stuck out his rear, and admirably maintained possession behind the net.
12:40 – Big hit by Kurtis MacDermid on Anthony Duclair, the big prospect who joined Arizona from New York in the Keith Yandle trade. They jostle after the collision.
9:08 – PENALTY LAK. MacDermid is whistled for high sticking.
8:57 – Dieter Ruehle plays the first of many Legend of Zelda themes of the season
6:57 – Penalty killed.
6:16 – PENALTY LAK. MacDermid is whistled for boarding. Nick Merkley is slow to get up but leaves the ice under his own power. He may have favored a shoulder and is being tended to on Arizona's bench. Horvat, Stothers object to some aspect of the call.
5:24 – PENALTY ARI. Duclair whistled for slashing. Both referees raised their arms, so it doesn't appear to be a make-up call.
5:01 – PENALTY LAK. Arnold lifts the puck over the glass from his own zone. Delay of game; four-on-three hockey.
4:02 – In four-on-four play, Leslie fired off a hard shot that Amadio nearly put back the rebound of. Two Langhamer saves. Still scoreless.
2:46 – Derek Arnold forces a turnover on the forecheck, and after throwing the puck on net from a sharp angle, Jake Marchment crashes the net and nearly puts back the rebound. Good goaltending at both ends.
2:00 – GOAL ARI. Brendan Perlini enters the zone on a two-on-one-and-a-half rush, snipes glove side on Bartosak. 1-0 Coyotes.
0:00 – ~fin~
WARM-UPS
5:40 p.m. – Ryan Horvat will wear the C for the Kings rookies. Kings starters: Bartosak, Leslie-Cernak, Kempe-Horvat-Auger.
5:35 p.m. – Good evening from El Segundo. The Kings rookies recently took the ice:
Kings warm-up photos: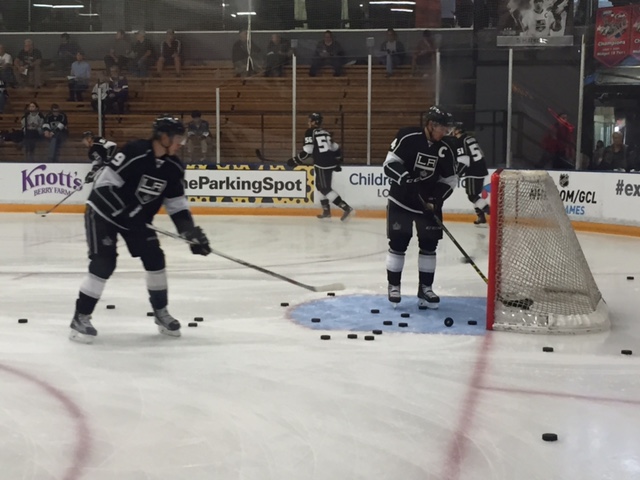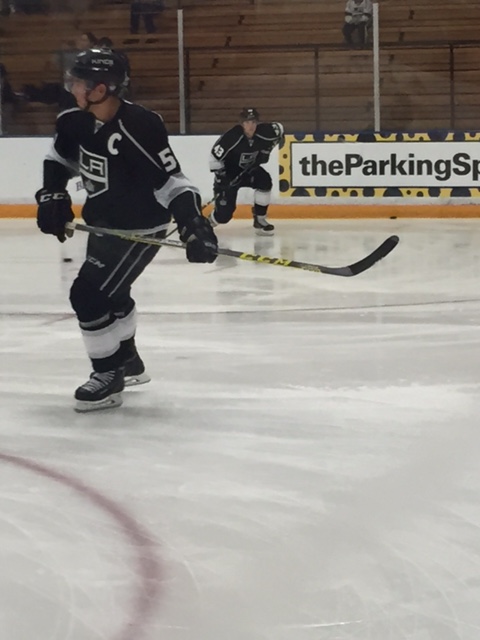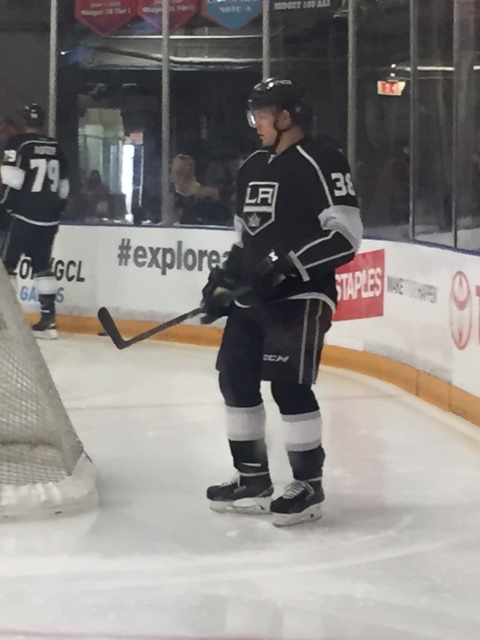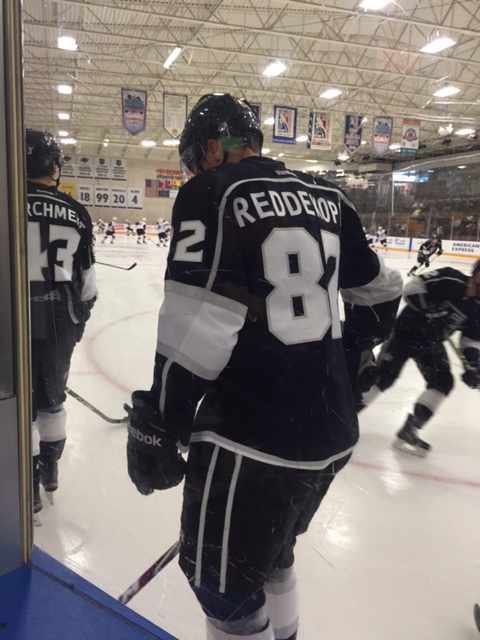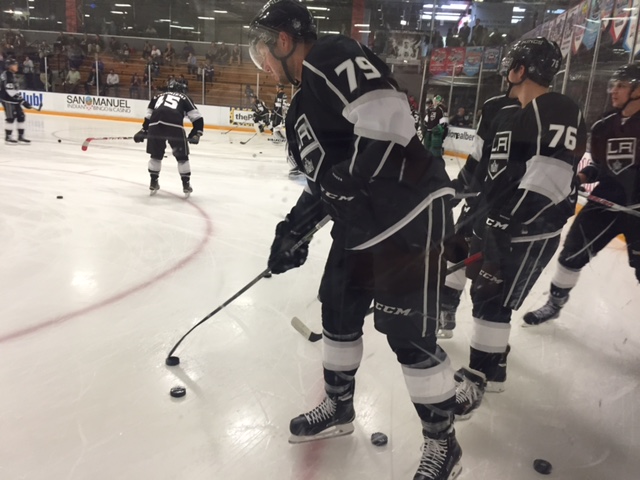 The Coyotes in their new away jerseys: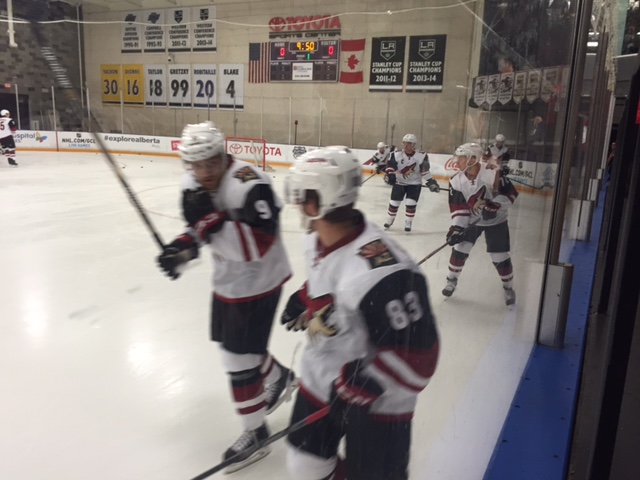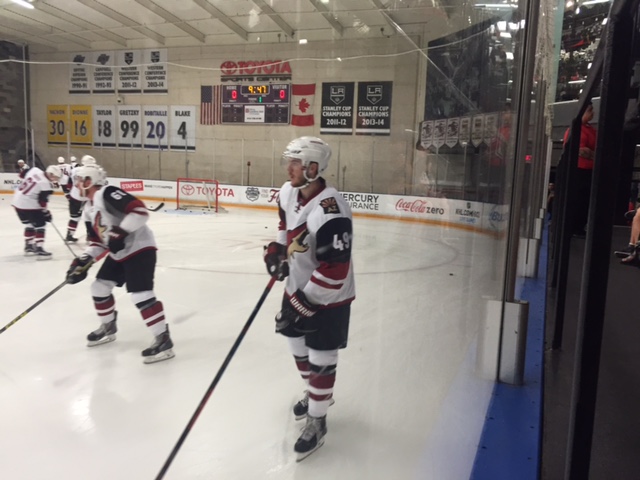 Dylan Strome, the third overall pick in the draft: