DWIGHT KING
This season: 81 games, 13 goals, 13 assists, 26 points, 21 penalty minutes, -3 rating, 14:24 time on ice.
The good: Dwight King, versatile in the sense that he can play up and down the left side of the lineup, has been a reliable source of secondary production while at even strength. His 12 five-on-five goals in 2014-15 were the fifth-most on the team, placing him three goals behind Jeff Carter's team-leading 15 and three goals more than the nine scored by Anze Kopitar. Looking beyond the primary numbers, he has always held his own fairly well in the advanced stats, and even if he didn't quite reach the high notes he hit the previous season (see below), he's strong at puck protection, driving the net, and is capable of doing the plumbing along the boards in the offensive zone and creating space for his linemates. This worked out quite well when he played alongside Jeff Carter and Tyler Toffoli, the skaters he spent the most time on the ice with (and maintained very strong goals-per-60, goals-against-per-60 and Corsi-for rates with). Of course, his time alongside that duo was brought about by Tanner Pearson's mid-January, season-ending broken fibula, but when play resumed after the All-Star Break and the Kings hit their stride shortly thereafter, That 70's Line Part Two was among the best lines in the Western Conference. In the 10 games out of the All-Star Break, King totaled three goals, nine points and a 58.7% Corsi-for and combined with Carter and Toffoli to record 30 points at even strength. Outside of the numbers, the approachable and humble King has sturdily played through pain and injury since becoming a mainstay in Los Angeles' lineup. In two of the last three seasons, he hasn't missed a game due to injury; of the seven games King has missed over that span, only four scratches – all late in the 2013-14 season – were due to injury. With his willingness to play through pain, he's probably smiling, and hopefully not wincing.
The bad: In 2013-14, King received two minutes and 18 seconds of additional ice time time per game than the previous year and set career high-water marks (or near-high-water marks) across the board; in 2014-15, his ice time was reduced by 39 seconds per game, and he either barely reached or nearly missed several of the marks established the previous season. There was a negligible, one-point drop off in his five-on-five scoring, though his possession metrics showed a slightly more visible discrepancy, having fallen from an outstanding 58.5% CF / +2.0% Corsi-rel to a close-to-team-average 54.5% CF / -1.2% Corsi-rel. While King posted quality metrics alongside Carter and Toffoli – his two most frequent linemates – the Kings were outscored in five-on-five play alongside all other forwards he played at least 100 minutes with together. Though there's a smallish sample size disclaimer, his poorest WOWYs came alongside Dustin Brown (179:19 TOI / 1.00 G60 / 1.67 GA60 / 48.1% CF) and Jarret Stoll (127:57 / 1.41 G60 / 2.34 GA60 / 39.2% CF), which could be a bit of an alarm, because there's a decent chance he'll skate alongside Brown in the upcoming season. Though King has done a good job of staying out of the penalty box – he set a career-high with 21 PIM in 2014-15 – he has drawn only 21 penalties in his career and holds a minus-two career penalty plus/minus.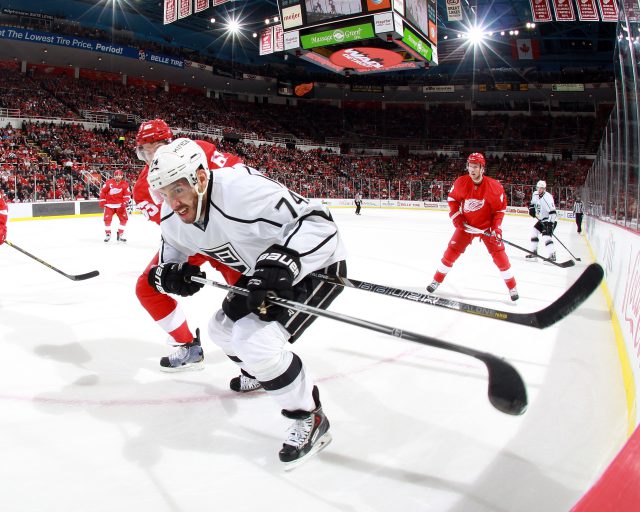 Going forward: Though King was an reliable substitute on the left side during Pearson's absence, the massive winger is more suited for a third line or checking-line-type role rather than a spot in the top-six, and barring any September injuries isn't likely to reprise his role alongside Carter and Toffoli. Still, King just celebrated his 26th birthday, which makes him young and at the point of his career where he should be approaching his prime. That doesn't mean that a major production spike should be expected, but it's certainly reasonable to expect King to revert back to (and perhaps slightly surpass) his production from 2013-14, when he scored 15 goals, recorded the 183rd hat trick in club history, totaled 30 points, and won the second Stanley Cup of his career. With a $1.95M cap hit through 2016-17, he's paid appropriately without breaking the bank. King's skill set is by no means flashy, and the underrated skater could certainly stand to replicate bursts down the wing such as this, but he fills an important role with the club, and given that his playoff scoring rate (.38 points per game) surpasses his regular season scoring (.34 points per game), he's certainly among the many Kings who has engineered an identity of raising his game in the playoffs. That "p-word" may be unfamiliar amongst the 2014-15 evaluations, but it's certainly worth considering when looking ahead, as King's most profound contributions to the club have come in April, May and June.
2014 King evaluation
2013 King evaluation
2012 King evaluation
2011 King evaluation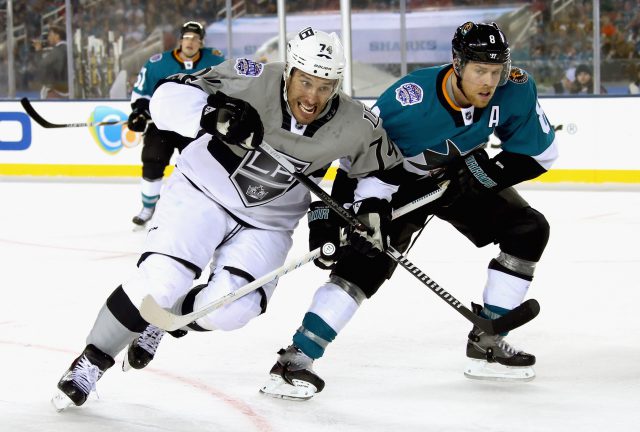 Player evaluations: #2 MATT GREENE | #3 BRAYDEN MCNABB | #5 JAMIE MCBAIN | #6 JAKE MUZZIN | #7 ANDREJ SEKERA | #8 DREW DOUGHTY | #10 MIKE RICHARDS | #11 ANZE KOPITAR | #12 MARIAN GABORIK | #13 KYLE CLIFFORD | #14 JUSTIN WILLIAMS | #15 ANDY ANDREOFF | #22 TREVOR LEWIS | #23 DUSTIN BROWN | #27 ALEC MARTINEZ | #28 JARRET STOLL | #31 MARTIN JONES | #32 JONATHAN QUICK | #37 NICK SHORE | #44 ROBYN REGEHR | #70 TANNER PEARSON | #71 JORDAN NOLAN | #73 TYLER TOFFOLI
Advanced stats via War-on-Ice, Stats.HockeyAnalysis.com