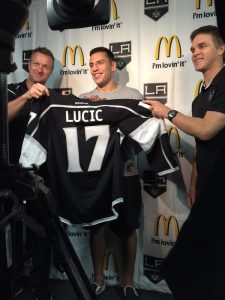 Following his Disneyland trip late last month, Milan Lucic returned to Southern California for a business weekend as he visited the Kings' El Segundo facility and was introduced by the club and met with local media on Saturday.
Lucic, 27, was acquired from the Boston Bruins on June 26 in exchange for goaltender Martin Jones, defensive prospect Colin Miller and Los Angeles' first round pick in the 2015 NHL Draft. As first reported by LA Kings Insider, Boston will retain $2.75-million of Lucic's $6M cap hit.
This is the final year of Lucic's three-year, 18-million contract. Though Lucic deferred to hockey operations questions surrounding a hypothetical extension, he did offer an addendum, saying, "But, I would love to stay here, that's for sure."
"You don't want to put the emphasis on that heading into the season," Lucic said of playing for a new contract. "You want to put the emphasis on playing well and the team winning, and like I said, that usually takes care of itself if you're focused on the right things."
"At the end of the day, for me, looking at this season going forward, you want to have a good season just because if you're looking at the team, of the opportunity that you have, as a player, when you look at your lineup, you realize that as you get older that you don't get to have that many opportunities to play on that many great teams like this. If the team's winning and everything's going well, all the personal stuff tends to take care of itself. But obviously, yeah, this is going into a UFA season, and I do always set high standards for myself regardless if it is a new contract or not, and that's no different going into this season."
More from Lucic today (with a stick tap to Alex Kinkopf for the multimedia):
On whether he expected to be traded:
I didn't really know what to expect. Obviously, with the change in the GM in Boston, obviously with the Bruins not making the playoffs, kind of talking about a transition of things moving forward. So, when you hear the rumors, especially now with social media, you know it's kind of hard to get away from the rumors, you hear things floating around. I expected anything, I expected the unexpected and I mean, I definitely didn't expect to get traded to a team like LA, but I couldn't be happier to end up in a spot like this with a team like this, such a great organization with the success that they've had the last couple of years. I'm just hoping that I can come here and help the team out the best way I can, help them have some more success moving on in the future.
On why he ran his goodbye ad in the Boston Globe:
Like the ad said, it was a big part of my life. I went [to Boston] when I was 19 years old, single kid, just living the dream of getting the opportunity to play in the NHL, you know, and it was a big, huge eight years of my life. I got to be in a city where they really embraced the team, embraced the athletes, and they really embraced me. I got to win a Stanley Cup there with an 'Original Six' franchise, bringing it back where greats like Bobby Orr got to play, bringing a Cup back to a city like that, you know, it was just a real special time for myself, and I kind of just wanted to close the chapter of my life there with something like that. Moving forward, I'm looking forward to starting a new chapter in my life here in LA, and like I said, I couldn't be happier with the opportunity that I have moving forward.
Classy. Photo via @emilymccahthy … Boston Globe pic.twitter.com/LL8dQxR59h

— LAKingsPR (@LAKingsPR) July 10, 2015
On whether he expected to be traded to Los Angeles:
You know, you just kind of look at salary cap things, you know it kind of seemed like the team was set on paper. Without me, they're still one of the best teams, I would say, top 5 teams in the league, and that's why I'm real excited to come to a team like this. You look at the team on paper, and the players that I have the opportunity to play with now is something that I'm real excited about. But, as for your question, yeah just looking at the salary cap and all of the great players here and all that type of stuff, I mean, I'm not a cheap cap hit, that's why I didn't really expect it, but when it happened I was more than thrilled, and like I said, the day I got traded it was just another great opportunity to hopefully win another Stanley Cup.
On his last several years in Boston:
Obviously last year was a bit of a tough year, like you said, Krejci was a player that I've played with for the last five or six seasons, you know, and he was hurt or battling an injury the whole season, and I guess I kind of took it for granted playing with such a great player like that. When he was out of the lineup, I didn't adjust well off the start, but you know, I finished the season off real well the last couple of months, and I was able to kind of get my confidence back, and that's what I'm building off this summer physically and mentally. Again, I just want to get myself back to the player that I know I can be; I'm still young, I'm only 27 years old, so I feel like I'm just getting into my prime years here. From talking to the management here, they have full confidence in myself and being the player that I can be and it's nice to hear that from them, and I want to do everything I can to help this team out.
On what role he sees himself having with the Kings:
Well, I think the last couple of years they've been that heavy, strong, intimidating, rough and tough type of team, and I think my style of play fits in perfectly with the type of team that they already are, so it's not like I'm coming in here to try and change the culture of the team, and I think that's what makes this move perfect in a lot of people's eyes. I still think that the intimidation factor is still a big part of the game; like I said, I'm just going to continue doing what I do. I play with the mean streak; I'm a Gemini, so I've got that split personality, and you get that short fuse a little bit. I'm not coming here trying to change the culture of the team, I'm just coming here to add more to it.
On his "mean streak":
To be honest, I think it was probably the main reason why I was able to get to this level; having that mean streak and playing that physical game, getting myself involved in those tough areas where some guys aren't willing to go. That's one of the things, you talk about me making [the Bruins] in '07, that's kind of the same feeling I have going into this season, that excitement. I think it's a great feeling to have, it's kind of lit a spark underneath me to be excited about heading into the season. It's great to be with a team like this, and I just want to do whatever I can to help out.
On what he thinks his production could be like with Kopitar and Gaborik:
Obviously you want to have high standards for yourself, I've scored 30 goals one time and the season before, I don't want to stand here and give any guarantees about how many goals I'm going to score, but when you're playing with two great players like [Kopitar and Gaborik], you always try to set new goals and higher goals for yourself as far as standards go. I feel like I still have the ability to get to the 30 goal mark, and if I get the opportunity to play with two great players like that, and if I'm at the top of my game, I have the confidence that I could do it again.
On if he's had the chance to meet any new teammates:
No, not yet, not in person. A bunch of them have reached out by text message, a couple of phone calls, it's just all good things, a lot of excitement from them. It was nice to hear that they were excited to have me on the team, they seemed as excited as I was to come here. From what I hear, it's a really tight group where guys have each other's backs, and that's the type of team that you want to be on.
On his reputation for sticking up for his teammates:
It's always been something that's human nature for myself. I grew up, I was the middle child of two brothers, and obviously we did a lot of fighting, I guess, growing up. I've always been raised to always protect yourself and protect your family and your friends. As far as this business goes and this game goes, there's no family closer than your teammates, and like I said, it's always been human nature to stick up for them. It's just something that I've never really had to think twice about.
On whether he's thought about adapting to Western Conference hockey:
Not really. I guess that's something I'm going to have to get used to – all the time changes and more travel and stuff like that. That's something that there's no excuse for that, so you've got to adjust to it as quick as you can. I'm from Vancouver, so I'm used to the Pacific Time Zone and I'm happy that I get to be back here year round.
On being close to his San Diego-based family:
Yeah, definitely. Every time I would come back and play here in Southern California, my family down in San Diego from my mom's side, they would always come up to watch us play the Kings and the Ducks. So it'll be nice to have some family around, and also, all my family up in Vancouver. It's a quick two and a half hour flight, so everyone's excited to have me closer to home.
On getting his bearings in the area:
Today was kind of the first day that I got to see the practice facility and everything, and obviously it's top of the line. I don't think there are much better places anywhere than L.A. There's not much to complain about. I get to play 41 times now at the Staples Center, which is one of the best arenas in the world. I'm excited to finally get here and get into a routine and enjoy the Southern Cali living. [Reporter: How much snow did you end up shoveling last winter?] Too much. It was tough out in Boston last year with the snowstorms. I'm sure you guys heard with all the state of emergencies and all that type of stuff, so I'm definitely leaving my shovels back in Boston.