With the expectation that Kim Dillabaugh, Goaltender Development, would likely move on and accept a position as a goaltending coach with an NHL team – he joined the Philadelphia Flyers last week – the Kings were poised to narrow their search for his replacement shortly after the NHL Draft.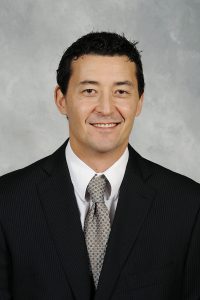 The Kings have their man. It's Dusty Imoo, who previously served as Winnipeg's developmental goaltending coach. With the Jets, Imoo was frequently in St. John's – and was also in Ontario, where Winnipeg shared an affiliation with Los Angeles as partners with the ECHL's Reign – and had his hand in the development of Conor Hellebuyck, who was outstanding both at the AHL level last season and during the young United States team's run to a bronze medal at the World Championship this spring. Before joining Winnipeg, Imoo was the goaltending coach for WHL-Seattle from 2011-13.
Imoo, 44, appeared in net for Japan at the 1998 Winter Olympics in Nagano in addition to four World Championships. Like both Ranford and Dillabaugh, he's a British Columbia native who cut his teeth in the Western Hockey League. His professional career began with ECHL and IHL appearances in 1991-92 and concluded in 2005-06 after 12 seasons in the JIHL and Asia League.
Shnarped (a great read here): Between the Bars: The Art of Goaltending & Dusty Imoo Interview
IceCaps Insider: Hitting the Dusty trail
AHL.com: Hellebuyck primed for big things
Bill Ranford, on Dusty Imoo joining the organization:
Yes, Dusty Imoo is taking over for Kim Dillabaugh. Dusty's had two years of experience basically doing the same thing in Winnipeg and did a really good job with [Connor] Hellebyuck and a little bit with [Eric] Comrie. Obviously we're looking forward to him working with our guys. [Reporter: Another Western Leaguer, that's great news.] Yeah, another New West boy (New Westminster, B.C.). Hey, we've got to do what we got to do.
Ranford, on how he is working with Imoo and the young goaltenders:
I think with Alec Dillion, he knew him a little bit from the BC Junior because Dusty's son plays … in Merritt, and obviously JF [Berube] and Barto from playing against St. John's over the last couple of years. As far as our other guys, I'm not sure if he ever saw Nick [McBride] play and I'm pretty sure he didn't see Jack Flinn play. It's one of those things where we're looking at those guys and this is a great opportunity for them as kind of walk-ons.