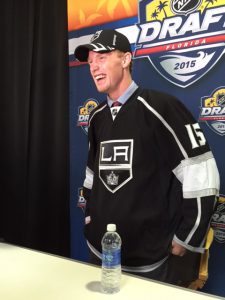 Fifth Round, 134th overall: Matt Schmalz
Position: Forward
Shoots: Right
DOB: 3/21/96
Height: 6'6
Weight: 209
Hometown: Dunnville, ON
NHL Central Scouting final ranking: 167 (North American skaters)
NHL Central Scouting midterm ranking: N/A (North American skaters)
Stats (OHL – Sudbury): 66 GP, 24 G, 16 A, 40 Pts, 68 PIM, -57
Matt Schmalz to LA. Had him going last year. Tough goal scorer, decent feet, N/S winger, honest effort, he'll find a role.

— Sean Lafortune (@SeanLafortune) June 27, 2015
On his increased production in 2014-15:
I think I had a bigger leadership role this year. We had a young team coming in. We had a young team coming in. We went for it [two years ago], and we fell short, so having more of a leadership role and better communication with my coach and better relationship with my coach, it kind of gave me a little bit more confidence on the ice, and more confidence on the ice just grew into getting open ice and stuff like that, and having chemistry with more of my teammates, and once the chemistry started going, and the more ice time I got, the season kept rolling, and the puck kept going in for me.
On the Kings' size and proclivity to win board battles:
Yeah, it's one of the things I have to make sure it's in my game, for sure. You can't play 5'8 when you're 6'6, so you've got to play 6'6, a man's role, and that's board work and battling. I want to keep up my battling skills as much as possible and get stronger. I can get a lot bigger, and there's more to come, so I want to make sure my board work [is strong] and get the puck out of our zone and into their zone to get to work.
On the experience of getting drafted:
Yeah, showing up and getting out of the airport, it was 30 degrees (Celsius) out and I was already sweating, and now thank god they had the A/C on in here because I was a little nervous. For all the people back home, I'm excited that they're behind me and they're ready to see me in a new jersey.
On his leadership role in Sudbury, and what it meant for his development:
For development, it's been pretty good. Like I said, two years ago … we went for it, and I was a younger guy, so I had a lot of drafted players on our team that I kind of just shadowed a little bit and got used to how they're playing and how to be professional, and then I brought them to this year, and I was one of the older guys. Just like that, it turned around and it was good for me.
On Sudbury teammate Kyle Capobianco getting drafted by Arizona:
Yeah, we were texting and stuff before the draft, so I told him we were kind of shooting a little bit, just saying where we were going to go, and who was going to take us, and what's our favorite team and who you want to go to – stuff like that. Sharing the experience with Kyle, his phone's not working in the States and neither is mine, so I can't really do anything. But once we get back to Canada, I'll be sure to give him a text.
On those within the Sudbury organization he's appreciative of:
Definitely my coach Dave Matsos and my GM, for sure. When I got drafted in Kitchener, I didn't get the opportunity that I really thought I was going to get, so for Blaine (Smith) for bringing me to Sudbury, I really appreciate it. My billets, all my friends and family I've met in Sudbury, for sure, I want to thank them. Especially my billets – I wouldn't be as big as I am without their cooking.
On Los Angeles' strong OHL base, and who he'd like to meet with the Kings:
I think Drew Doughty would be pretty cool to meet, for sure. He's a Norris finalist, so I think he'd be pretty cool to meet. My trainer I have now, he was Guelph's trainer, and when Doughty was there, he said every time he would get the puck, he'd just decide to go, and he went. So it was cool. He says that's somebody you want to meet, for sure.