Of those who have offered influence in 18-year-old Adrian Kempe's young professional career, there have been some unlikely names.
Kempe, who scored his fifth and sixth goals of the postseason in Manchester's 3-2 loss to the Utica Comets in Game 3 of the Calder Cup Finals and shows an advanced ability to skate and create space for himself, was a teammate this season of 43-year-old Donald Brashear with Modo Hockey, the Swedish Hockey League's Örnsköldsvik-based club. Monarchs defenseman Jeff Schultz, a 2014 Stanley Cup winner with the Kings, said Kempe's skating ability and 200-foot attributes remind him of a young(-er) Marcus Johansson, one of his former Washington teammates. In six World Junior Championship games this season, Kempe totaled four goals and eight points.
Now, Los Angeles' first round selection from the 2014 NHL Draft whose September 13 birthday is two days before the league's draft-age cutoff, has been living in a suite complex in Manchester with another player known more for his on-ice deterrence and character than, say, his breakaway speed.
Kempe, who joined the Monarchs in April at the conclusion of his SHL season, has been living with Paul Bissonnette, the renowned Arizona vocalist and enforcer who was signed by Manchester in December.
"He took care of me since the first day," said Kempe. "He's a funny guy and talks a lot and taught me a lot outside of the rink, so I really like to live with him."
The appreciation travels down a two-way street.
"I've gotten to play with a lot of Scandinavians and I've never met a bad one," Bissonnette said. "They're all good kids and great personalities and like to joke around. As far as his playing ability, he's a pretty special talent and this learning experience going on this run early in his career, I think, is going to pay a lot of dividends."
At 18, Kempe is two years younger than the 20-year-old rookie crop of players who began the season in Manchester. Though he played – and succeeded, with 28 points in 95 regular season games as a 17 and 18-year-old – against grown men in Sweden's top league, joining his first professional North American team presented what would be a challenging transition for anyone.
Enter Bissonnette, who has incorporated him into a close room under head coach Mike Stothers and established himself on the ice and in social media as one of professional hockey's best trash talkers.
"He's been playing hockey since last August, right? So it's been a real long season for him," Bissonnette said. "Sometimes when you're a little tired and you're coming in and you don't know anyone, you don't know your motivation. I just tried to take him in and know him on a personal level and kind of show the guys that with banter and chirping him, making him feel like he's a part of the group, like he's been here all season. I think that goes a long way because I know if I was in a new environment, I would appreciate that. I just really like my teammates all the time and try to make them feel as comfortable as possible."
Kempe acknowledges that Bissonnette has taught him "a little bit" of beaking.
"He's just tried to get me into the group pretty fast," he said. "I'm pretty shy as a person and this big group and men from Europe, so that's how I think to get over here. But he taught me a lot and tried to get me into the group and it just feels good every day, and he's taught me lessons since I came here and I'm very glad for that."
The partnership has allowed the younger player whose English is strong but continuing to develop to feel more comfortable. As for the dressing room jocularity, he's not necessarily at a National Hockey League level yet, but he's getting there.
"He's still shy in the group, but as far as being his roommate through the past few months, when it's just me and him, he'll chirp me back and it's good. I like that," Bissonnette said. "Even in the room, slowly, I don't think he's there yet as far as in front of the group going at guys, but hopefully [he will] eventually."
Should Kempe continue to exhibit his natural skill and help lead an established Monarchs group to a Calder Cup – Manchester currently leads Vancouver-affiliated Utica two games to one – that chemistry will only solidify.
"The first couple of games, I just tried to get into the game," he said. "I knew that it was different than Sweden, so I just tried to get into the game and tried to use my game, my speed and my things I'm good at as much as possible because I know it's good on the small rink in this play. So that's the big thing and I played pretty well the last couple of games and I feel good out there. It feels like I got into it pretty fast. So I just try to play my game and use the things I'm good at."
Adrian Kempe, on the differences between the SHL and AHL:
It's a faster game here. It's a smaller rink, so it's a faster game. You don't have as much time with the puck as you do in Sweden. That's the two biggest things and it's a little bit more physical game here because it's much faster hockey and you have to be prepared for that, too. So I think these three things are the biggest things.
Kempe, on whether Donald Brashear was a similar influence as Paul Bissonnette:
Yeah, he was kind of like that guy, too. He came in and tried to make the group going well and tried to speak a lot with the group and he's a funny guy, too. So he's a good guy for the team as Biz is for this team. So they're both really good teammates.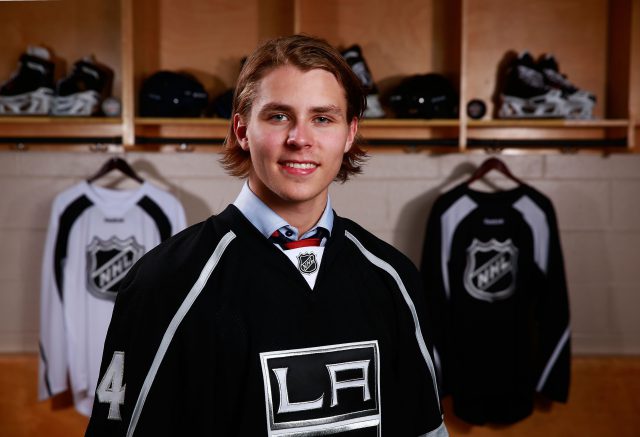 -photo credit: Jeff Vinnick / NHL