DREW DOUGHTY
This season: 82 games, 7 goal, 39 assists, 46 points, 56 penalty minutes, +3 rating, 29:00 time on ice
The good: During the 2014 Stanley Cup Final, Darryl Sutter characterized how Drew Doughty would grow and improve. He referenced managing ice time, selecting better shots, improving in special teams, learning the league and opponents and developing strong practice habits, better nutrition and managing rest. "There's a big difference between being 25 and 35," Sutter said. In 2014-15, Doughty took a modest step forward in many of these areas as part of a workhorse performance that resulted in an All-Star Game alternate captaincy and saw him improve upon his time on ice from the previous season by over three minutes to finish with an average of 28:59, ranking second in the league. That workload, necessitated by the indefinite suspension of the other right-handed defenseman in the top-four, was the chief influence in Doughty drawing enough support from voters to emerge as a finalist for the Norris Trophy. In terms of his ability to help the Kings drive possession, his numbers were predictably strong (56.4% Corsi-for / +1.95% Corsi-rel), if a touch below the marks set the previous season (58.5% Corsi-for / +2.90% Corsi-rel). His +407 in five-on-five Corsi events was a league-best, leading Jake Muzzin (+401) and Anze Kopitar (+359), who ranked second and third. More than the data, Doughty thoroughly embodied a team-first attitude and continued to earn the letter that will eventually be placed on his jersey. His all-situations usage continued to solidify, especially in his penalty killing contributions. "Now you're putting three or four younger defensemen in there, so you're expecting more out of him," Sutter said in March. "He's killing penalties now more than he ever has, which is important for young defensemen to learn how to kill penalties, and to want to take great pride in it. That's something that's still evolving in his game." There are few, few defenseman (if any) who can match Doughty's decision-making, vision, ability to drive possession, checking, all-situations usage, competitiveness and experience. Is he the best defenseman in the game, overall? He very well may be. Was he the best defenseman in the game in 2014-15? That's also a tough question to answer.
The bad: Doughty's numbers alongside Jake Muzzin appeared to take an unfortunate step back in 2014-15. After the two had combined for a 58.3% Corsi-for, 2.33 GF/60 and 1.68 GA/60 in 2013-14, their possession rate jumped to 58.6%, but their GF/60 and GA/60 took noteworthy hits. Doughty and Muzzin were on the ice for 2.09 GF/60 and 2.47 GA/60 in 2014-15, perhaps a byproduct of Doughty's 99.4 PDO and Muzzin's 97.8. The actual data probably isn't as important as the eye-test, which showed that the extraordinary minutes likely weighed down the gifted defenseman over the final month of the season. While Doughty recorded an impressive 16 power play assists, his only power play goal came in Game 80 on a slapshot from the red line. While 32% of his shot attempts were unblocked in 2012-13, that number crept up to 33.8% in 2014-15 in all situations. His 219 shots on goal were 42 shots higher than any previous season, though a career-low 3.2% shooting percentage meant that he finished with seven goals, his lowest total since his rookie season (if his 2012-13 season is prorated). Expect him to bounce back and finish with or around double digits in goals scored next season.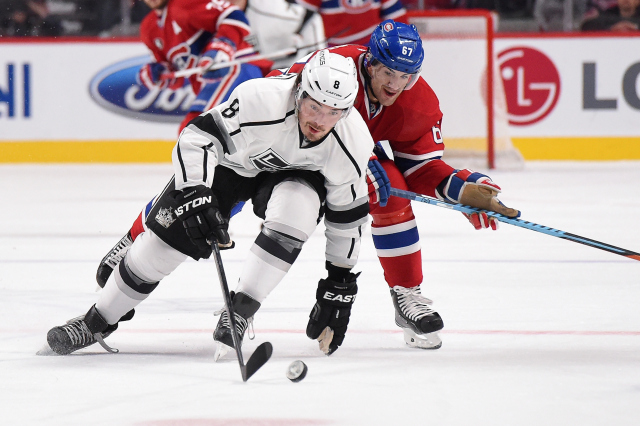 Going forward: Having turned 25 in December, Doughty has not yet hit his prime years. There are many outstanding seasons ahead for the generational talent, who commands a $7.0 AAV through 2018-19, which is now squarely in the "team-friendly" realm. He is part of the Quick-Doughty-Kopitar Holy Trinity, which deems that the Kings will be in Stanley Cup contention for as long as the three are together while they are in or nearing their primes. Assuming the Kings supplement Doughty with right-handed shooters on the blue line, his minutes will fall, his late-season usage should even out, and he should put forth his most worthy Norris Trophy campaign to date in 2016-17.
2014 Doughty evaluation
2013 Doughty evaluation
2012 Doughty evaluation
2011 Doughty evaluation
2010 Doughty evaluation
2009 Doughty evaluation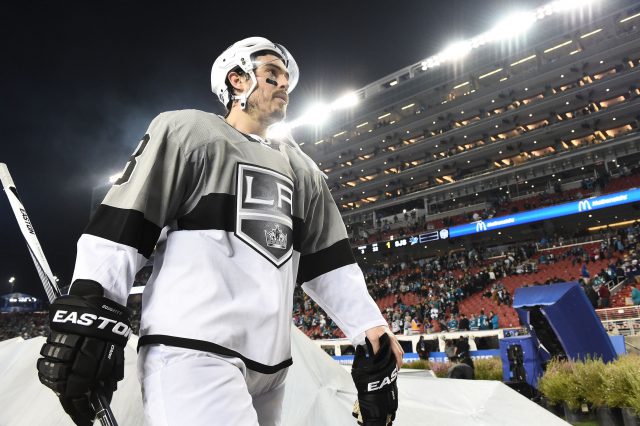 Player evaluations: #2 MATT GREENE | #3 BRAYDEN MCNABB | #5 JAMIE MCBAIN | #6 JAKE MUZZIN | #7 ANDREJ SEKERA