U-S-A. U-S-A. The Americans used goals by Trevor Lewis, Torey Krug, Mark Arcobello and Brock Nelson, and a 15-save performance by Jack Campbell to defeat Russia, 4-2, and move to 3-0 in preliminary round play at ČEZ Aréna in Ostrava, Czech Republic. Lewis, who opened the scoring, nearly added a late empty-netter (before Nelson ultimately did so) when he hustled to negate an icing and had his backhanded attempt towards an open net blocked by Evgeni Malkin. The IIHF's recap is here. Video isn't available just yet (the game ended during the nine o'clock hour, Pacific time), though for Belarus-Slovakia highlights (which starts with Marian Gaborik getting denied on a penalty shot), Canada-Germany highlights (which include clips of a 17-save shutout performance by Martin Jones and assists by Tyler Toffoli and Jake Muzzin) and Russia-Slovenia highlights, click on the links.
@LAKings Lewis doin' work for @usahockey at the IIHF World Championships: Goal – http://t.co/tiXwHionDE Assist – http://t.co/LzMnKbaAo4

— Kings Vision (@KingsVision) May 4, 2015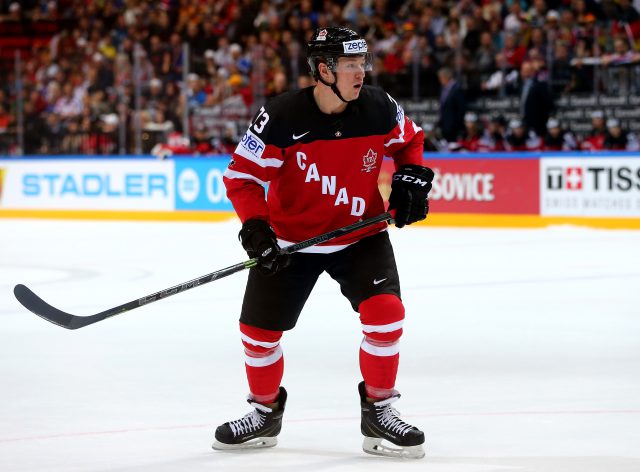 CBS LOS ANGELES
SLAVA NEWS. From CBSLA.com: "A Superior Court judge was expected Monday to decide whether to order the wife of Los Angeles Kings defenseman Slava Voynov to testify against her husband in a pending domestic violence case."
Hearing for #SlavaVoynov set to start. He takes his seat next to attorney Pamela Mackey. Not sure how much I'll live tweet.

— Larry Altman (@LarryAltman) May 4, 2015
Judge now deciding whether he needs to rule today on whether statements come in if she doesn't testify. Might need to wait on that

— Larry Altman (@LarryAltman) May 4, 2015
Defense says statements Varlamova gave to social worker in hospital are priviledged. Prosecutor say she is a mandated reporter of DV

— Larry Altman (@LarryAltman) May 4, 2015
GRANTLAND
THIS MAY SOUND FAMILIAR. The 25 Moments From Every NHL Playoff Series: Fear, smugness, satisfaction, loathing and discomfort as articulated by the wonderful Sean McIndoe.
JEWELS FROM THE CROWN
REFLECTIONS. Let's review Justin Williams', Jarret Stoll's and Tyler Toffoli's seasons. There are Manch updates, too.
SURLY & SCRIBE
TOMERSCH HOLMERSCHSTROM? Bobby Scribe likes what he sees in Michael Mersch and references back to one of the most immovable netfront objects there ever was in a prospect profile.
THE ROYAL HALF
IT WAS ONLY A MATTER OF TIME. The #HowOldRobot fad caused a stir on Twitter last week, and it was a given that some humor/satire site would apply it to NHL players. Here's PumperNicholl, reachin' for the low hangin' fruit. All right, this is actually pretty funny.
HOCKEY BUZZ
FANCY STATS. Jason Lewis analyzes the Norris Trophy (race? fight? competition?) and gives a nod to Doughty. Also from Lewis: Dustin Brown: Top-Six Winger or Top-Six Beneficiary?
LAKINGS.COM
TOURNAMENTS. Video clips, GIFs and updates across the Stanley Cup Playoffs, as well as post-game quotes from Anze Kopitar, Marian Gaborik and Trevor Lewis following recent IIHF World Championships games (as compiled by Julie Robenhymer).