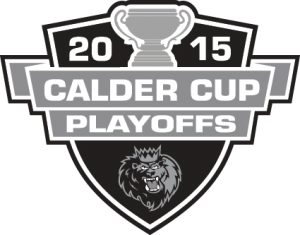 The Manchester Monarchs fell behind on a late first period goal despite carrying the run of play and were unable to come back from a wider deficit after allowing two each in the second and third periods in a 5-0 loss to the Portland Pirates Thursday night at the Cross Insurance Arena in Portland. Game 5 in the one-versus-eight match-up will take place on Saturday night at Verizon Wireless Arena in Manchester after the Pirates held serve at home and erased a two-nothing series deficit.
-This game was essentially two games: The first 28:59 and the final 31:01. Over the first game, the Monarchs operated with a vast superiority in zone time and a wide scoring chance advantage but could not capitalize on three power plays (though the first power play and the first shift of the second power play saw them generate a collection of high quality opportunities). After allowing a second goal when Brandon Gormley's wrister from the left point – in a very similar play to Alec Martinez's Game 7 goal in Chicago – deflected off Colin Miller and over J.F. Berube's shoulder at 8:59 of the second, the Monarchs did not respond well and ultimately fell behind 3-0 after getting into penalty trouble and allowing a 5-on-3 Mark McNeill goal. Until the Pirates' second goal, the home team was unable to sustain any kind of consistent attack. After opening up the two-goal lead, they played with much more confidence.
-Louis Domingue is emerging as a major factor in this series. Since entering for Mike McKenna 30 seconds into Game 2, he has stopped 82-of-87 shots and pitched a 28-save shutout in Game 4. J.F. Berube, who stopped 14-of-19, wasn't as sharp as he was on Saturday and would probably like the Pirates fourth goal back after Francis Wathier's slapshot from well above the left circle on a rush beat him inside the far post.
-Adrian Kempe skated with Jordan Weal and Sean Backman and led a breakout in the second period that keyed what might have been Manchester's best scoring opportunity. After making a hit to disrupt a Portland zone entry, he retrieved the puck and offered the first pass on a rush that resulted in zone time, and ultimately, a slick Jordan Weal redirection of Derek Forbort's feed from the top of the left circle that was lifted just wide of Domingue. There was some good Weal-Forbort chemistry there. Kempe generated a B-type opportunity on his first shift after showing patience with the puck outside of the crease and drifting towards the top of the goal line before his centering pass was intercepted. The Pirates did a very good job of getting in shooting and passing lanes. Also: your friendly reminder that Kempe is 18 years old.
-Andrew Crescenzi re-entered the lineup in the place of Kevin Raine, who appeared in Games 1 and 3.
-Game 5 is at 4:00 p.m. PT on Saturday. I'll be at a wedding, so no live-tweeting/analyzing.
Manchester lines, listed in the order in which they opened the game:
Zach O'Brien – Nic Dowd – Justin Auger
Adrian Kempe – Jordan Weal – Sean Backman
Brian O'Neill – Nick Shore – Michael Mersch
Josh Gratton – Andrew Crescenzi – Ryan Horvat
Jeff Schultz – Colin Miller
Andrew Bodnarchuk – Vincent LoVerde
Kevin Gravel – Derek Forbort
J.F. Berube
Patrik Bartosak