JAKE MUZZIN
This season: 76 games, 10 goals, 31 assists, 41 points, 22 penalty minutes, -4 rating, 22:42 time on ice.
The good: After returning from a thumb injury suffered late in the preseason, defenseman Jake Muzzin played in the Kings' final 76 games and set career-high numbers across the board. Receiving three minutes and 40 seconds of additional ice time over the previous season, Muzzin tripled his power play point total and doubled his shooting percentage and goals scored. Beyond the primary numbers, Muzzin continued to reinforce himself as among the very best possession-driving defensemen in the league. He led all NHL defenseman with at least 20 games played with a sterling 58.1% Corsi-for rating in five on five play (though his zone usage suggests more regular starts in the offensive or neutral zone, compared to the defensive zone). As would be expected after his breakthrough 2013-14 season was punctuated by an outstanding showing last spring, Muzzin's usage against top players grew. The six players against whom Muzzin saw the most ice were Henrik Sedin, Sean Monahan, Daniel Sedin, Ryan Getzlaf, Johnny Gaudreau and Jiri Hudler, and Muzzin didn't finish below 55.0% in five-on-five Corsi-for when sharing the ice with any of those potent forwards. His penalty minutes were more than halved despite drawing significantly more ice time, and his even differential in five-on-five penalty plus/minus was outstanding for a top-pairing defenseman. "He's just getting better every year," Drew Doughty said in December. "He's getting more confidence. He's getting more experience. The more experience he does get, he's just going to become better. He has all the skills in the world. He just needs to put it all together and he'll be one of the top defensemen in the league one day."
The bad: Despite his personal highs and the consistently strong possession rates, Muzzin's performance was uneven at times. After showing in 2013-14 that he could play on a top pairing and against other teams' top players, Muzzin's even strength usage jumped from 16:10 per game to 19:13 per game, which diluted the quality of his minutes by a little bit. Having averaged 1.45 goals against per 60 minutes over 871:47 of even strength time with Drew Doughty in 2013-14, Muzzin and Doughty allowed 2.47 goals against per 60 minutes over 947:34 together in 2014-15. The two had again established strong possession rates together, so it's possible that the numbers are anomalous and influenced by the heavy amount of goals off tips and deflections that the team endured in December and January (strangely, Kings goalies had only a .911 save percentage while Muzzin was on the ice in five-on-five play). But whether from the outlook change of having signed his first lucrative contract, or from the absorption of minutes as the Kings more or less had to deal with losing a second defensive pairing, Muzzin was a bit inconsistent in 2014-15, though he did recover to post a strong final two months of the season (and his 41 points over his final 69 games is a very good pace for a defenseman on a team that ranked 18th in offense).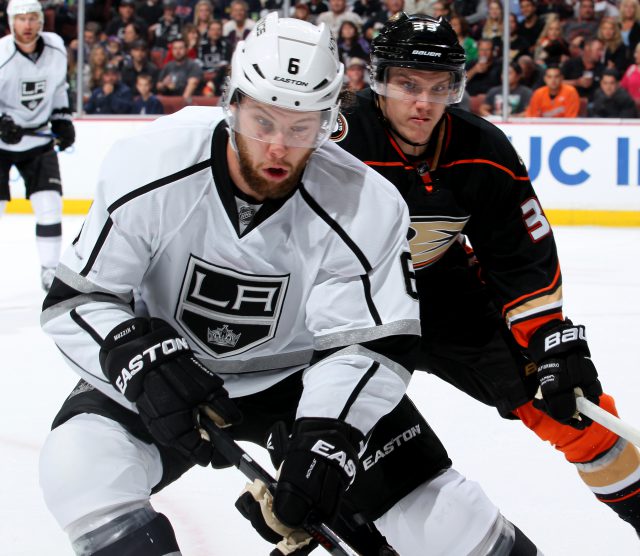 Going forward: Relying on the informal scientific process of reading my Twitter mentions during Kings games, I have found that Muzzin is a polarizing figure amongst the fanbase. The Kings are fortunate to have the 26-year-old, who still has ample room to grow and should soon be approaching his prime years. With a full off-season of committed conditioning – not the "recovery time" necessary over the last two off-seasons – he should be well equipped to provide a higher percentage of quality minutes amongst his heavy usage. The team would also like to see Muzzin, who has averaged 174 shots over the last two seasons, continue to refine his slapshot as he looks to get pucks to the net and not as frequently rely on his wristshot. As an offensively-charged, all situations-capable defenseman whose possession rates are amongst the league's best, the Kings will receive strong returns when Muzzin's five-year, $20-million contract kicks in next season – provided he is able to continue to grow into handling the mental and physical grind of playing significant minutes against top competition. That was a challenge at times in 2014-15.
2014 Muzzin evaluation
2013 Muzzin evaluation
2011 Muzzin evaluation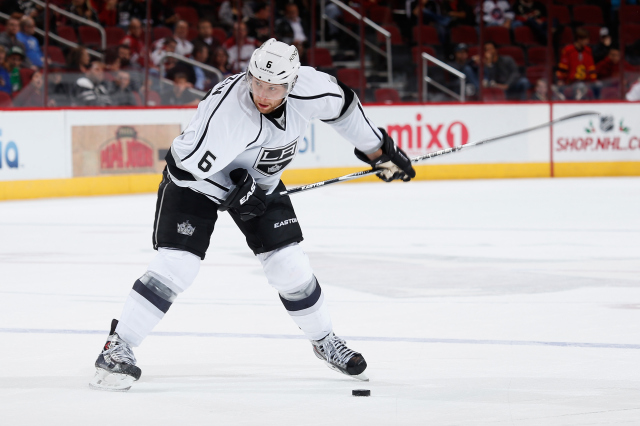 Player evaluations: #2 MATT GREENE | #3 BRAYDEN MCNABB | #5 JAMIE MCBAIN