BRAYDEN MCNABB
This season: 71 games, 2 goals, 22 assists, 24 points, 52 penalty minutes, +11 rating, 15:54 time on ice.
The good: Did any other King exceed individual expectations to the degree that Brayden McNabb did? The country strong defender entered his first Kings training camp with the understanding that he'd gradually be integrated onto the team and ultimately be groomed for a larger role as dictated by team needs and his own performance. Instead, Jake Muzzin injured his hand in Colorado Springs, Slava Voynov was suspended indefinitely and Alec Martinez and Robyn Regehr dealt with various ailments, opening up a regular lineup spot that the now-24-year-old took advantage of. While the injuries and Voynov's suspension did not make things easy for the Kings' blue line on a game-to-game basis, it surely helped McNabb's overall trajectory and development. After recording two assists in his first 15 games, McNabb was productive through the remaining 56 that he played, totaling two goals and 22 points over that span and emerging as an option on the team's second power play unit. Goals and points, while welcome, aren't used as the most important data when evaluating McNabb's overall performance. "I mean, numbers are numbers. For me, it's taking care of my own end. That's where I've got to make a living," he said in late February. And he did, though there were occasional bumps in the road during his trial-by-fire adaptation to a new conference and new opponents in his first full NHL season. By the end of the year, he was a more comfortable and trustworthy player on the road, and ended up totaling 13 points (1-12=13), a plus-14 rating and a 58.7% five-on-five Corsi-for rate at home and 11 points (1-10=11), a minus-3 rating and 55.0% five-on-five Corsi-for rate away from Staples Center for a team in which several key players experienced wider home/road splits. Young players will often be challenged with consistency and finding an identity as a player, and as McNabb's season progressed, he began to really etch out his role. "I think he understands from the coaching staff that we want him to have a real firm identity as a player," Associate Coach John Stevens said in November. "I think any team that's a good team has a real strong identity. I think any player that's a good player has a strong identity. That's something that he has really focused on." Aspects of his identity are being difficult to play against and reliable in his own zone, and McNabb's thunderous body checks inside the blue line and along the right wing in Los Angeles' zone became the defenseman's calling cards. A former junior hockey captain who led his Kootenay Ice to the 2011 WHL Championship and the Memorial Cup, McNabb is a young defenseman with strong character supported by an ideal 6-foot-4, 208-pound hockey body. "With all that's gone on with our back end, it's allowed Brayden to play, and that's been really good for him, and it's really good for us, not just now, but I think in the big picture of it," Darryl Sutter said.
The bad: McNabb's transition to the Western Conference appeared rough around the edges during parts of the first half of the season. Like many young players, there was some volatility in the minutes he provided. Darryl Sutter noted both in December and January that McNabb's game-day preparation could improve, and again, that's just something that is gradually learned and understood as a young player gains experience in the league. "The injury to Muzzin early put him in the lineup, and he managed that really well, and we were able to work our way around it with him, and he was much better at home than he was on the road, and then right about Christmas there were some points in his game where there were mistakes that were strictly preparation, doing it right – that those sorts of things started creeping into his game, so you've got to take him out," Sutter said in January. "We work with him and show him it. You know what? It's really hurt those guys not to have Regehr in our lineup because Robyn can play that side and cover up a lot, and we need them to respond better to it." It's also unfortunate that McNabb didn't get to play any playoff games, which would have prepared him well for his next go-around. His minutes were fairly sheltered.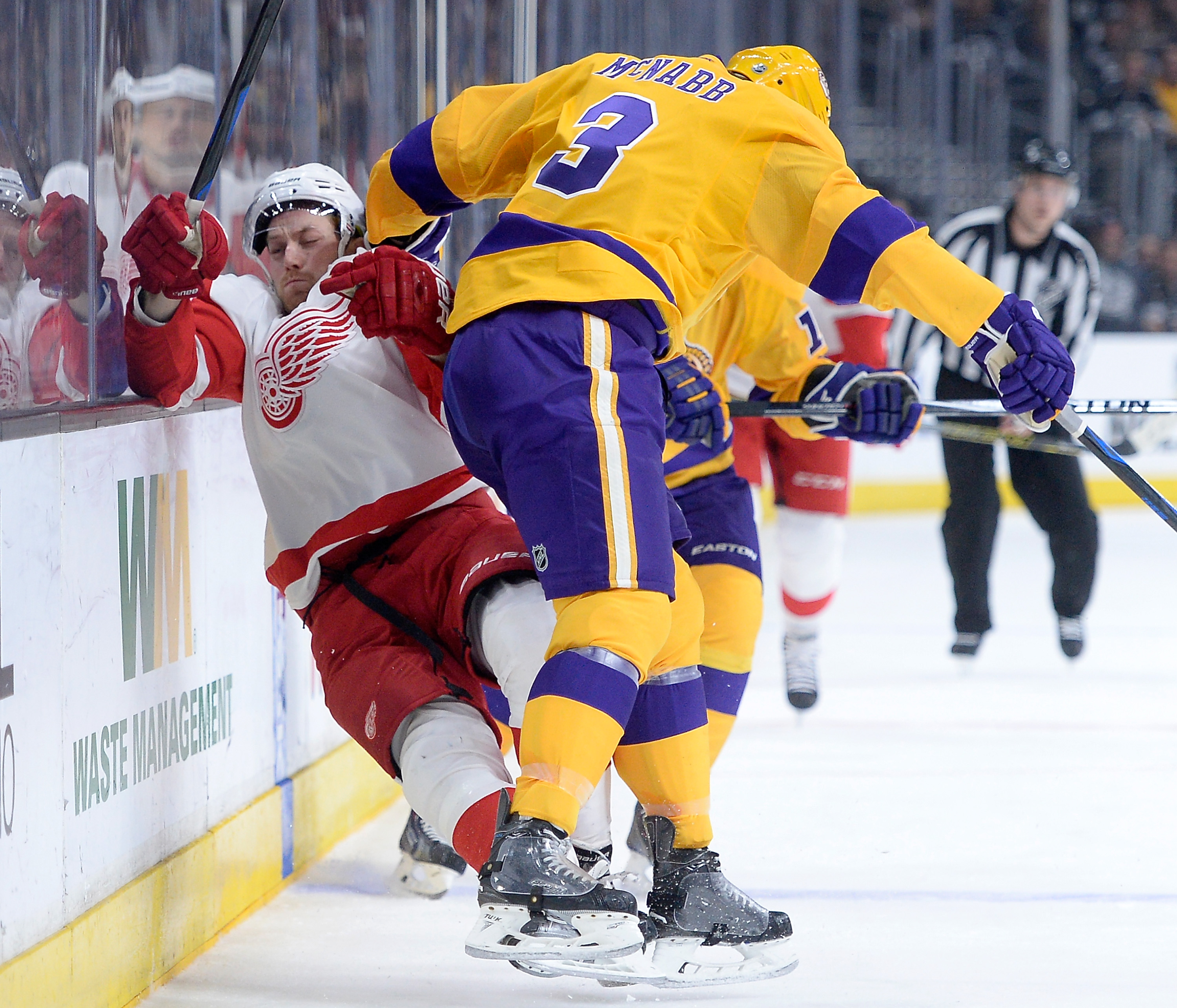 Going forward: The Kings lost Willie Mitchell to free agency and Slava Voynov to suspension and needed as many positive performances from the rest of their defense as they could draw up. They gradually received one from McNabb, who improved as the year progressed and showed clearly that there is both a future and a need for his versatile services. A tenet that Darryl Sutter often reinforces is the drive for players to "maximize their skill set," and McNabb appeared to do so as he became more comfortable utilizing his diverse package in game settings. His poise and decision-making improved as the season progressed, and he began to show some really nice vision in his game in recording multiple assists on sleek distributions to the front of the net. He's also inexpensive at $650,000 (he'll be a RFA one year from now), which makes him very valuable to the 2015-16 Kings. "You know what? He's the youngest defenseman on our team, and there's lots of growth there, and he works at it and he's coachable and he understands the game, so he's only going to get better," Sutter said. The young defenseman will look to continue his direction in 2015-16.
Player evaluations: #2 – MATT GREENE