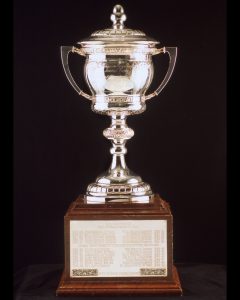 Los Angeles Kings center Anze Kopitar, Calgary Flames winger Jiri Hudler and Detroit Red Wings center Pavel Datsyuk were announced as finalists for the 2015 Lady Byng Memorial Trophy, awarded annually "to the player adjudged to have exhibited the best type of sportsmanship and gentlemanly conduct combined with a high standard of playing ability." The trophy, which will be presented to the winner on June 24 at the 2015 NHL Awards in Las Vegas, is determined by a vote amongst members of the Professional Hockey Writers' Association. Kopitar, Hudler and Datsyuk finished in the top three in the tiered voting process, which uses a 10-7-5-3-1 points format.
Anze Kopitar: 79 GP, 16-48=64, -2, 10 PIM
Jiri Hudler: 78 GP, 31-45=76, +17, 14 PIM
Pavel Datsyuk: 63 GP, 26-39=65, +12, 8 PIM
The "high standard of playing ability" doesn't need statistics to back up any legitimacy of the finalists' chances, though Hudler bested his previous career-high in points by 19 (!). Of course, with the Lady Byng, the number that analysts and voters will quickly turn to is penalty minutes; Kopitar's 10 is a career-low and well below his career average of 20.4 penalty minutes per season. He was assessed five penalties this season – November 20 vs Carolina, December 22 versus Calgary, December 30 at Edmonton, January 8 at New York Rangers and March 5 versus Montreal – all of which were tripping minors.
Since 2006, the Lady Byng has been awarded to four different players: Ryan O'Reilly (2014), Martin St. Louis (2010-11, 2013), Bryan Campbell (2012) and Datsyuk (2006-09). The high in penalty minutes in any of those individual seasons was 22, established by Datsyuk in 2006 and 2009.
Kings to have previously won the Lady Byng were Marcel Dionne (1977), Butch Goring (1978) and Wayne Gretzky (1991, 1992, 1994).
The trophy was first awarded in 1925 but has never been presented to a goaltender. In 2012, Campbell became only the third defensemen in league history to have won the trophy. Kopitar, who has never been nominated for the Lady Byng, was a Selke finalist one season ago.
Finalists for NHL trophies will be announced by NBCSN in the United States and Sportsnet/TVA in Canada on Stanley Cup Playoff broadcasts through May 5. The finalists for the Frank J. Selke Trophy – which could also feature a Kopitar nomination – will be announced on Wednesday, April 22.
The NHL's Lady Byng summary for Kopitar:
Kopitar led the Kings in scoring for the eighth consecutive regular season, the NHL's second-longest active streak behind Washington's Alex Ovechkin (10). He topped the club with 48 assists, his most since a career-high 51 in 2011-12, and 64 points, surpassing the 60-point milestone for the eighth time in as many 82-game seasons. The 27-year-old center was whistled for just five minor penalties in 79 games. Kopitar is a first-time Lady Byng finalist and an NHL Trophy nominee for the second consecutive campaign. He finished second in voting for the Selke Trophy as the League's top defensive forward in 2013-14.
History of the Lady Byng Trophy, courtesy of the NHL:
Lady Byng, wife of Canada's Governor-General at the time, presented the Lady Byng Trophy during the 1924-25 season. After Frank Boucher of the New York Rangers won the award seven times in eight seasons, he was given the trophy to keep and Lady Byng donated another trophy in 1936. After Lady Byng's death in 1949, the National Hockey League presented a new trophy, changing the name to the Lady Byng Memorial Trophy.