The usual disclaimer of "but it was the Oilers" comes with an added asterisk of "who were without veteran defensemen Andrew Ference and Mark Fayne." Drew Doughty said Thursday morning that "the way to beat them is to outplay them in the physical aspect. We've got to get pucks in deep on the forecheck, hit them hard." The Kings did that, winning battles along the boards and using size and strength against a team not noted for its defensive structure as they generated high quality scoring opportunities against a team that provided 22:40 to Justin Schultz, 23:57 to 21-year-old defenseman Oscar Klefbom and 20:27 to 23-year-old defenseman Martin Marincin. Those players are key building blocks on defense for Edmonton and should be expected to grow into fine National Hockey League careers – Schultz is growing and nearing his career-high of 33 points – but on a night a personnel-affected Oilers blue line was also without the services of checking center Boyd Gordon, they were beaten in many aspects of the game by a Kings team playing with a focused and raised urgency that put three past Ben Scrivens before the game was 10 minutes old. Keep in mind that the Oilers did sustain some pressure in the Kings zone, especially after falling behind by three in the first period and at the start of the second period; Jonathan Quick provided key saves to a much greater degree than Ben Scrivens. It is not easy tending goal for Edmonton.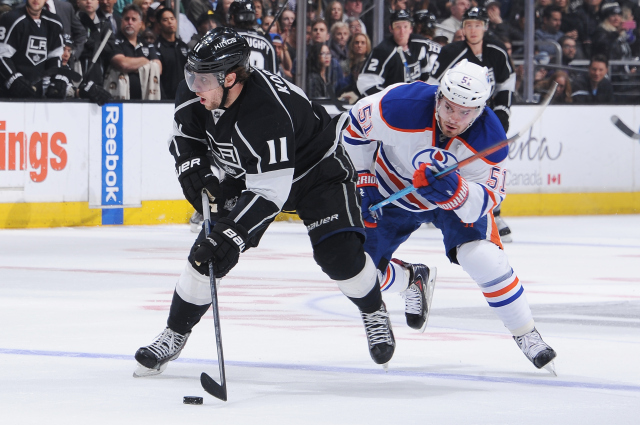 It was also important for Dustin Brown, who hadn't scored since finishing off Drew Doughty's beautiful net-circling move in Colorado on February 18, to find pay dirt. One goal later, Doughty's snapper from the top of the right circle also snuck past Scrivens to end a drought that extended back to his buzzer-beater at Tampa Bay on February 7. As referenced by Darryl Sutter after the game, it was good for these players to add confidence to a reservoir that had been depleted by an extended scoreless streak. More importantly, Los Angeles generated a terrific start after returning from an extended road trip; even in the first two minutes of the game, when the Kings hadn't yet found the back of the net, it was clear that the Kings were winning battles and operating in space and with near-impunity in setting up offensive zone chances. After the fast start – and other than some fissures in the run of play – by and large they maintained the ability to generate good looks for the majority of the game's 60 minutes.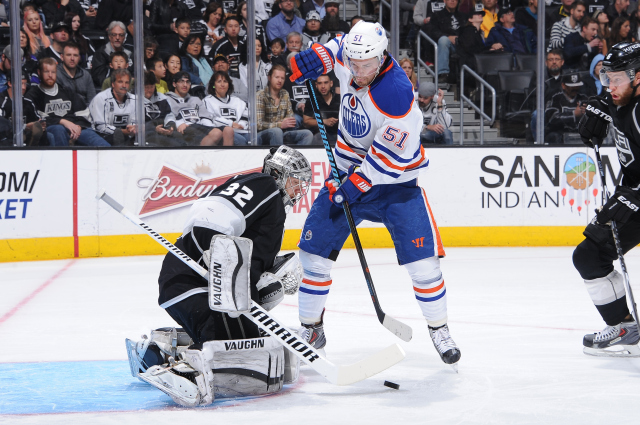 With Calgary losing (and Winnipeg's loss on Wednesday to the New York Rangers), Los Angeles' playoff probability is back up to 71.8%, according to SportsClubStats.com. The Kings will face stiffer competition from Colorado on Saturday, followed by a Western Canadian swing that should heavily influence their playoff chances. It's looking a bit ahead, yes, but at this point one does have the feeling that the season finale against San Jose at Staples Center is going to carry significant weight.