Los Angeles Kings (29-18-12) vs Ottawa Senators (25-23-10)
Thursday, February 26, 2015, 7:30 p.m. PT
Staples Center, Los Angeles, CA
Referees: #29 Ian Walsh, #23 Brad Watson
Linesmen: #79 Kiel Murchison, #55 Shane Heyer
Fox Sports West, KABC 790 AM
Kings Weekly follows tonight's game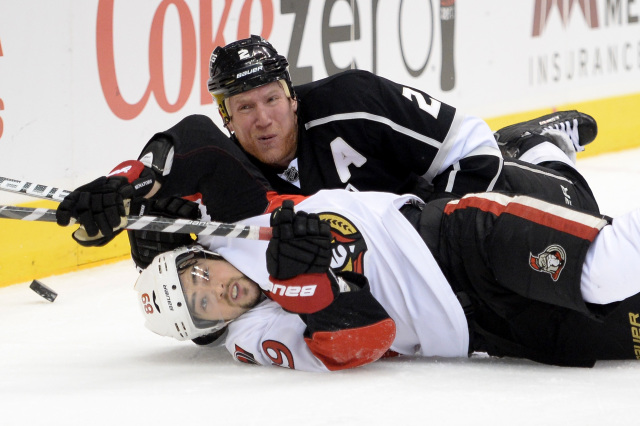 Los Angeles Projected Starting Goaltender – Jonathan Quick
2014-15: 51 GP (50 GS) / 25-15-10 record / 2.38 GAA / .914 Sv% / 4 SHO
Career vs Ottawa: 6 (6) / 5-1-0 / 2.18 / .922 / 1
Last Game vs Ottawa: 12/11/14 / 60 MP / 32-35 / 5-3 W
2014-15, Home: 29 (28) / 18-5-5 / 2.11 / .921 / 4
Ottawa Projected Starting Goaltender – Andrew Hammond
2014-15: 4 GP (3 GS) / 3-0-0 record / 1.50 GAA / .948 Sv% / 1 SHO
Career vs Los Angeles: First appearance
Last Game vs Los Angeles: First appearance
2014-15, Away: 1 (1) / 1-0-0 / 0.00 / 1.000 / 1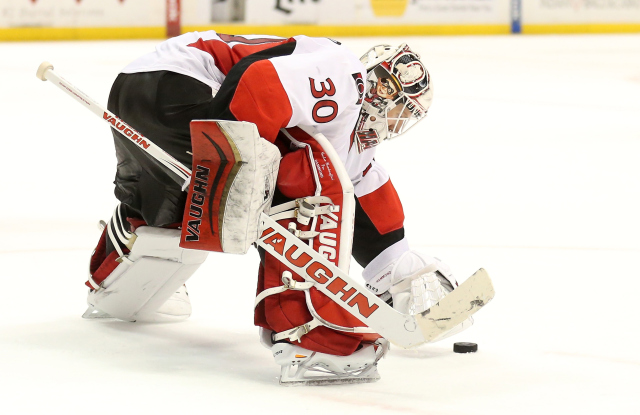 2014-15 Los Angeles Leaders
Total Points: Jeff Carter (18-28=46)
Goals: Tyler Toffoli (19-19=38)
Assists: Anze Kopitar (12-32=44)
Plus/Minus: Tyler Toffoli (+20; 19-19=38)
Penalty Minutes: Kyle Clifford (66; 3-7=10)
Time On Ice: Drew Doughty (29:27; 5-30=35)
Corsi-For Percentage: Anze Kopitar (58.3%; 12-32=44)
2014-15 Ottawa Leaders
Total Points: Erik Karlsson (14-31=45)
Goals: Mike Hoffman (20-15=35)
Assists: Erik Karlsson (14-31=45)
Plus/Minus: Mike Hoffman (+21; 20-15=35)
Penalty Minutes: Mark Borowiecki (83; 0-7=7)
Time On Ice: Erik Karlsson (26:58; 14-31=45)
Corsi-For Percentage: Patrick Wiercioch (56.3%; 1-5=6)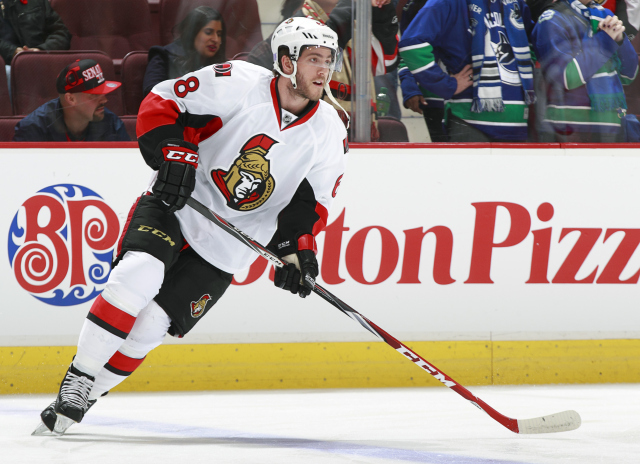 Rankings and Statistics
Goals/Game: LAK – t-17 / 2.73; OTT – t-11 / 2.81
Goals Against/Game: LAK – t-7 / 2.46; OTT – 19 / 2.69
Power Play: LAK – t-12 / 18.6%; OTT – 25 / 16.8%
Penalty Kill: LAK – 22 / 79.8%; OTT – 11 / 82.6%
Shots/Game: LAK – t-5 / 31.2; OTT – t-12 / 30.5
Shots Against/Game: LAK – 2 / 27.4; OTT – 26 / 32.4
Faceoffs: LAK – 13 / 51.2%; OTT – t-26 / 47.8%
Save Percentage: LAK – t-14 / .910; OTT – t-6 / .917
Corsi-For Percentage: LAK – 1 / 54.8%; OTT – 19 / 50.1%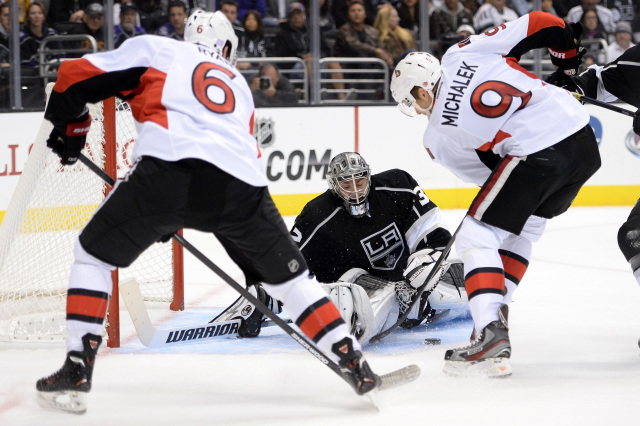 Los Angeles Projected Lines
Marian Gaborik – Anze Kopitar – Dustin Brown
Dwight King – Jeff Carter – Tyler Toffoli
Trevor Lewis – Jarret Stoll – Justin Williams
Kyle Clifford – Nick Shore – Jordan Nolan
Jake Muzzin – Drew Doughty
Robyn Regehr – Andrej Sekera
Brayden McNabb – Matt Greene
Jonathan Quick
Martin Jones
Level of confidence in projected lines: C. Will he play, or won't he? Andrej Sekera has cleared his physical, and whether he'll be in tonight's lineup will rest in a decision Darryl Sutter will ultimately make. Given that Sekera can play both sides, there are plenty of options of where he could play should he be in the lineup. It's based purely on speculation, but given that he has experience playing with Robyn Regehr in Buffalo, I'm leaning towards a Regehr-Sekera pairing should the Kings' newest defenseman get the green light. Jonathan Quick left the ice first and is expected to make his 16th straight start in net, while Andy Andreoff and Derek Forbort remained on the ice for extra work with Martin Jones after the morning skate and are not expected to be in the lineup. The Kings will have to make a roster move to accommodate Sekera's arrival; placing Alec Martinez on IR is most likely, though assigning Derek Forbort to AHL-Manchester is also a possibility.
Notes and milestones: Los Angeles is 19-7-2 all-time against Ottawa, a record that includes a home mark of 12-1-1. The Kings have won a franchise-long four games against the Senators and have not lost a game in the series since a 3-2 defeat on November 22, 2010 at Canadian Tire Centre. On home ice, Los Angeles has won a franchise-tying (two times) six consecutive games to Ottawa and has points in seven straight home games (6-0-1; one tie). The last time the Kings lost a home game to the Senators was a 4-3 setback on January 11, 2000. Dan Bylsma, Mattias Norstrom and Luc Robitaille were the goal scorers for Los Angeles, while Joe Juneau (2x), Magnus Arvedson and Shawn McEachern scored for Ottawa. … The Kings have won a season-long eight consecutive games. It is the longest active winning streak in the league and tied for the longest streak in the league this season (twice: Chicago, 11/26/14-12/11/14; New York Rangers, 12/8/14-12/27/14). The eight-game streak is tied for the second longest streak in Los Angeles history (fourth time: 2013-14, 1991-92, 1972-73). The longest winning streak in club history is nine games, set from January 21, 2010 to February 6, 2010. … Jonathan Quick has posted a .940 Sv% and 1.63 GAA during the eight-game winning streak. Quick is projected to start his 16th consecutive game, extending his career-long streak (previously 13). … The Kings have 46 points at home this season (20-6-6), their best home start through 32 games in franchise history. Previously the most points through 32 home games was 44 (twice, 1990-91 and 1974-75). … Los Angeles has killed 16 consecutive power plays since David Jones' second period power play goal in the Kings' 5-3 win over the Flames on February 12. The Kings have allowed three or fewer power plays in 10 of the last 11 games. … Los Angeles has averaged 2.8 goals per game in February (28 G / 10 GP) and has scored at least three goals in six of eight games. … With six goals, Jake Muzzin is one goal from tying his career-high (7 / 2012-13). He has five assists in two career games against Ottawa. … Anze Kopitar has 31 points (6-25=31) in the last 28 games and eight points (4-4=8) in eight career games against Ottawa.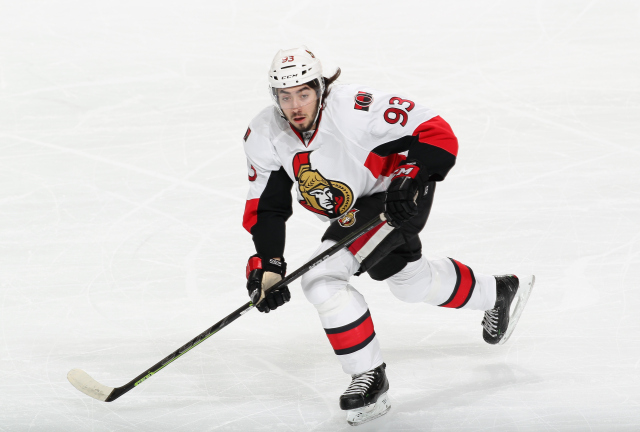 Ottawa Projected Lines
Mike Hoffman – Mika Zibanejad – Bobby Ryan
Milan Michalek – Kyle Turris – Mark Stone
Colin Greening- David Legwand – Alex Chiasson
Erik Condra – Jean-Gabriel Pageau – Curtis Lazar
Marc Methot – Erik Karlsson
Patrick Wiercioch – Cody Ceci
Mark Borowiecki – Eric Gryba
Andrew Hammond
Chris Driedger
Notes and milestones: Ottawa lines via NHL.com correspondent Curtis Zupke … Via Zupke, Ottawa will be without Jared Cowen (suspension), Zack Smith (IR / wrist), Craig Anderson (IR / hand), Chris Neil (IR / thumb), Clarke MacArthur (IR / concussion), Robin Lehner (IR / concussion) and Chris Phillips (IR / soreness). Matt Pumpel is expected to serve as a healthy scratch. … The Senators, 3-0 winners in Anaheim last night, are 3-5-0 on the second night of back-to-back sets this season. … Ottawa is 1-0-0 thus far in a five-game road trip that will also take them to San Jose, Minnesota and Winnipeg. … The Senators are 5-1-1 in their last seven games, outscoring their opponents 25-16 over that stretch (an average of 3.57-2.29 per game). … Surrey, B.C. native Andrew Hammond, a graduate of Bowling Green State University, has allowed three goals over his first three career starts. The only other active goalies to begin their careers allowing at most three goals over their first three starts are Martin Jones (Los Angeles / December, 2013) and Richard Bachman (Edmonton / December, 2011). … Head Coach Dave Cameron made his debut behind the Senators' bench against the Kings on December 11, 2014. Cameron is 14-12-5 in his 31 games as Ottawa's coach. … With 599 career points (222-377=599), David Legwand is one point shy of 600 in his career. … With 198 career goals, Milan Michalek is two goals shy of 200 in his career.