The sentiment is really only memorable because the Kings lost at Dodger Stadium, but last year's event – Los Angeles' sixth straight game out of eight that were played outside of Staples Center – came during one of the more challenging stretches of the schedule. The Kings played games in all four league time zones during the eight-game stretch.
"It was not the right way to do it," Darryl Sutter said in September.
"We came home (after a four game road trip) and had a sleep and bused to Anaheim and had played, came home and had a sleep and went to Dodger Stadium and played, and left the next day for San Jose." Read here for Sutter's full comments; they're interesting and applicable.
Are they excuses? Some may be inclined to believe so. But NHL travel, as first class as it may be, does have rigors that take a toll on players and coaches. At the time, the mental fatigue may have been wearing on the Kings, who won a road trip opener in St. Louis before losing controversially in Detroit in a shootout, a game that was followed by losses in Boston, Columbus and Anaheim.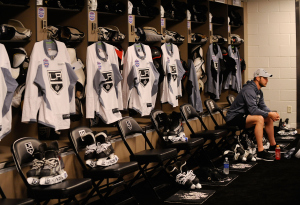 Which is to say that last year's game didn't exactly come during the season's zenith.
This year, however, the circumstances are reversed. Los Angeles played a one-off road game in Denver on Wednesday and returned home for a Thursday off-day before traveling up to the Bay Area, where they'll bring along less mental luggage. The Kings extended their winning streak to six games with a 4-1 victory over the Avalanche.
"Yeah, the day off was huge for us," Drew Doughty said. "We were playing a lot of games there. We were on the road for a while before we came home and just to get a day off and to relax at home and just have a day to yourself away from hockey was huge, but we got back to work [Friday]. A pretty hard practice and we're ready to go for [Saturday]."
The Sharks, meanwhile, returned home from a quick two-game trip that saw them play Thursday night in Dallas. Despite winning that game, San Jose is 3-5-2 in its last 10.
Would the Sharks have preferred an extra day to decompress and prepare for the major league event, which also happens to be a four-point swing game against the club's chief rival?
"Yeah, that would be nice," Tommy Wingels said. "But at the same time, and I don't want to compare this to the Super Bowl at all, but when you listen to guys talk about that when you have three, four or five days of it, maybe it's too big of a distraction. So maybe this is good for us to come in for one day, get it all out of the way and play the game [Saturday]. Like I said, we've all been following it on social media, over the internet and the articles you guys write. But in terms of being here experiencing it, one day is good for us, and just get the game in tomorrow."
Teammate Matt Nieto pooh-pooed the hypothetical challenges brought about by the compacted schedule in the lead-up to the Stadium Series game.
"It doesn't matter. I think guys had a lot of fun [at Friday's practice]," he said. "It's great that we got to share it with our family and friends, you know, go out there and skate and that they got to see it. It was just a great day."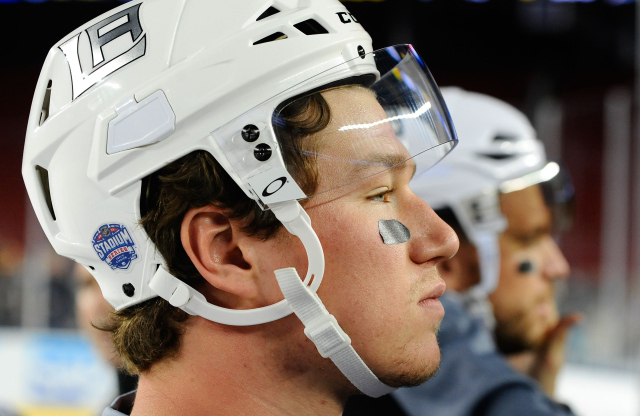 Drew Doughty, on whether there's a benefit of having outdoor game experience:
Yeah, I think so. Because we did it last year, we kind of know what it's like. It's a different kind of game. It's weird. The fans aren't right around you like usual. It's kind of different, but it's hard to get used to after the first couple shifts. But now that we've played in it before, we should have a little bit of advantage I guess that way.
Doughty, on focusing on the game:
That's all we're worried about is two points. The outdoor game is obviously cool to be a part of. It's going to be a fun atmosphere and great for the fans, but for us it's the biggest game of the season so far. For us, it's the game against San Jose and we've got to win because we're battling for the same spot right now.
Trevor Lewis, on whether last year's outdoor game has any effect on the team:
I guess you're kind of used to it, I guess. We've got to focus on these two points, these are huge for us. We're fighting these guys for a playoff spot, too. So it's a big game for both teams.
Lewis, on when the team began to focus on the outdoor game:
I think once we got here really and seeing the stadium and how cool it is and how big it is. It's fun to be outdoors and play hockey, but like I said, we have to focus on the game and the two points.
Lewis, on whether he's a fan of the white pants:
I don't think so. They're too flashy for me.
Lewis, on whether he's able to appreciate participating in his second outdoor game:
Yeah, I think in warm-ups I'll take a look around and stuff. Definitely when you're done playing, you'll definitely remember playing in these games. It's cool on that part, but we've got to make sure we come out with a good start and ready to go.
Lewis, on skating with a new line at practice:
Last game, we kind of switched it up a little bit to get us going. It doesn't really matter to me who I play with. I've played with Stollie and Willie a lot. I just have to get in there and get pucks in and hopefully chip in.
Matt Greene, on practicing at Levi's Stadium:
It's fun. It's fun being outside. Obviously it's different, a changeup. It's a good time. It's a cool experience.
Greene, on whether it was difficult to not play in last year's outdoor game:
You move on from that. It was cool to be a part of the experience, get the practice in the day before. At the end of the day, it's a regular season game. You're still trying to get points. It's always nice to play, but you understand when you don't.
Greene, on balancing the importance of the game with enjoying the experience:
You appreciate it, but it's a huge game for us and for them, too. It's a big divisional game. You've got to be ready to approach it like a regular game, but at the same time enjoy it.