Good afternoon from Levi's Stadium, where the San Jose Sharks have taken the ice for Friday afternoon practice.
Earlier today, the NHL unveiled its new "enhanced" stats section, which will serve as the league's official home for the types of statistics that were otherwise found on ExtraSkater.com, BehindTheNet.ca, War-On-Ice.com and other "advanced" stats sites. It's not 100% rolled out yet, and new metrics that include player comparison tools, player performance prediction tools, NHL preseason rankings and team power indexes will debut shortly before the 2015-16 season, while an expanded statistical redesign will take place before the 2015 Stanley Cup Playoffs. In 2016, a database with every box score since the inaugural 1917-18 season will also be finalized.
The current platform unveiled today includes official statistics such as shot attempts (SAT / previously: Corsi), unblocked shot attempts (USAT / previously: Fenwick) and shooting plus save percentage (SPSV% / previously: PDO). Via the league's release, there are also more than 30 "new extended statistics," such as first and second assists (1st A, 2nd A), goals by time (G/20), penalties taken and drawn by time (Pen/20 / PenDr/20) and average shot length (ASL).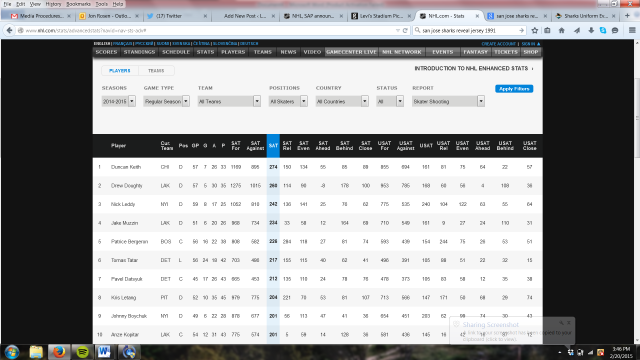 LAKI is enthusiastic about these changes and the potential for the continued evolution of statistical analysis in hockey. To refresh, these statistics are not the be-all, end-all of hockey stats, and they do not tell the complete story of a team's state and trajectory. But for the Kings, a team that has graded quite well in both the tangible (possession stats, advanced metrics) and the intangible (resilience, compete level, etc.), it is necessary to use these statistics to form the backbone of the argument of why the team has found the success that it has, and which players have helped drive the team's outstanding possession rates.
"Hockey is extremely fast-paced with very little stoppage in play, which results in many aspects of the game failing to show up in the box score," NHL Chief Operating Officer John Collins said in the league's release. "In partnering with SAP and using its best-in-class SAP HANA Enterprise Cloud service, we are now able to capture data points like never before and present existing and new statistics in a visually appealing way.
"The new NHL stats platform goes beyond data to offer insights that will help avid fans go deeper and help casual fans understand the game better. There are also unlimited storytelling opportunities as we provide our fans with a personalized and interactive experience."
More:
NHL's new advanced data package in partnership with SAP (SJ Mercury News)
Revamped NHL website to track enhanced stats (The Globe and Mail)
NHL's new advanced data package in partnership with SAP (Puck Daddy)
NHL says decision on player tracking for next season will be made around playoffs

— Greg Wyshynski (@wyshynski) February 20, 2015
I'm assuming NHL stands to gain quite a bit financially from this endeavor. More eyeballs to site, corporate sponsorships, subscriptions etc

— Katie Strang (@KatieStrangESPN) February 20, 2015
According to Gary Bettman, NHL has no current appetite for its own Cap Geek.

— Greg Wyshynski (@wyshynski) February 20, 2015