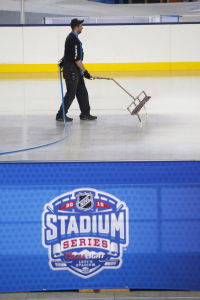 To the Kings' credit, never at any point over the last week did their room ever exude any feeling that the team was looking ahead to Saturday's game before taking care of business indoors first. When Stadium Series questions began to pop up in media scrums between games against Tampa Bay and Colorado, those who asked had their suggestions quickly shot down. From any angle into the clubhouse seen by those who have press access – and perhaps this is anecdotal – there was never any sense whatsoever that the Sharks game was on the teams' minds at all.
Behind the scenes, there was plenty of planning ahead. Equipment Manager Darren Granger and his staff received a tour of the facility when the team visited the Bay Area for the final game before the All-Star Break, and while most of the team has a recovery day today, there are already members of the equipment staff heading to Santa Clara to begin to prepare what will become the team's base at Levi's Stadium for roughly 30 hours (the team will hold a morning skate at Sharks Ice in San Jose, however).
Based on knowledge of the layout of the visiting football team's room, and the experience of having taken part in a Stadium Series game a year ago, Granger, Dana Bryson, Joe Alexander and Bobby Halfacre will be well-prepared for the team's practice at Levi's Stadium at 6:30 p.m. Friday evening.
Darren Granger, on how he will set up the locker room at Levi's Stadium:
Like what we had at Dodger Stadium – the Dodgers' renovated locker room is really big. So we'll probably divide [the Levi's Stadium room] in half. Half as a dressing room, which is a little more compact and everybody can see each other, the other half we'll split off and use for a change room or something like that. But as for coaches' area, which is nice, training room, the amenities at Levi's are going to be more than substantial, definitely more than what we need. It's excellent. … We did a tour before our last game against the Sharks up in San Jose. It was great.
Granger, on how preparation differs from any normal regular season game:
I guess the only real difference is that we're not going into an NHL building. So there are those small things that we're used to having already set up for us that may not necessarily be there or be ready. Dana and Bobby are going to go up the day before and spend Friday doing the set up part of it. Then Joe and I will bring the team and what we normally bring up on Friday and get ready for practice. Pretty much the same, and obviously we have to take stuff in case of weather. I don't expect that it's going to be cold weather, but we're prepared if it is. We'll be prepared if it's foggy or damp, that type of thing. We have stuff for that. The usual, the eye black that we don't normally have, skate guards, the chance that some guys might want to wear tinted visors, although we didn't at Dodger Stadium. So I don't expect it will be much different to what we did last year.