When Anze Kopitar scored to tie Tuesday night's game at one in the second period, the Lightning had registered nine second period shot attempts to the Kings' three and led the overall shot on goal tally by a 15-9 count. The game hadn't gotten away from Los Angeles; only one goal, Nikita Nesterov's first NHL tally, separated the two teams in an up-tempo first period. But a fast and physical young Tampa Bay team that like Los Angeles is among the league's elite possession clubs was able to seize control of the puck early in the second period while generating several dangerous situations in their attacking end. But Trevor Lewis ended that momentum by finding both Anze Kopitar and a seam, and Kopitar hit that seam at a high speed before snapping off a quickly released snapshot that threaded the needle between Andrei Vasilevskiy's blocker and right pad for the first of three consecutive Kings tallies in an eventual 3-2 win. Beginning with the Kopitar goal, Los Angeles out-shot the visitors 19-8 and out-attempted them 32-22 over the final 32:56. There were other turning points – the late second period / early third bridged penalty kill and big goals by Jordan Nolan and Jeff Carter, among them – but Kopitar's goal ended a sustained Lightning attack and allowed the Kings to comfortably stretch their legs while finding their footing in a game in which they eventually out-possessed another dominant possession team.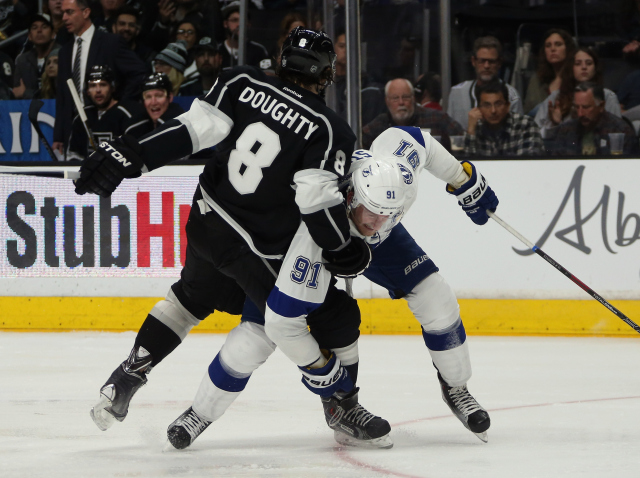 The Nolan goal, which would have stood as the game-winner had Tyler Johnson not made things interesting over the final 30 seconds, was set up by a sublime Drew Doughty take down on Steven Stamkos in a one-on-one moment between the top two players selected in the 2008 NHL Draft. Doughty deserved a tertiary assist on the play, but also credit Dwight King for driving the net to open up space for Nolan to bring the puck from the outside of the left circle into the middle of the slot before snapping a backhander high past Vasilevskiy. King also created space by driving the net and dragging defenders with him during Carter's goal that ultimately served as the game-winner. Nolan deserves credit as his regular playing time has clearly allowed his game to solidify – he was also strong in the win at Tampa Bay two Saturdays ago – but King has provided a much-needed boost on the left side of the lineup during Tanner Pearson's absence. Capable of opening up space and maintaining offensive zone possession, the naked eye isn't always able to immediately capture and register his contributions, though they are there. By continuing his offensive zone plumbing while also maintaining a modest point streak, he's playing his best stretch of regular season hockey as a Kings forward.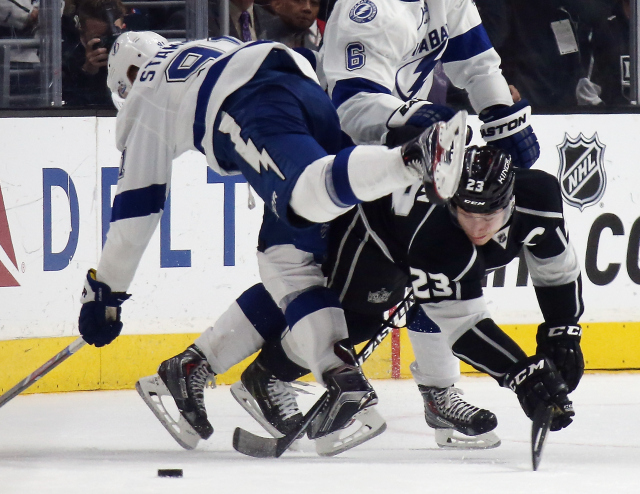 -In two games over 10 days against the league's top offense, the Kings allowed four total Tampa Bay goals and ceded only four shots on goal to Steven Stamkos, who failed to register a point and logged a minus-one rating in the series. The Lightning have outstanding depth – "fourth liner" Brett Connolly has 11 goals on the season – and there are plenty of options that can create match-up challenges even when Stamkos is well contained. By killing off all four power plays and limiting Tampa Bay's top eight scorers to five points in the two games, Los Angeles checked well, killed well and received strong play from its centers and Jonathan Quick to allow a handful of big goals to provide the difference over a pair of games that relied upon a strong defensive backbone.