In a performance that was the daylight to their nighttime efforts in the District the week prior, the Los Angeles Kings continued to build on their upward-trending play and for 40 minutes dominated one of the East's better teams before commendably weathering an inevitable third period push in an impressive 3-1 victory over the Washington Capitals on Saturday night. For two periods the Kings' performance was as worthy as their top efforts of the season, and it came against a team with wins in four of five games and points in 25 of the last 31. Other than a fairly wide open 10-minute stretch of play that began the game, there weren't many high quality chances ceded to the Capitals through the first two periods, a result of dominating puck possession combined with tight checking when the puck was in the visitors' hands. Again, when pressed over the game's twilight moments, the opposition didn't generate any A-type chances (though Jonathan Quick stopped one or two B-types with traffic in front), and Drew Doughty, Robyn Regehr, Justin Williams and Jeff Carter all blocked shots over the final 90 seconds with Braden Holtby pulled – Doughty's block on Alex Ovechkin appeared especially painful – to help preserve the victory.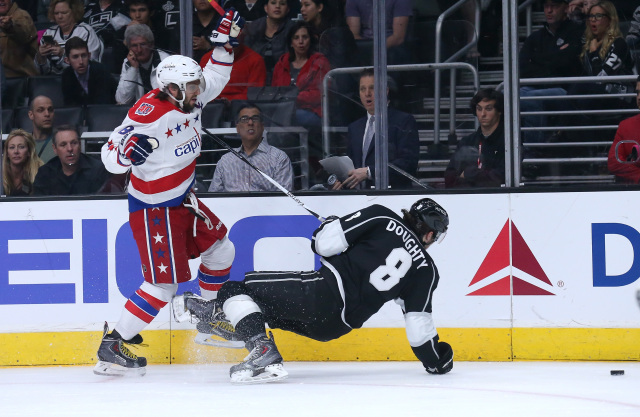 The Kings received goals from three different lines on Saturday, but more importantly, they relied on three secondary goal scorers at a time when they're not consistently getting production from all of their top players. Jarret Stoll, one of the goal scorers, deserved to be rewarded for a strong performance at all ends. In a play that won't register on the scoresheet, following heavy Washington pressure in which the Kings direly needed a line change, he weathered a heavy hit from Aaron Volpatti at the red line when he willed the puck to the neutral zone and dumped it in the attacking end to avoid an icing. He took a hit to make a play, setting the stage for Los Angeles to open the scoring six and a half minutes later.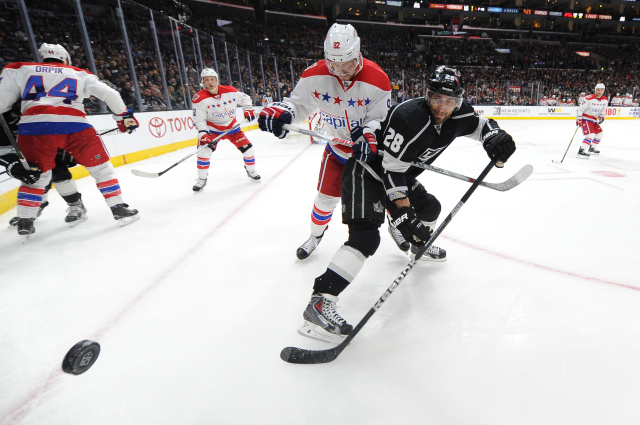 Los Angeles' chances of making the playoffs were much bleaker 10 days ago following the agonizing loss in Florida. Loosely speaking, it was clear that in order to pass the required teams and make up enough ground to receive a postseason berth, they'd need to engineer a winning streak similar to the one navigated in October or to go on a stretch in which they received points in all but one or two games over a three or four-week stretch. They've now won four in a row – related: they've been very good at home this year – and have seen their postseason probability develop into what at this point is more or less a coin flip. Fortunately they're in the Pacific Division, the weaker and more playoff-accessible of the two Western Conference divisions, and have the ability to battle for two divisional playoff spots in addition to a wild card berth as opposed to teams like Minnesota and Winnipeg, two teams with a below 5% chance of overtaking a top-three team in their division.