The Los Angeles Kings will play at the home of the San Francisco 49ers next Saturday, so it's only appropriate that Jonathan Quick's goalie mask for the event, redesigned by Steve Nash of EYECANDYAIR, contains football elements.
"[Steve] came up with the idea just to do a white background," Quick said. "I asked about the cage, watching the college football championship and watching the (Oregon) Ducks play. They had those face masks that were kind of two colors, so I asked if he'd be able to do that.
Incorporating the two-toned face mask wasn't a problem at all.
"It was pretty much [Steve]," Quick said. "He comes up with it. He's the brains behind it."
Quick's Stadium Series mask is a take off on his current mask – only with more white elements to reflect the Kings' white, grey and black color scheme. The armored helmet design remains, and Quick doesn't foresee any radical redesigns coming.
"I just kind of came up with an idea a few years back. I'm not very creative," he said. "I don't really care to change it too often. So it's just easier to stick with it, and if he wanted to do any little changes I let him do it."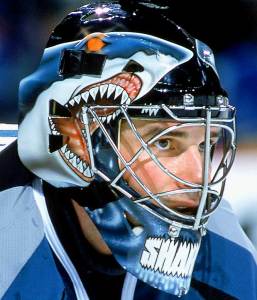 Interestingly, one helmet that Quick grew fond of when he was young was a Steve Shields helmet that represented the team Los Angeles will face next Saturday.
"He had the shark, the realistic looking shark," Quick said. "I think that was my favorite mask when I was little."
Martin Jones' mask will include an airbrushed image of Wayne Gretzky, Luc Robitaille and Rob Blake.
"They had some good ideas to do a portrait of some of the legends, so I thought it was an awesome idea," Jones said. "I've seen a couple of the previews, it looks pretty good."
Like Quick, Jones doesn't interfere with the creative process.
"They'll give me a call before (Steve) gets started. I may throw a few ideas out," he said. "I let him be pretty creative with it and kind of let him run with some ideas. He's pretty good at that. He's a creative guy. I gave him a few ideas and I just kind of let him go with it."
Jones' updated mask – which previously contained a San Francisco 49ers logo that was ultimately nixed – was shared today by EYECANDYAIR.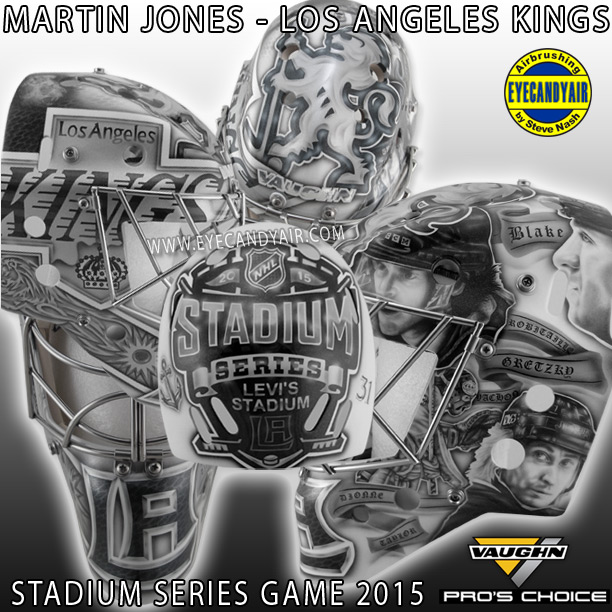 Click here for a 360 view of the mask. More photos and videos are available on EYECANDYAIR's Instagram account.
Helmet decals were also seen around the Kings' facility earlier today:
Stadium Series helmet decals: pic.twitter.com/L155zDVrqS

— Jon Rosen (@lakingsinsider) February 13, 2015
Rink construction has commenced: