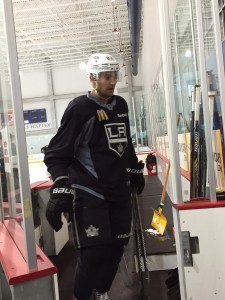 On Sunday the Kings practiced at Kettler Capitals Iceplex, a sprawling facility located several stories up from the street in suburban Alexandria, Virginia. The Capitals' team offices are located adjacent to the center, which also housed the 2013 United States Olympic Men's National Team Orientation Camp, attended by Trevor Lewis, Jonathan Quick and Dustin Brown. The orientation camp did not include any on-ice sessions, for what it's worth.
Notes!
-Right off the hop, the team jumped into a brief four-on-four scrimmage. It eventually involved into special teams work, and ultimately some transition drills. There were no line rushes held, so any potential changes to last night's lines will be revealed at Tuesday's morning skate at the Verizon Center. Because there's no skate tomorrow, it was a lengthy practice, and all available players participated.
-Tanner Pearson, who is with the club in the early part of the trip, rode a stationary bike at today's practice. He has been walking around a little bit in his boot, but he's still using crutches. There is no timetable for his return, though he'll be at tomorrow's White House ceremony.
-Also at tomorrow's ceremony: Jeff Schultz. Plans are being made to fly the defenseman in for the event. To provide more detail to what I reported last night, I was also told today that Mike Richards politely declined the team's invitation.
-Darryl Sutter says the Patriots will win by four.
@lakingsinsider Sutter knows it's a 24-20 league.

— Bryan Currie (@bryanfrombryan) February 1, 2015
-There's more to come today, including a Mike Stothers interview as well as a story on the struggles away from Staples Center experienced by two key players.