The Los Angeles Kings played a sound and responsible defensive game in impressively shutting out the Toronto Maple Leafs, a team that entered the night ranked second in the league with an average of 3.19 goals per game. The shutout – incredibly, Martin Jones' seventh in 29 career NHL appearances – was built on the back of excellent checking, limited scoring opportunities and good sticks around the net. It mattered little that Los Angeles' penalty kill entered the game below 50% on the penalty kill over the previous four games; the Kings generated key kills at important times, including one on a Jeff Schultz delay of game minor with under 10 minutes to play in the third period as L.A. won a defensive zone faceoff, issued three hits, and allowed one Tyler Bozak shot from a distance of 32 feet to sail wide. Both goaltenders were excellent in a game that may not have been the prettiest on the eyes but represented the style of play that both Darryl Sutter and Peter Horacek were looking to generate.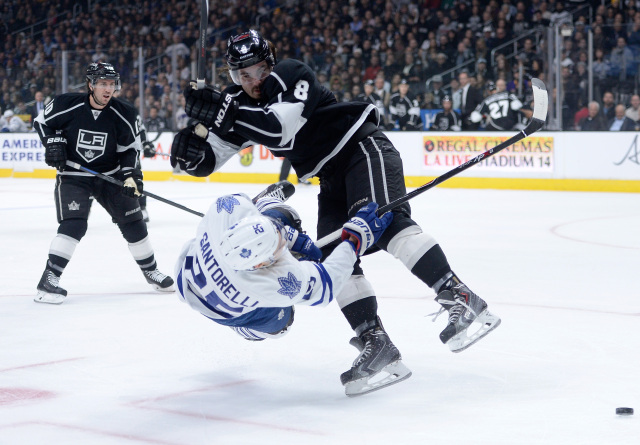 There were responsible efforts by the forwards, but three players on the back end stood out: Drew Doughty, Alec Martinez and Brayden McNabb. Doughty was very close to being at his absolute best. Keenly aware of moments in which he could carry the puck and beat a Toronto forward one-on-one, and moments in which he should defer to those he shared the ice with, Doughty's skating and awareness with the puck was matched by his physical play and presence without the puck in his defensive zone. His first period turnover, in which Bozak stripped the puck from him at the blue line, was followed by an instant backcheck and a salvage of the play as he caught up and curtailed the Maple Leafs forward's options after entering the Los Angeles zone. It was a very strong recovery. Alec Martinez, who has logged at least 20 minutes in 12 of the last 13 games, was outstanding in his defensive end. Leading all skaters with 3:06 of shorthanded ice time, Martinez also had a critical deflection by getting his stick on a third period attempt during a scramble in front of the net while Jones may have been vulnerable. Brayden McNabb earned over 22 minutes of ice time and held his own with an emotionally involved physical performance that included a game-high seven hits as he often saw the ice against Toronto's potent top two lines.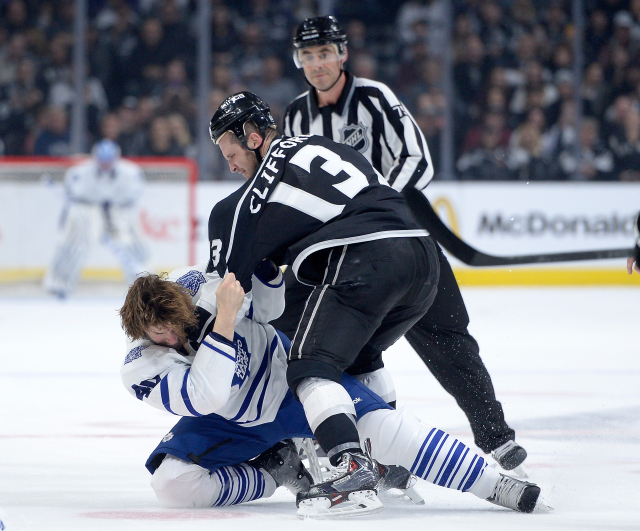 While many eyes will be on Andy Andreoff, Jordan Nolan and Nick Shore during Tanner Pearson and Tyler Toffoli's absences, keep an eye on the play of a handful of accomplished veterans. Dustin Brown and Justin Williams could be among those wingers poised for a slight increase in ice time as they absorb the minutes and some situational usage along the wings. Brown (+1:45 above his seasonal ice time average), Williams (+2:32), Dwight King (+1:00), and centers Jarret Stoll (+2:36) and Mike Richards (+0:33) saw upticks in their ice time that can be traced to both the absorption of minutes with two key players out as well as their own performances in the 2-0 win.