I've noted in this column that some of the Kings' challenges defensively this season have been personnel-related due to the free agency departure of Willie Mitchell, Slava Voynov's indefinite suspension, and injury woes on the back end (see: Muzzin, Martinez, Regehr). That likely provides some of the explanation, but after last night's game – the sixth game in the last 12 in which the Kings have surrendered three goals within a six-minute span – it's more likely a combination of personnel challenges, inconsistent checking, iffy penalty killing and goaltending that hasn't been as sharp as it was early in the season. Save percentage is a goaltending stat influenced by team play, and Jonathan Quick's save percentage of .882 (335 saves / 380 shots) over his last 17 games is shared between the team's overall performance and Quick not being as sharp as he was when he posted a .942 save percentage over the season's first month (though he was good early in last night's game). Something this seasonal nadir is not derived from: lack of heart. The Kings rallied to tie the score in the third period in each of the three games prior, and had the coulombs offered up a slightly different charge in the Staples Center scoreboard, the team very well could've worked some late game magic again last night.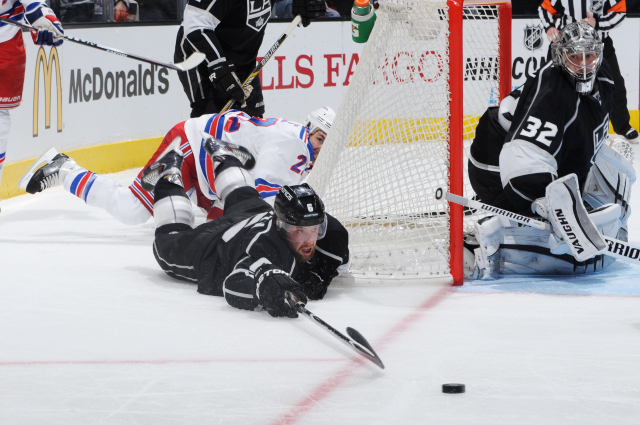 There was a very good pace to Thursday's game, and after the Kings kept up with the Rangers' speed in the first period, where both teams logged roughly the same amount of quality chances and the Kings led 2-1, New York kept humming along as Los Angeles, a team that can play with a strong pace and move the puck quickly under Darryl Sutter, hit some speed bumps. The Rangers were awfully impressive – their performance last night reminded me of the Blackhawks' performance at Staples Center two days after Thanksgiving – and given the pace they play at and the health they've enjoyed (though Dan Boyle and Ryan McDonagh missed time earlier this season) – appear at this point to be the cream of the crop in the Eastern Conference. They're also a team that tends to produce strong second halves, so keep an eye on the defending Eastern Conference Champions.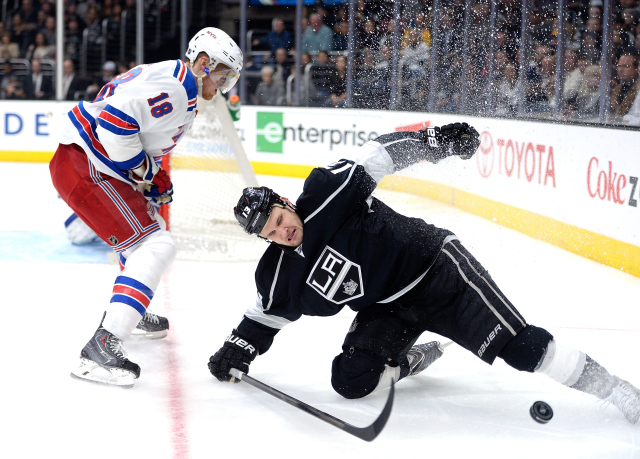 This is a stretch that isn't sitting well with the club. Justin Williams often carries the game's emotion with him when he speaks with the media, and last night he was visibly upset with the team's performance – and for good reason. A conduit of the team's emotional attachment, Williams' initial response to the very first question I asked of him was "I'm not quite sure what to say." He continued, and with eloquence. "Four goals against again for a team that prides itself on defense is simply inexcusable and something that we've tried to clean up and something we need to continue to do because we're not going to win many games giving up chances like we are." It's strange that this team's 1-2-2 stretch comes right on the heels of among the most thorough performances of the season, a 3-1 win over San Jose that featured a high quality checking effort. Inconsistency has been a word used too frequently through the first 41 games.
The Kings lost another one-goal game. They're 5-6-9 in those this season.