Good afternoon from El Segundo, where I'm sharing a project undertaken by radio play by play broadcaster Nick Nickson, who has maintained a list of all the cities the Kings have ever played a preseason or a regular season game in.
This list differentiates between actual cities, not markets. For an example, it recognizes games at both the Ottawa Civic Centre (Ottawa, ON) and the Canadian Tire Centre (Kanata, ON). Earlier this year, Colorado Springs joined the list. Later this year, Santa Clara will be added to the list. The question is whether Brooklyn should be added next year. Does the list recognize boroughs?
Many of the cities hosted preseason games from earlier in the team's existence. Los Angeles held training camp in Ontario from 1967-69, so the inclusion of Ontario and Michigan cities such as Hamilton, Guelph, Port Huron, Oshawa, Barrie, Kingston, Brantford and Sudbury are from that era. The Kings actually held preseason games in both Ontario and the Pacific Northwest in 1969, a year in which they faced the Vancouver Canucks, Seattle Totems and Portland Buckaroos from the defunct minor-pro Western Hockey League (not to be confused with the major junior Western Hockey League). Games in western cities such as Red Deer, Duncan, Medicine Hat and Spokane were due to the team holding training camp in Victoria, BC from 1970-1988.
There was also the Gretzky Effect (and, to a lesser extent, the Lemieux Effect). Los Angeles traveled early and often in the Gretzky days, and in 1990 teamed up with the Penguins to play games in Cleveland, Pittsburgh, St. Petersburg, Dallas and Houston. It's as if The Band wrote a song about one NHL preseason.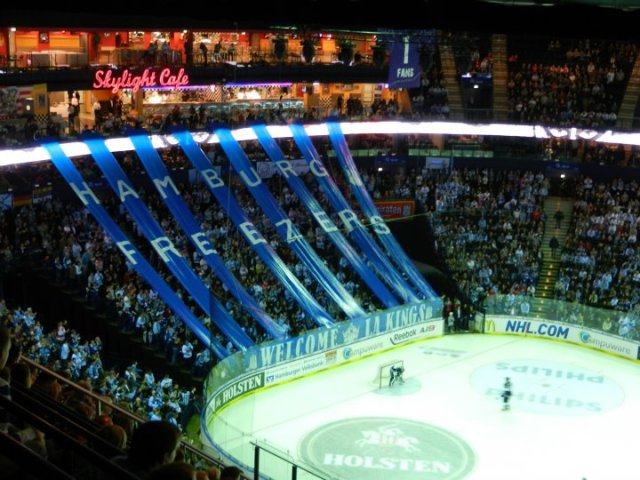 Before I ramble for too long, here's the list:
Anaheim, CA
Atlanta, GA
Bakersfield, CA
Barrie, ON
Berlin, Germany
Boise, ID
Boston, MA
Brandon, MB
Brantford, ON
Buffalo, NY
Calgary, AB
Charlotte, NC
Chicago, IL
Cincinnati, OH
Cleveland, OH
Colorado Springs, CO
Columbus, OH
Dallas, TX
Daly City, CA
Denver, CO
Detroit, MI
Duncan, BC
East Rutherford, NJ
Edmonton, AB
Fort Worth, TX
Fresno, CA
Glendale, AZ
Greensboro, NC
Guelph, ON
Hamburg, Germany
Hamilton. ON
Hartford, CT
Houston, TX
Inglewood, CA
Kanata, ON
Kansas City, MO
Kingston, ON
Landover, MD
Las Vegas, NV
Lethbridge, AB
London, England
Long Beach, CA
Los Angeles, CA
Madison, WI
Medicine Hat, AB
Miami, FL
Milwaukee, WI
Minneapolis, MN
Montreal, PQ
Nanaimo, BC
Nashville, TN
Newark, NJ
New York City, NY
Oakland, CA
Oklahoma City, OK
Ontario, CA
Oshawa, ON
Ottawa, ON
Philadelphia, PA
Phoenix, AZ
Pittsburgh, PA
Port Huron, MI
Portland, OR
Quebec City, PQ
Raleigh, NC
Red Deer, AB
Regina, SK
Richfield, OH
Sacramento, CA
Salt Lake City, UT
Salzburg, Austria
San Antonio, TX
San Diego, CA
San Jose, CA
St. Louis, MO
St. Paul, MN
St. Petersburg, FL
Seattle, WA
Springfield, MA
Spokane, WA
Stockholm, Sweden
Sudbury, ON
Sunrise, FL
Tacoma, WA
Tampa, FL
Toronto, ON
Tuscon, AZ
Uniondale,NY
Vancouver, BC
Victoria, BC
Washington, DC
Winnipeg, MB