Tip-A-King, the largest single fundraising effort of the Kings Care Foundation, took place Saturday afternoon atop the L.A. Live parking complex across the street from Staples Center.
Though it's too early to gauge the total amount of money raised – nearly $500,000 was donated between the last two Tip-A-Kings – it was possible to visit different tables and chat with the players, who hosted various games and competitions. Fans donated Tip-A-King dollars to be able to throw darts with Matt Greene, face Kyle Clifford shots, play Plinko with Robyn Regehr and have their photos taken with coaches and broadcasters.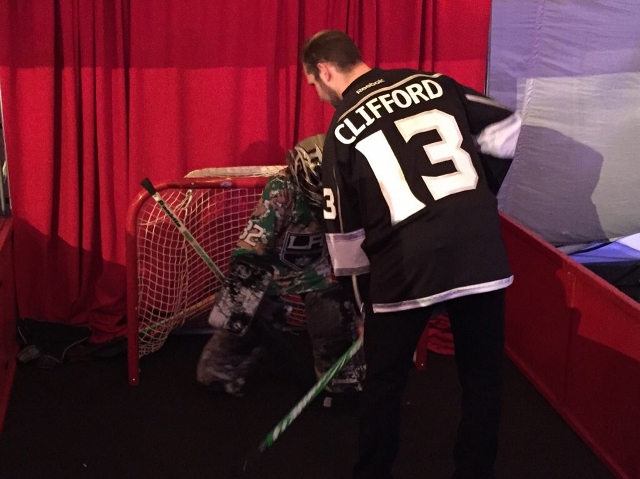 I had been waiting to chat with Martin Jones, who, according to some, stopped all the shots he faced last year in a game that allowed fans to shoot pucks in an effort to beat the Kings goalie.
But first I stopped to chat with Tanner Pearson, who was manning a booth that was a reversal of the one that Jones found so much success at last season. It was Pearson's job to take shots towards a plastic net, and it was the fans' job to stop as many pucks as possible.
"I give them a couple soft ones to start off, and I build my confidence afterwards and I try to bury them, for sure," Pearson said.
But what about Jones? Wasn't he stoning all comers at last year's event?
Jones articulated his approach Tip-A-King goaltending approach and clarified that he didn't have a perfect save percentage.
"There were some good shooters," he said. "I was letting in a few goals."
He also wasn't impressed by his friend and teammate using the media to get a point across.
"Tanner's not going to score very often, though," Jones joked. "He can try all he wants, but he's not going to score very often."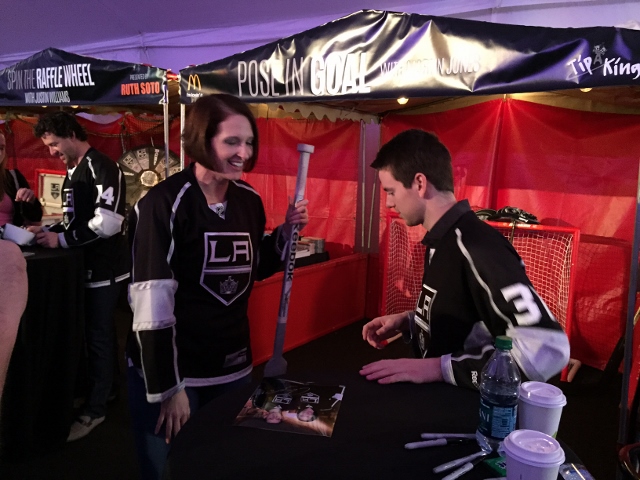 Robyn Regehr had a good time working the Plinko booth. In addition to acknowledging the universally understood opinion fact that Plinko is obviously the best game on The Price Is Right, Regehr was quite proud of his hosting duties.
"I looked like Bob Barker. I just need a little microphone," he said.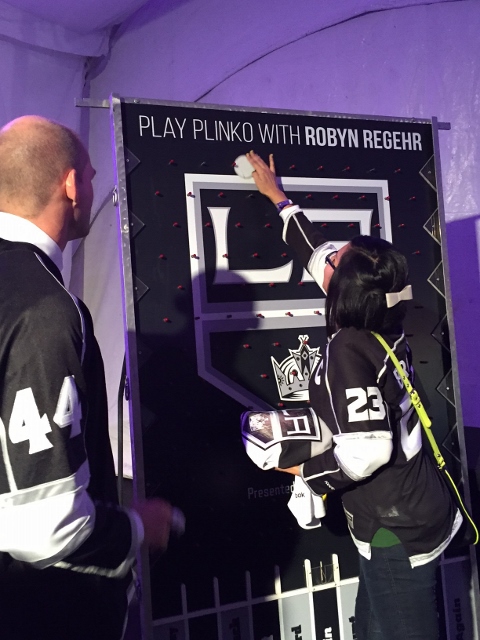 If he was a The Price is Right contestant, he'd be gunning for some prizes.
Regehr couldn't divulge the strangest thing he'd ever signed.
"I told somebody what it was, and they said 'Don't ever repeat that again,'" he said. "Today, actually, there's a lady walking around the event with L.A. Kings moccasins, and I've never seen L.A. Kings moccasins. She wanted me to sign them, so I did. That was the most interesting thing today."
Not far from Regehr stood Jake Muzzin and Brayden McNabb, who countered fans in a free throw shooting contest.
"I'm feeling like Swaggy P over here," Muzzin said.
Shooting basketballs with Kings fans at a charity event has got to be fun, right?
"It's a fun station. We've got some hoops going on. We've got some good challengers," Muzzin said. "Me and Nabber are getting pretty good at it, so we'll take on anyone right now."
Who would win in a one-on-one game?
"I think I've got him. I think I've got him in the paint," Muzzin said. "I've got soft mitts around the hoop. I think I've got him."
There were a lot of people waiting to chat with Alec Martinez…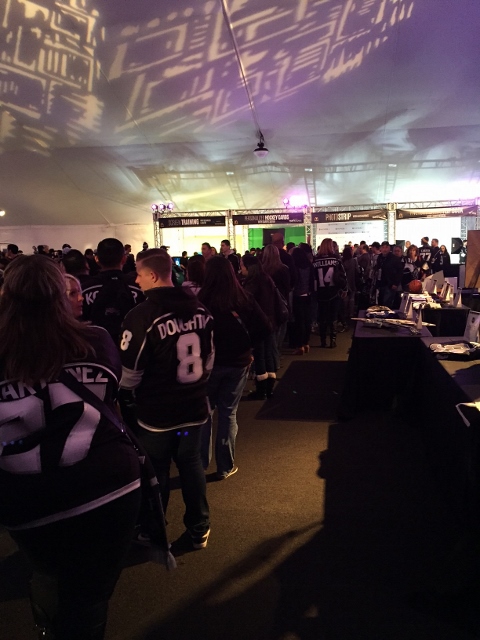 …err, make faces with Alec Martinez.
#precious #TipAKing pic.twitter.com/d8C0Tkybus

— LA Kings (@LAKings) January 4, 2015
More sights from Tip-A-King: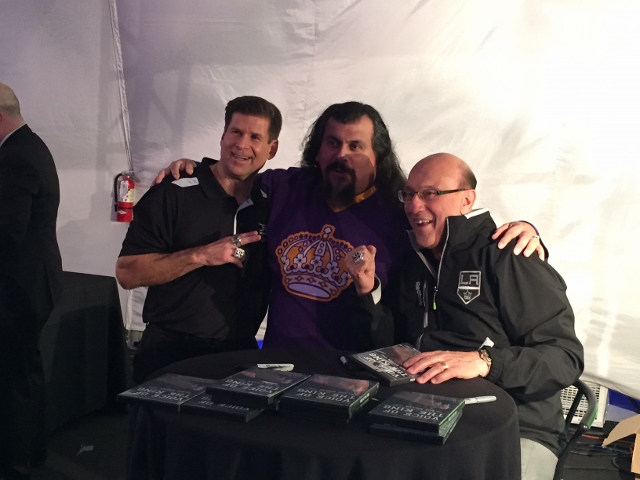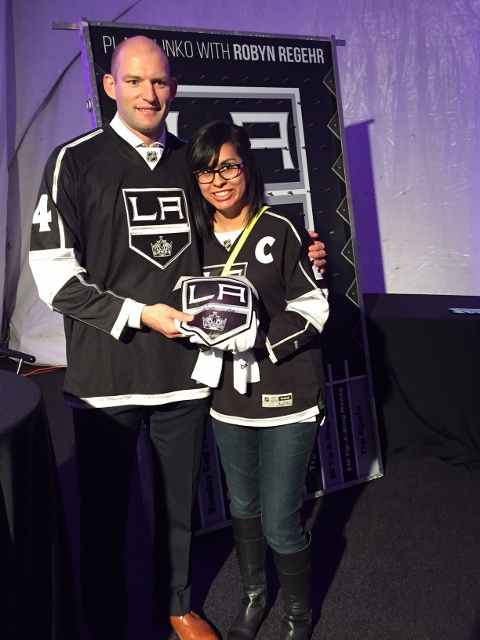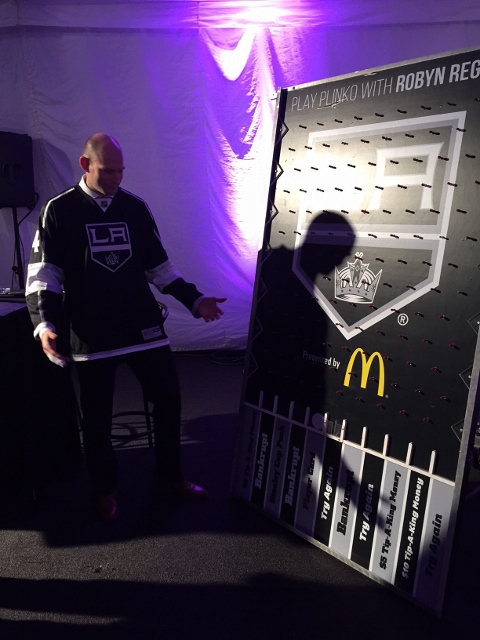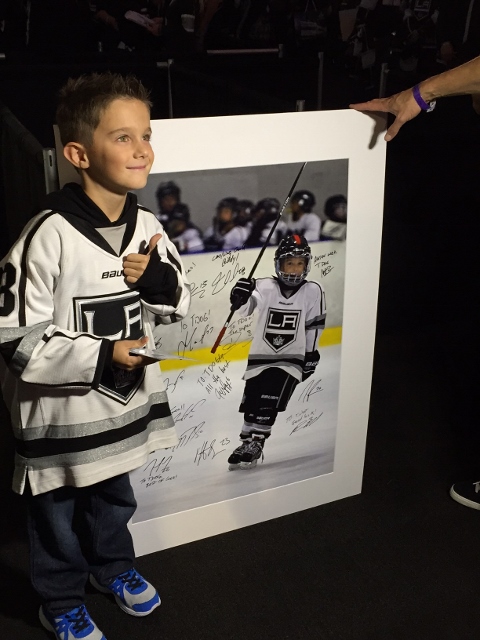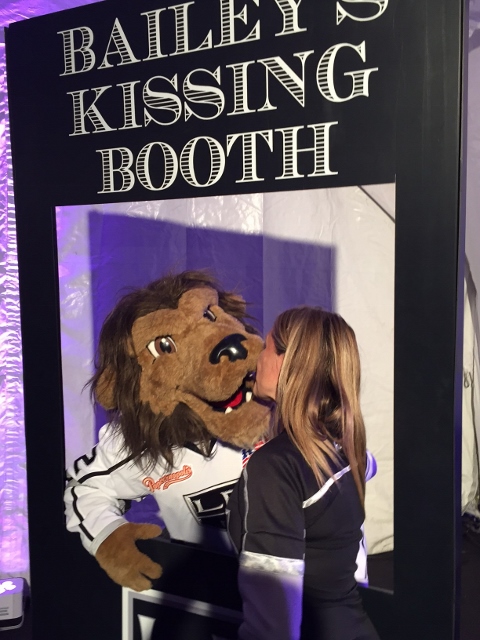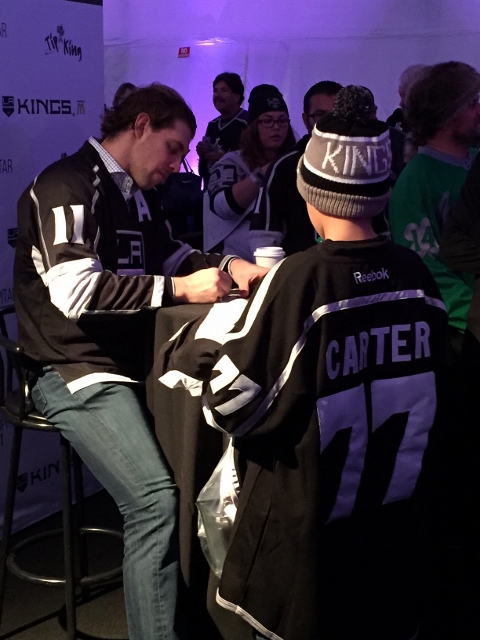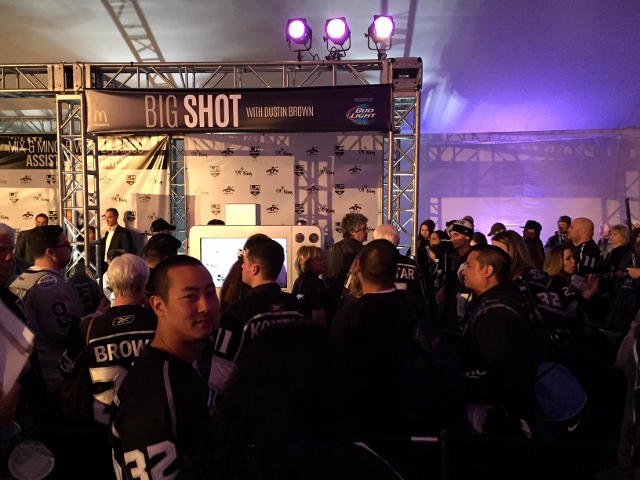 2015 #TipAKing in full swing! pic.twitter.com/SuEW3bGJHG

— Deborah Lew (@by_DeborahLew) January 4, 2015
Things are getting pretty serious at #TipAKings darts w/ Greene! Thanks @MTimoney08 @BaileyLAKings 4 the action shot! pic.twitter.com/N40P3IIhMV

— Alex Curry (@Alex_Curry) January 4, 2015